With Nationals over and the winners crowned, it is time to take a moment to recognize the top performers in the Men's Division this season. The Ultiworld staff has watched and researched the players that were making a difference for their teams this season. While the talent of the division reaches far beyond short lists, these players put together what we believe to be some of the best seasons in the Men's game this year.
Players were selected based on both their regular season and postseason performances.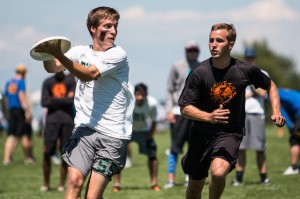 Dylan Freechild (Rhino)
Because Rhino was in the Select Flight this year, they didn't get a lot of media coverage. They mostly went to smaller tournaments, though they did excel at the Elite-Select Challenge at Colorado Cup, reaching the finals.
Their quiet regular season overshadowed an outstanding year from 2013 Callahan winner Dylan Freechild, who led the team to a stunning upset over Sockeye in prequarters at Nationals and one of Rhino's best years ever.
Freechild is really starting to come into his own as a club player — his quickness and handler sense were largely uncontainable by defenders. Long a fan of the give-and-go, he took over entire points this season, touching the disc on every other throw.
He has also matured as a leader. He and fellow captain Jacob Janin (who also deserves a lot of credit) involved the entire, young roster on their way to the quarterfinals — and they got program-defining wins over Seattle at Nationals and Vancouver at Regionals. Freechild was an emotional and strategic leader, helping tweak the offense to put together a great run during the season. He finished with 16 assists and 8 goals.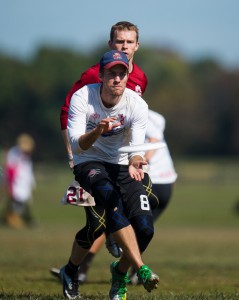 Peter Prial (Truck Stop)
Peter Prial was always a huge asset in Boston, but he reached new highs this year playing for Truck Stop as far and away the team's most effective cutter.
He fit well into the fluid Truck Stop system and was often doing the gritty work as a middle cutter, then finding his teammates for scores with quality throws. He finished Nationals with far more assists (16) than goals (9).
He also shone in the biggest games of the season. In Truck's narrow quarterfinal loss to Bravo, he was a force, piling up six assists and a pair of goals. Truck was another team that was largely out of the spotlight, but Prial helped lead them to a berth in next year's Pro Flight.

AJ Nelson (Machine)
It's a bit surprising that AJ Nelson gets as little hype as he does, considering that he is an excellent deep cutter that scores a lot. Normally that's a recipe for recognition. But it has been his teammates — particularly Jonathan "Goose" Helton — that have emerged as the big names on Machine.
Still, Nelson is one of the team's most important offensive pieces and has been their most impactful scorer on a team filled with talented (and tall) cutters.
He had an outstanding weekend at Nationals despite Machine's misfortune: he finished second in goals (20) behind Kurt Gibson and was one of a handful of players with a double-double, also notching 11 assists.
His ability to stretch the field was a vital part of Machine's outstanding offensive attack throughout the year.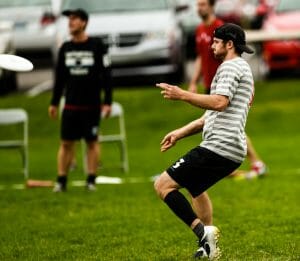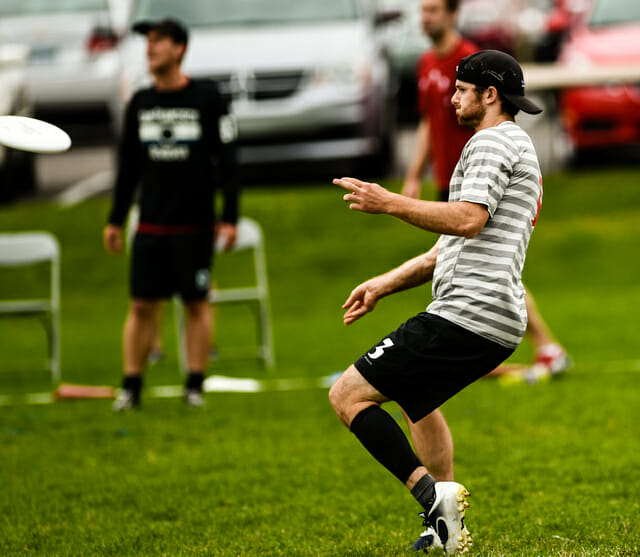 George Stubbs (Ironside)
George Stubbs returned to the Ironside defensive line this year and made an immediate positive impact on the defense's ability to generate breaks. He was the obvious upgrade offensively after the turnover, and made some huge plays to make the Boston defense the team's biggest asset.
Stubbs often took the other team's toughest matchup, and, had he found more success against #1 options like Jimmy Mickle or Mark Lloyd, could well have made first team. He was that good after the turnover.
Stubbs is clearly more at home on the defensive line and plays more naturally on that side of the disc. Last year, he struggled with turnovers on the offense; the D line is more forgiving and can use his big play ability.
It was a big bounce-back year after an injury-prone 2013.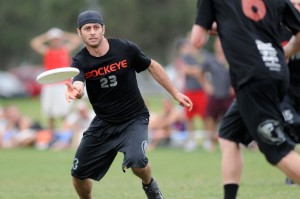 Danny Karlinsky (Sockeye)
Sockeye captain and handler Danny Karlinsky is still the most important player on the Sockeye roster. When he's red hot, like he was at Worlds, he seems to do everything right: he gets the disc, makes the right (and sometimes very difficult) throw, and pops up all over the field.
The quick movement Seattle offense runs through his hands and he handles it capably. He finished Nationals fourth in assists with 19.
After a brilliant Worlds and a good regular season, he did struggle against Rhino in the team's loss in prequarters. But his body of work speaks for itself and he was a clear second teamer.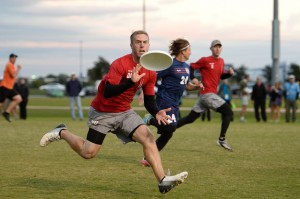 Jonathan Helton (Machine)
A defensive specialist, Jonathan Helton has watched his stature in ultimate grow as a star in the AUDL. But his play for Machine is just as high quality. He is a workhorse athlete with good field vision; he can help over the top or shut down his mark one-on-one. He's also a big part of the offense after the turn.
A natural playmaker, Helton puts in the time to be extremely well-conditioned which pays off in his defensive effort. With a better performance at Nationals, he had a good chance to make first team. But he struggled at times, most notably against Ring of Fire in their prequarters loss.

Cassidy Rasmussen (Revolver)
It was an excellent season for Cassidy Rasmussen, who often gets unfairly overlooked on a Revolver team packed with stars. He was super consistent this year, making great decisions and dime throws throughout the season.
His versatility is a strength; he's a player that can get plugged in at any position and excel. For that to be true, he has to have a high ultimate IQ and understand the game at a high level.
Despite Revolver missing the semifinals and failing to repeat as champions, Rasmussen had a great Nationals on top of a strong regular season.