Bentley comes into the season as defending champs; can they avoid a sophomore slump?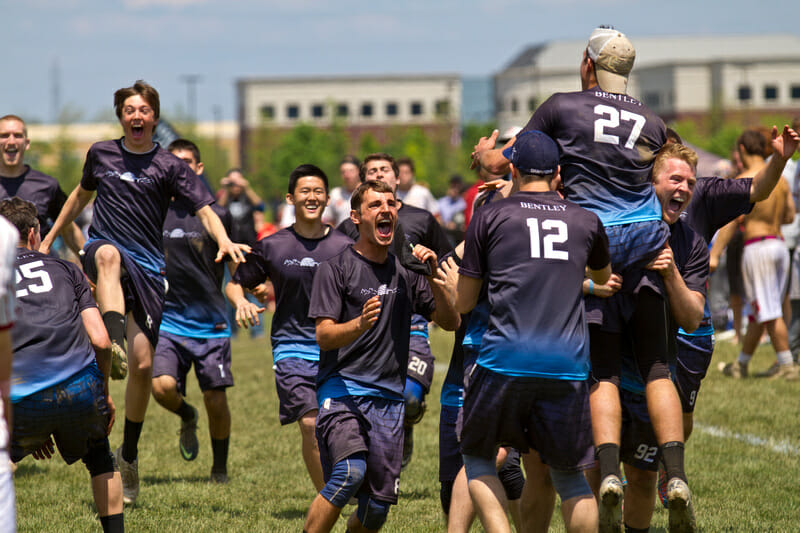 Bentley Icehouse is determined to prove everyone wrong. Fresh off a 2014 DIII Championship season that saw them go 26-1 overall, one might be wondering how they could have any doubters.
But heading into the fall season, many around the New England region figured Bentley's reign at the top would be short-lived. After all, the team lost 13 players from last year's squad, including DIII New England Player of the Year Alex Foo as well as All-Region first team players Kevin Sparacino and Maxwell Rick. Justin Ondrof, first runner-up for Ultiworld's 2014 DIII Defensive POTY award, is also gone.
But Bentley has a top DIII ultimate program and depth was a big reason why they were so successful last year. With Ultiworld's 2014 DIII Coaches of the Year Henry Brecher and Ben Davis back at the helm, Bentley is eager to prove that last year was not a fluke.
Bentley In A Nutshell
Overall Indicators:
2014 DIII National Champions
#1 in Ultiworld preseason DIII power rankings
Positives:
Return a solid core of players including captains Andrew Zaccardi, Matthew Keegan, and Michael DeVito
Have recruited a large, athletic freshman class
Gained experience attending high-level tournaments in the fall, including Huck-a-Hunk
Have a consistent system that the coaches and players believe in
Concerns:
Lost a ton of talent and leadership from last year's championship team
Have a number of newcomers that are still in the process of gaining chemistry with the returners
Did not have the best fall season record-wise, though most of their losses came against Division I teams
Playing Style
Bentley has a consistent system that has worked well in recent years. They strive to maintain a high intensity throughout games, and are dangerous when they are successful in doing so.
Offensively, they play patiently, taking few risks. They excel at maintaining possession and switch between using a vertical and horizontal stack . At times last season they used a split stack as well. Like many teams, Bentley uses a vertical stack as they approach the end zone and focuses on swinging the disc and using the break side to generate scores.
Defensively, Bentley has shown both man and zone looks, and will often switch between the two to keep offenses guessing. They rely on their more athletic defensive players to generate turns, and rely on their returners to convert the turns into break points.
Bentley's program is similar to Pittsburgh's program, as they both have been a consistent force in competitive ultimate in their respective divisions for a number of years now. It seems that every year, no matter which players leave, Pittsburgh is competing at the highest level due to their excellent coaching and strong, stable system. Though DIII ultimate is still in its early stages, Bentley seems to have developed their program into a consistent one. Just like Pitt, it seems that every year people are talk about Bentley as contenders.
Likely Ceiling
Champions. Bentley's system has been so solid the past few years that it wears down opponents. Their coaches have the players believing in what they are trying to accomplish and that can go a long way.
Likely Floor
Nationals consolation bracket winners. Bentley has to overcome losing a lot of talent from last year's team. Many of the players who were crucial to Bentley's 2014 championship run are gone, and it takes series-experience to make a run at Nationals. Bentley certainly has enough experience and talent to qualify for Nationals, but if they cannot overcome their chemistry issues and a general dip in talent, an early exit on Sunday at Nationals is possible.