Charlie Eisenhood answers your burning questions about the College Division.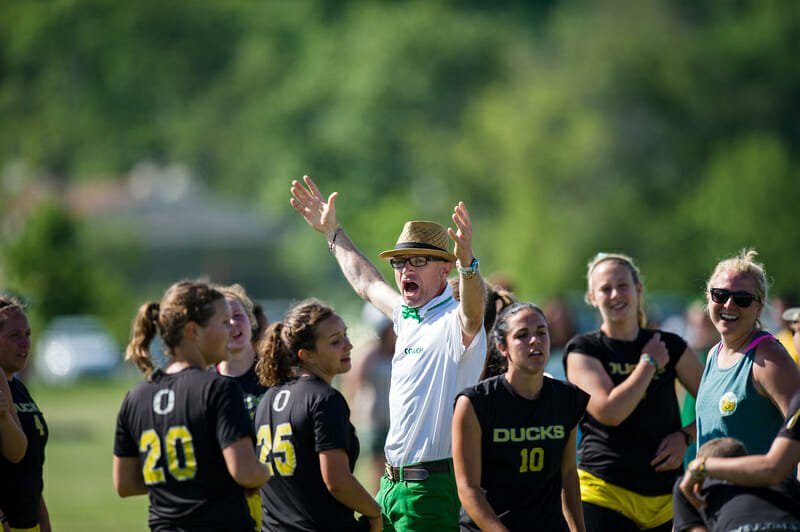 College season is here! I answer your college questions! As always, I take Mailbag questions by email ([email protected]) or Twitter.
Let's go.
***
Q: With the news that Marcus Ranii-Dropcho is back for Pitt and Simon Higgins won't be playing with Oregon, is Pitt the new #1 in the Men's Division?
– Alan R.
A: It's rare that two individual roster moves could have such an impact on a season, but I think this fits the bill. MRD was the second-best all-around player in the country last season. Simon Higgins was electrifying as a rookie for Revolver this club season and would have been a stone cold killer for Oregon.
If you ask me, Pitt was already the favorite. This certainly solidifies their position. If Vegas had odds, Pitt would be 2/1 favorites to win a title.
Pitt's big three has become a big four: Max Thorne, Pat Earles, Trent Dillon, Marcus Ranii-Dropcho. It is not an exaggeration to say that each of those players has the tools to be a candidate for Player of the Year.
This doesn't mean Oregon is toast — far from it. But how will they use the talent they have? Higgins would have been a plug-and-play deep cutter on the offensive line; now you have hard choices. Does Aaron Honn fill that role? Who will be your big bodies on defense?
It's obviously very, very early, but Pitt is the frontrunner until further notice.
Q: Charlie, I know you're a big believer in playing the cards you're dealt and maybe not the "classic" spirit defender. But how could you read Alex Rummelhart's recent profile and not feel bad for BYU?  Let's say you're a top 20 program squaring off against BYU at Warm Up in February. The result won't count towards your ranking. Do you have an obligation (whether from spirit or just doing the right thing) to play them seriously? Or do you give your rookies some burn because that's what the other teams are doing?
– Anonymous
A: Look, I'll be honest: if I was coaching or captaining a team that was playing BYU on Saturday at Sectionals, I would absolutely give at least some rest to the starters. If the game doesn't matter, it doesn't matter. I don't want to jeopardize my team's chances at a better seed at Regionals just to fulfill some perceived idea of fairness, one that I would call false.
Now, on the other hand, if my team were to play BYU at Warm Up, you're damn right I'm going to play them tough. No matter how skilled your program, you can't risk dumping rookies into a game that has tangible rankings impact. BYU is a good enough team that you have to treat them like a legit threat until proven otherwise. Sure, if you're up seven, you can maybe ease off the gas pedal. But my starters are in there to begin the game.
That's not out of some sense of justice. That's because I respect what BYU is building and I sure wouldn't want a loss to them to diminish my region's shot at an additional bid.
What I love about that piece is that BYU is not whining (a problem they've had in the past). They are owning their situation and saying, look, we have to earn respect and we don't want any exceptions made for us until we prove we might deserve them. Good for them. They can earn respect quickly by stomping out other teams' second lines and playing in close contests against quality teams.
Q: OK, bear with me here. Coming up is the College Football National Championship game between Oregon and Ohio State. This is also the first year of the college football playoff, which has been a huge upgrade over the previous format where the title game was decided by a selection committee. 
Now, in college football, the SEC — home to teams like Alabama and Ole Miss — has long been considered the most dominant conference in the sport. Previously, it was considered almost illegitimate to have a national title game without the winner of the SEC being represented. Again, this year, the top SEC team — Alabama — made the playoffs, but got knocked off by Ohio State. And in many other bowl games, the SEC has been embarrassed this year.
So now to bring this back to ultimate. Imagine a scenario in which ultimate didn't have a college tournament and instead had "bowl games" and a hand-selected national championship game. No playoff. We're going back to the BCS. 
What teams would have received a National Championship bid last year? Which region is the SEC of ultimate? What would have been some exciting bowl games?
– Jon M.
A: Quick, name the most dominant region in college ultimate. If you didn't immediately say the Northwest Women's region, you are not qualified to join the selection committee.
The Northwest Women's is the no doubt SEC of ultimate. Super deep, multiple top 10 teams, recent national titles, and a bonafide juggernaut in Oregon. Even if teams only played short regular season schedules only against teams from their region, you've got to hand the keys to a title spot for the regular season champion of the Northwest. That would have been Oregon this past year.
Ohio State was the consensus #1 from outside of the Northwest. A hand picked National Championship would have produced the same game as the tournament.
The bowl games would have been great too: maybe Central Florida vs. UCSB in the Rose Bowl. Washington vs. Stanford.
On the Men's side? Yikes. You're tempted to say, well Colorado and UNC. But wait! UNC lost a stunner to UNC Wilmington in the Atlantic Coast title game at Regionals. Would that have ended their chances at the top spot? We know from college football that late season losses are devastating.
Colorado gets a spot, for sure. Great strength of schedule, dominant wins over everyone (except UNC!). I think Pittsburgh's late season win over UNC would have catapulted them to the title game. UNC-Wilmington would have taken on Texas in a great bowl game; UNC would have faced Oregon.
I would have been excited to watch some of the lower matchups too. How about Eastern Michigan v. UC San Diego — two super athletic teams that love to huck. Man that would have been fun. Maybe Texas A&M v. Florida in a Southern battle.
Mostly this is just getting me pumped for the football game tonight. I've got Ohio State +7. Urban Meyer is a beast!
Q: Do you think that there will be DII ultimate in the upcoming years? With the expansion of new teams, and quality of top DIII teams like Puget Sound, Middlebury, Claremont, Carleton GOP, etc. I guess for the top DIII teams that have yet to get over the DI hump, and the lower level DI teams who are not yet top tier, will there be a new division for them in the foreseeable future?
– Kainoa C.
A: I highly doubt a new Division will get organized at the USA Ultimate level anytime soon. It's a lot to ask of the governing body to host ANOTHER major tournament in May — they're stretched thin as it is.
BUT. Is there room for something like this? Oh yes. NCAA Basketball has March Madness for the top 68 teams in the country. But they also have the NIT for the next 32 teams down.
Would there be interest from teams and fans in an ultimate NIT? A 16 or 20 or even 32 team tournament featuring the "just misses." If you lose in the game to go, you get an automatic bid; the next "X" spots are selected by a committee. That would be fun. There are a lot of good teams that don't make it to College Nationals.
Ultiworld would cover that tournament. Heck, we'd probably livestream that tournament.
This can't be far off from getting organized.
Q: Which college duo would you pick?
– Josh Ackley & Beau Kittredge (Colorado)
– Tim Gehret & Kurt Gibson (Florida)
– Brodie Smith & Cole Sullivan (Florida)
– Alex Thorne & Tyler Degirolamo (Pittsburgh)
– Somebody else?
– Greg W.
A: For my money, I'll take Tim Gehret and Kurt Gibson. I think Brodie was the best individual college player on that list (maybe the best ever?), but as a combo, Tim and Kurt were just unstoppable. Tim won the Callahan in '06 and Kurt was the best player in the country in '08. Arizona's Joe Kershner won the Callahan that year because Florida.
I've only seen film of all the players before Thorne and Degirolamo, as Ultiworld only got started in the summer of 2012. Really, this will be more fun to debate in the comments. I'd also like to someone to step up and nominate the best women's duos.
By the way, I've been reflecting a bit on Kurt Gibson's career so far. The guy is absolutely crushing it. College title with Florida, multiple club titles with different teams while arguably being the best player on each of those teams (Doublewide '12 and Johnny Bravo '14). Is he already an all-time great? Will he be overshadowed by this being the Beau Kittredge era?