Marques Brownlee paces a process-oriented Stevens Tech in 2015.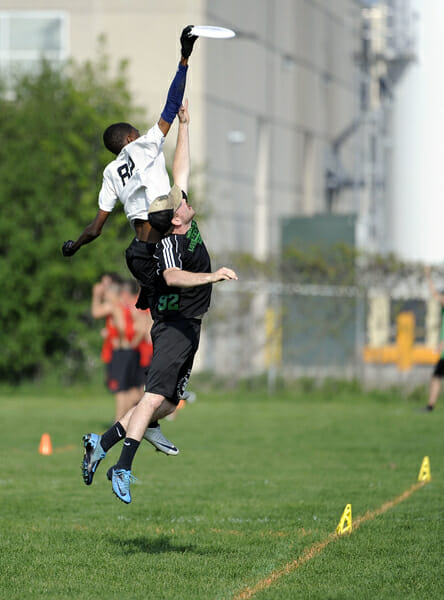 Entering last season, the Stevens Tech Ducks were coming off of a semis run at Nationals and were making waves as a potential title contender. They had won the Metro East region two years in a row, and were on the verge of a historic three-peat. This year, they are coming off a disappointing exit at Regionals, ranked in the middle of the pack, and on the fringe of Nationals contention. Despite the difference in outside expectations between this season and the last, the Ducks are treating this year the same as they always do. For this program, it is the process, not the result, which indicates success.
If you want to question Stevens' approach, then consider the year they had in 2014. Barely able to cover the 10 game minimum due to tournament cancellations, the weather that plagued the county everywhere hit the Ducks particularly hard. The tournaments that weren't cancelled were either played at freezing cold temperatures or in driving wind and rain. Outside of the unsanctioned High Tide, almost all of the Ducks' games were played in sub-optimal conditions.
When the series finally did come, it's fairly impressive that the team was able to get over a disjointed regular season and pull things together for the postseason. They beat every team they played at Sectionals and Regionals, save one. Every other year in the Metro East that would have been good enough to earn a trip to Nationals. With Stevens finishing just outside of the strength bid window in the regular season and failing to bring the region a second bid, their loss to Geneseo in the regional championship game was enough to send the perennial contender home early.
Their reign at the top of the region was over, the year apparently a failure. Of course, if things had gone differently in the regular season and the Metro East has gotten a second bid, the narrative could have been completely different. The success or failure of a season doesn't come down to just the results of one game; it is a reflection of everything that happened from the first day of practice until the last play of the season. Understanding this concept has Stevens focused on improving their play on the field, and not as worried about the results.
"Of course we want to lock up at least two bids this year" said senior leader Nick Raguso. "But we are worried about our performance and what works for us."
At the end of the year the narrative will either be of Stevens' continued fall out of the national title picture, or of a return to winning ways and future success, with 2014 a mere speed bump. A keen observer will pay more attention to their performance on the field than what the final standings reveal, because that will tell the true story of the Ducks' success.
Indicators:
Finished 2nd at 2014 Metro East Regionals
Finished #14 in Ultiworld 2014 Power Rankings
#16 in Ultiworld 2015 Power Rankings
Positives:
Marques Brownlee. Any conversation about Stevens Tech has to start with their big, bright, high definition star. A 1st Team All-Region player the past two years, Marques has only gotten better after a summer playing with the New York Rumble and leading his club team Garden State to within shouting distance of Club Nationals. He broke his wrist on his throwing hand this fall, but instead of letting it slow him down he used the injury as an opportunity to develop his left hand. In games this fall he was completing 40-50 yard lefty hucks to go along with an assortment of new off-hand throws. With his wrist healthy enough for an impressive showing at the U23 tryouts in November, you can count on him to be back terrorizing opponents this spring.
While the rest of Stevens Tech doesn't have the name recognition of their star player, they are consistently top to bottom one of the most fundamentally sound teams in the division. The whole team has throws and every player knows exactly how to fill their role. Those are very important qualities for a squad that looks to use its depth and system to grind out wins.
While many D-III teams rely on a handful of players to do most of the work, Stevens makes it a priority to put their whole roster to use. They will return almost all of their players from last season, with the notable exception of 1

st 

Team All-Region handler Andrew Misthos. Losing Misthos will hurt, but the team has shown time and time again that there are always new players ready to rise to the challenge. Zack Smith, who broke out in a big way in 2014, and John Lee of Garden State will be key wingmen alongside Brownlee, and are more than capable of running the show themselves if called upon. Nick Raguso had a good 2014 campaign, and will play a bigger role this year for the Ducks. Although shorter than many players he will guard, Raguso's speed and excellent positioning more than make up for any height differential, and opponents will underestimate him at their own risk.
Concerns:
Defensive Intensity. Steven's biggest problem in 2014 was their defense, as they were unable to muster the resolve necessary to get key breaks, even with their season on the line. In the regional finals against Geneseo they managed only one break, which came at a point when the game was all but over. Defensive intensity has been a point of emphasis for the Ducks heading into the spring season, as they recognize that their failure to get the breaks in big moments really cost them last year. Look for senior handler Charlie Cannon to play a bigger role this year for the Ducks on the D-line, taking the tough matchups and marshalling the offense after turnovers. If he is able to help the defense get a few extra breaks per game, it could go a long way towards putting Stevens back on top of the region.
Size and Athleticism. The team's lack of physically dominate players was a big part of the problem with Tech's defense last season, and is a concern going forwards this year. Outside of Brownlee, Stevens doesn't have many gamebreaking athletes who can make up for a failure in strategy or execution with outrageous displays of athleticism. When forced into man coverage last season, the Ducks usually had a mismatched defender somewhere along the line, and good teams were able to exploit the vulnerability all season.
Playing Style:
Stevens Tech, a team filled largely with engineering majors, sees the field from a different perspective than some of their opponents. They do an excellent job creating and maintaining space on offense, which makes them very hard to cover. Their disciplined horizontal stack principles allow them to isolate the matchups they want to exploit, and lets them spread the disc out among all seven players on the line as they look to take advantage of whatever the defense is offering.
On defense the team is looking to incorporate more poachy zone looks to mitigate any athletic disadvantages they have and to capitalize on their sense of field awareness. Coach Jason Thompson has now had a full year with the team, and hopes to have the team's defensive looks perfected by the end of the year. Too often last season the Ducks were forced into unfavorable 1 on 1 situations, and by playing smarter this season they aim to avoid those moments.
Ceiling:
Quarterfinals at Nationals. Stevens Tech has the talent and the pedigree to qualify for Nationals and make a run at competitive games on Sunday. If Brownlee continues to develop as an all-around player and his supporting cast can rise to the challenge of their regional rivals, then there is no reason why this team can't regain their place atop the Metro East.
They have graduated two classes since their semis run in 2013, so it is hard to see the Ducks making a deep run at Nationals given their recent performance. Unless a freshman phenom or an unknown current player is able to elevate their game in a big way and take the team to the next level, surviving to the second day of play at Nationals is about as far as this team will go.
Floor:
Semis at Regionals. They have been too consistent of a program and are too talented to go down any earlier than that. While the lack of intensity they demonstrated last year is troubling, similar lapses will only hurt them against top teams that run turnover-free offense. Stevens has made it to the semifinals of regionals every year, and there is no reason that should change in 2015.