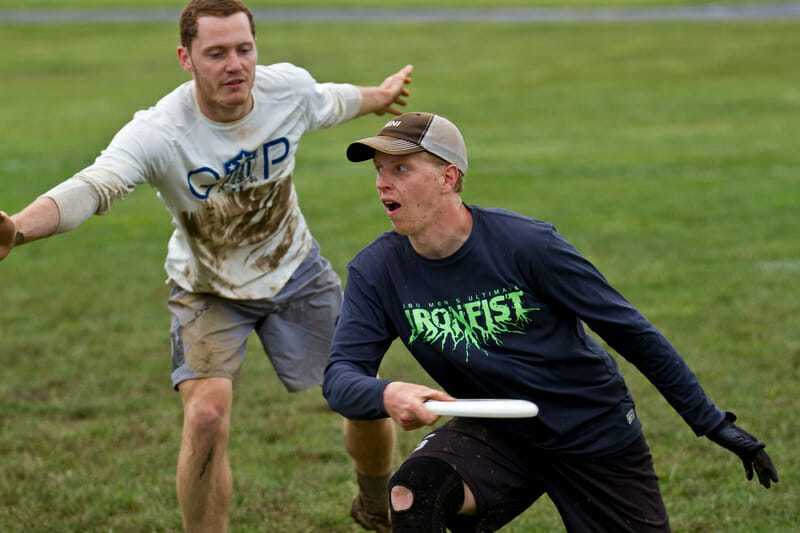 John Brown Ironfist, a relative newcomer on the DIII National scene, has been a top-heavy team that rode its best talent to Nationals berths the past two years. Those John Brown teams proved they could break past regional play, but were unable to truly compete at Nationals as a lack of depth hindered them from winning against more established programs.
John Brown graduated a very decorated senior class that included three 1st-Team All-Region players. They look to replace them with an emerging core of upperclassmen and a very athletic rookie class who are hungry to prove that their previous Nationals' attendance was no accident. Heading into the spring, will Ironfist prove they have evolved into a truly competitive program that can reload annually, or was this team just a brief blip on the radar?
Overall Indicators
7th Place Finish – Harvest Moon
3rd and 7th place (Split Squads) – Just Plain Nasty (JPN)
T-15th – 2014 D-III Nationals
1st place – 2014 South Central Regionals
17th in Ultiworld Power Rankings
Positives
Ironfist's upperclassmen gaining club experience. Notably, Drew Taylor and Ethan Penner were impact players for Arkansas Howlers, a regional-level Club team. Club experience could be pivotal in filling the void of their departing Seniors.
Sent split squads to most fall tournaments. While fall results can be misleading, their JPN results is a positive indicator for a team looking to increase roster depth.
Increased athleticism. John Brown had a few athletes last year who performed at high levels, but this year's team appears to be faster and taller across the board.
More structured O and D-lines. With less players playing both ways, this could provide a boost in energy levels later into tournaments that wasn't always present last year.
Concerns
Very young team. With no graduate students and only a few seniors who have played all four years, Ironfist will need younger players to take weight off of the upperclassmen by establishing themselves as key role players.
Fundamentals in the wind. At Harvest Moon, Ironfist went 4-0 on Saturday, but came out flat on a windy Sunday. Their young team lacked confidence in the wind and missed simple throws and catches. Their development in this area will be paramount.
D-line effectiveness. Last year's team only converted 2 break chances on Saturday at Nationals. This year they will have to be much more efficient if they want to win.
The fall also saw a rash of injuries to a few key players as well as some role players. Will John Brown be healthy enough in the spring to earn a bid for the South Central?
Playing Style
Offensively, John Brown traditionally plays in a horizontal stack. Captain Kyle Dyer explained their offense by saying, "On offense our cutters work in a flow system where we use our athletes to create mismatches. We may [also] isolate any one cutter to take advantage of whatever the defense is giving."
John Brown eliminates rigid structures and instead relies upon their cutters to take the "easy option." Often, this comes in the form of attacking breakside space aggressively, which requires handlers who can hit those throws repeatedly. If they can hit that throw, Ironfist becomes a fun offense to watch with the disc bouncing around quickly to eliminate any opportunity for defenses to reset. Their offensive anchors will be Aric Powers handling behind the disc with Kyle Dyer and Drew Taylor cutting out in space.
Defensively, John Brown is looking to implement some new tactics this year. Last year, they often were found in pure man with the occasional switch or help D. But this year, according to Dyer, "[We] are striving to create chaos with a hybrid team defense. We are highlighting individual awareness so we can switch in and out of a flash poach help D, and true one-on-one Man D. Either way, the key concept for our defense is anticipation and the goal is to create chaos."
It will be very interesting to see how Ironfist implements poaches into lanes as they rarely, if ever, did this last year. John Brown is also well known for throwing zone looks and will not hesitate to run it as their base defense if it is advantageous. Both their man and zone rely on strong marks to push offenses into scenarios where they can disrupt flow and give downfield defenders chances to make blocks. Ethan Penner and Matt Weeden will be workhouses both before and after the turn for Ironfist this year.
Potential Ceiling:
Quarterfinals at DIII Nationals. Yes, John Brown lost three 1st-team All-Region players, but Ethan Penner and Drew Taylor have led the team in goals scored at Nationals in 2013 and 2014 respectively, and both gained experience in the club season. These two juniors, along with experienced captains Aric Powers and Kyle Dyer, have the potential to take over games. Ironfist will use their legs and athleticism to wear down regional opponents on their way to a Nationals berth. If Ironfist's D-line learns how to convert break opportunities against quality teams, they can be in contention on Sunday at Nationals. Still, it's hard to see a team that has never been in championship bracket advancing much further under that level of pressure.
Potential Floor:
Finals at South Central Regionals. It would be a plot twist to not see John Brown as a major player in their own region. However, if there is only one bid, Ironfist may be at risk. Their struggles in the wind at Harvest could be a cause for concern at Regionals in Tulsa, where it's always windy. If their fundamentals slip late in the tournament, a regional rival like Harding or Truman State could easily beat them. They also need individuals to step up consistently in key situations. While some have shown promise of being go-to players, Ironfist still has to prove that they have the moxy and fundamentals to consistently win close games and, until they do, it's always possible that their season could come to a jarring halt.