Kansas tied the bow in a one-loss weekend in Orlando, defeating Central Florida 15-12 in the final.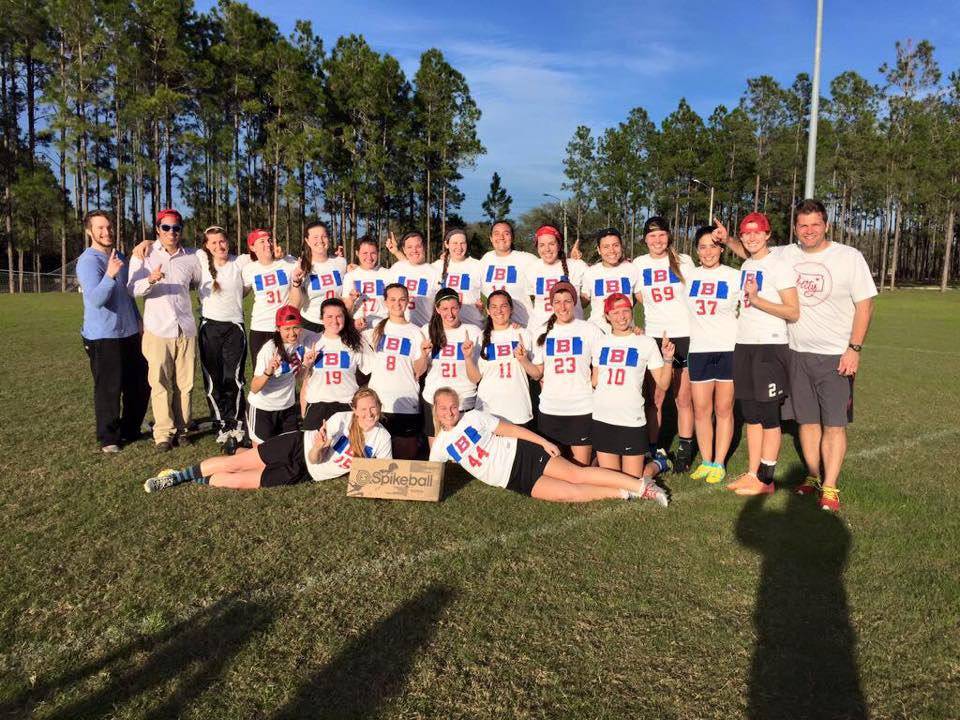 ORLANDO — The battles between Kansas Betty and the Central Florida Sirens always seem to have something on the line. When they met at Queen City Tune Up last season, the Siren blowout stood as a key out-of-region win. On Saturday at the Florida Winter Classic, a win locked up a bye into quarterfinals and potentially the pool. And in Sunday's final, the tournament's championship was up for grabs. With the crosswind kicking up, Kansas's depth of skill carried them through UCF's defenses, netting Betty a 15-12 win to open the regular season.
"We took a beating from the Sirens last year and it was one of the few losses that really stuck with us," said Kansas Coach Loren Schieber after the final.
Both teams were dealing with injuries to central playmakers. UCF's hub handler, Steph "Eli" Williams, had played on a hurt leg all weekend, while Kansas's Clare Frantz was hurt trying to score on double game point against FSU on Saturday (a game that wound up being their only loss of the weekend). That meant each finalist was counting on some other players stepping up, which seemed to favor the reigning South Central champions.
It was clear that the 2014 showdown was not due to repeat itself; Kansas came confident and prepared. Their handlers were active in getting to the second level of the Sirens' zone. Caitlin Fitzgerald helped get Kansas off to a nice start with two over the top throws that lead to a pair of goals to open the game. After a Central Florida red zone score, the activity level in the backfield helped open up the field for another pair of scores for Betty, including an airborne save on a floaty disc by Kelsey Akin and a touchy backhand from Kailee Karr (her second assist) to make it 4-1 in Betty's favor.
"After rewatching our game from last year, we noticed that the zone could be broken by getting the disc to the sidelines and we really made that a focus in the game," said Schieber. The center handler would often swing the disc and immediately attack in a slashing sideline cut, receiving an inside dish or around break to give them an unmarked upfield throw.
The rest of the second half played out with the teams trading points. Fitzgerald launched a pretty flick shot against the wind, Karr tallied the third of her four assists, and Kate Eshelman put up a nice huck of her own, all to Akin for goals. UCF's zone was helped by two huge handblocks — one by Alexa Wood and one by Shelby Spence — that led to goals to keep them in it. Central Florida found themselves down 8-5 at the half.
UCF had already shown a penchant for comebacks earlier in the weekend, but had trouble closing them. Against Florida State in pool play, they turned an 11-6 deficit into a 12-12 double game point before succumbing. A pair of scores – including their first break – out of half gave them confidence they could reclaim the lead from Kansas. Freshman Janina Freystaetter came up with a number of big plays on both sides of the disc.
But much as in the first half, Betty found ways to get it done against the UCF zone. Karr, Corcoran, Fitzgerald and Eshelman found cutters streaking beyond the Central Florida deeps with confident hucks. Akin, who finished with 5 goals, defied containment with big grabs, including one against a bidding Freystaetter that landed Kansas on the door step for the eventual game-winner.
Kansas's movement and tempo kept UCF from settling in often and took advantage of their lack of depth. Williams played 22 points and garnered five assists after a seven-game slate, all while noticeably hobbled. Shayna Brock played 26 points and Freystaetter logged the full 27 on her way to to a four goal, four assist performance bolstered by a healthy number of blocks. But there just wasn't enough gas in the tank for the Sirens to regain ground against the steady Betty attack.
"'Maintaining possession' has turned into one of our mantras for the year," said Schieber, adding that his team's possession and movement based offense was inspired in part by Ohio State's championship-winning play style from last season. Their veteran offensive unit looked smooth, even without Frantz and without a single spring practice under their belts.
Kansas showed their success is not a fluke nor the product of a star or two on the roster. Their roster is loaded with disc control and their mental game looks very solid for the early season. Expect them to be a real threat at Queen City and beyond.