The traditional Southern California season opener is set for this weekend.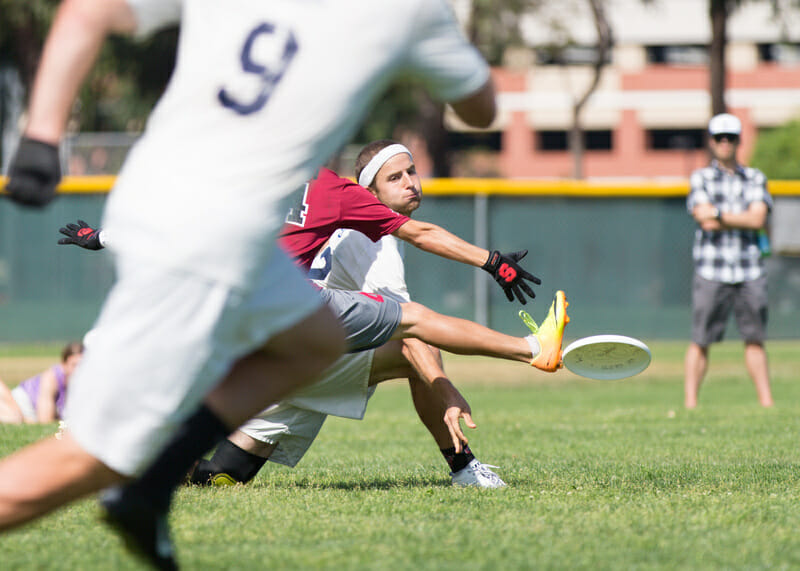 Though it has traditionally been an outlet for teams to test out early season ideas and get their rookies playing time against actual opponents, this weekend's incarnation of Santa Barbara Invite might be a bit different.
With the difficulty of securing bids for one's region growing every year, even January tournaments that were once reserved for experimentation are gradually turning into key moments with the potential to prove crucial come April.
Take last year, for instance. After notching some huge wins over Colorado and Wisconsin in the crazy conditions of their home tournament, Stanford Invite, Stanford bested a good lot of top opponents at Easterns, including Florida, Carleton, Central Florida, and Georgia.
Yet their strong closing to the regular season proved not to be enough, as Stanford finished 25th in the overall rankings, leaving the Southwest Region with only one bid to Nationals. Many pointed to their underwhelming SB Invite performance — an occurrence common to the veteran program that likes to take the entirety of the regular season to improve in their own chosen ways — as the primary reason for their ranking outside the bid threshold.
The singular blame for the region's single bid allocation rests not solely on Stanford's shoulders, of course, as Arizona State, UC Davis, Cal, and Las Positas were all also on the cusp of cracking into the top 20. But the lesson of the importance of early season results was nevertheless taught once again.
Thus, you might expect to witness numerous teams calling tighter lines at key moments this weekend, especially with a handful of strong out-of-region squads like Dartmouth, Washington, and British Columbia in attendance.
Though the absence of the Sean Ryan Memorial Tournament — the November classic in Santa Cruz that helps prep Southwest teams for the upcoming season — may have deprived the region's squads from an appropriate warm-up, you should expect nothing less than an exciting start to the storylines of the 2015 college season.
Here's a look at this year's competition:
Pool A
Reigning Southwest champs UC San Diego return in 2015 with a gutted roster. A large majority of their major contributors — guys like James Lai, Jesse Cohen, Nick Smith, and Aaron Lee — graduated in May, leaving huge holes to fill. While the experienced Air Squids program should ensure the squad doesn't completely fall apart, you can expect to see a much less dominant team this season.
Similar questions might arise for Southwest contenders Arizona and San Diego State. Both programs had somewhat underwhelming seasons in 2014 and graduated their star centerpieces in Brice Dixon and Lucas Dillow last year. So both will be looking to push their squads back into an up year in 2015, starting with the inaugural SoCal season opener.
Northeastern and Victoria both come from tough regions where more experienced programs tend to take more of the spotlight. The former is heading west from New England, where they have to fight against Harvard, Tufts, Dartmouth, and UMass, while the latter is consistently overshadowed by Oregon, UBC, and Washington. Yet, this out-of-region tournament, and perhaps in particular this up-for-grabs pool, may provide both with a great opportunity to start commanding their own respect.
Pool B
As the only other team besides UCSD to make it to Nationals the previous year, Dartmouth heads into the weekend as one of the favorites to take the title. Key contributors Andrew Pillsbury, Sam Hills, and Henry Frost return to lead Pain Train this year, helping put them in prime position to earn valuable out-of-region victories. Unfortunately, they'll need to traverse one of the tougher pools.
2015 just might be a breakout year for Washington. Not only do they return Khalif El-Salaam fresh off his trip to Nationals finals with Seattle Mixed, but they also welcome Cal and San Francisco Flamethrowers baller Zane Rankin. With two of the most athletic cutters in the nation and a consistently solid program that churns out disciplined and competitive squads, the Sundodgers look poised to bring another bid to the Northwest after last year's meager offering of one.
Though UC Davis and UC Santa Cruz appear to be in similar boats, with both squads graduating their powerful one-two punches in Eli Kerns-Nathan White and Brett Petersen-Greg Cohen, the Slugs enjoy the benefit of recent transfer Christian Johnson, star cutter and Callahan nominee last season for the University of North Carolina. And considering the army of solid sophomores and juniors evident in their Regionals finals match against UCSD last year, you can expect UC Davis to be in a fine position to make another run this year.
Additionally, although they've had a few tough years recently, with their SoCal Warm-Up victory in November, UCLA might be on the rise in 2015.
Pool C
Despite losing a few important pieces from their great 2014 squad, Arizona State will return vital components like Nate Bridges and Danny Bellissimo as well as a crop of reliable contributors that might make them just as dangerous this season. Their semifinals exit at Regionals last year surely left them hungry for more and an early season triumph could help set the stage.
With five U-23 studs in Brayden Gee, Edward Guo, Fred Lam, Nicholas Lin, and Peter Yu, UBC makes the trek down to Southern California stacked with talent and looking to improve upon their second place finish at SB Invite last year.
Stanford, however, will be bringing a somewhat under-the-radar roster this weekend, with the graduation of Revolver mainstay Jordan Marcy. Yet, despite this and even given their common history of using the tournament more as a tune-up, you can only expect what has always been one of the region's strongest programs to come equipped with plenty of firepower and grit.
Chicago and Cal Poly-San Luis Obispo admittedly come into the contest as significant question marks. Though Chicago put together a good showing at Great Lakes Regionals last year, coming in fourth, they had few, if any, impressive wins over strong opponents during the regular season. SLO, too, have had a few down years since their last powerful squad in 2012.
Pool D
Cal and UC Santa Barbara are both armed with armies of disciplined cutters and defenders groomed through their respective programs for years. Though Cal may have lost their dominant handler Chuck Cao and athletic spark plug Zane Rankin, anyone who witnessed their near-upset of UCSD in semis of Regionals last year can attest to the fact that Ugmo has an efficient system that relies on fundamentals and hard work more than star power. Similarly, though they return U-23 selection Hunter Corbett, UCSB has trained a well-rounded team over the past few years and will likely emerge in 2015 as one of the region's top contenders.
The pool's out-of-region competitors, however, are a bit tougher to get a read on. Cincinnati flew out to the tournament last year, putting together a modest mixture of wins and losses that would set the tone for their season as a whole in 2014. Similarly, Tulane also made the trip out to SB Invite last year and put up a valiant effort, despite playing with only eight players on Saturday due to flight complications (they went 3-1!). Utah, on the other hand, while playing in a few travel tournaments in 2014, fell to most of the higher competition they faced, making it difficult to see them pulling off too many surprises in Santa Barbara this weekend.