Pitt has a deep and talented roster, little turnover, and -- most importantly -- new motivation.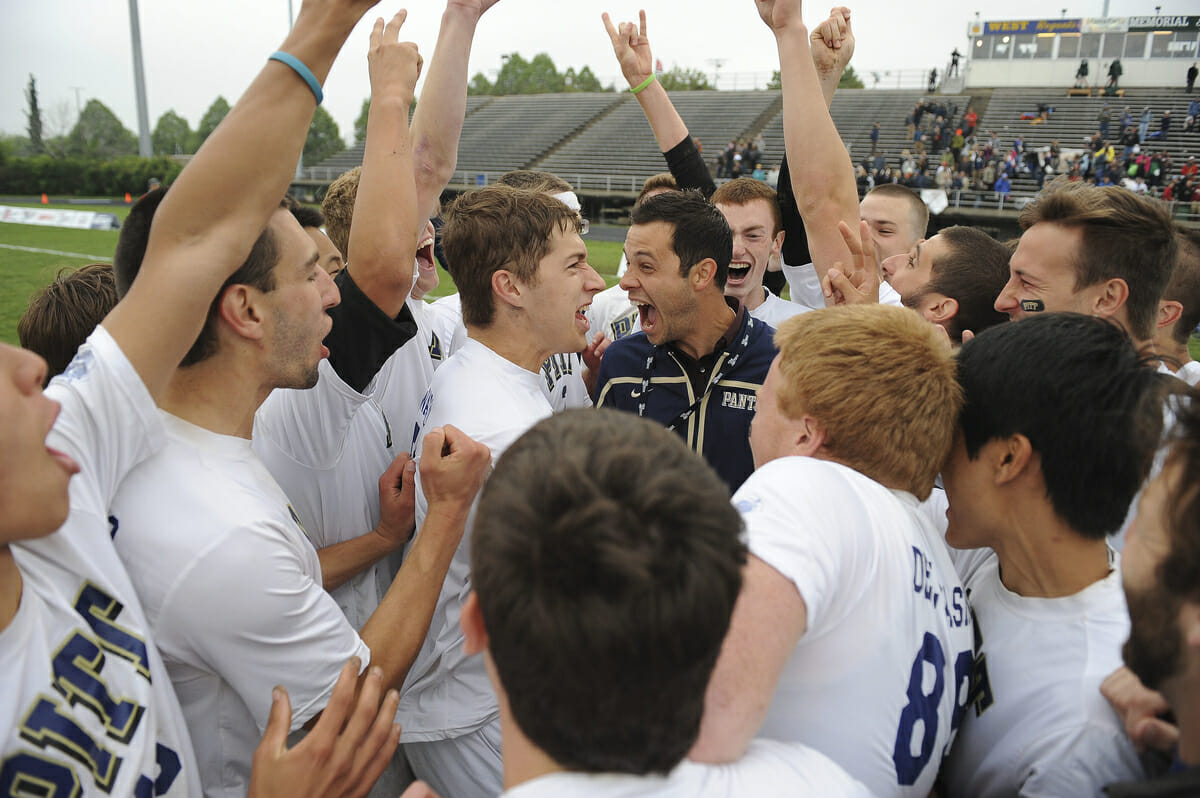 Since losing a double game point thriller to UNC Wilmington at College Nationals, the last eight months have been pretty productive for Pitt.
Four current players earned spots on the U23 Open team. Eight current players were on Pittsburgh Temper's roster, who competed at club Nationals. As a team, Pitt wrapped up the fall with a statement win over Georgia in the finals of Classic City Classic.
Accolades and early season results aside — perhaps the most important thing that happened to Pitt happened back in May, the instant that UNC Wilmington's Xavier Maxstadt stepped out and threw an around flick to bounce Pitt from the tournament.
They experienced losing at Nationals.
"I don't think our attitude, our team atmosphere was something you wanted going into a quarterfinal game at Nationals," assistant coach Dave Hogan said, looking back at what turned out to be the upset of the tournament. "It was a little complacent because most of these players have won everything."
"We didn't build that skill well enough and Wilmington had that in spades," head coach Nick Kaczmarek elaborated. "They had mental toughness… and they beat us tactically, but even more so mentally in that game."
When you look back at the 2014 roster, incredibly, Pitt had only three veterans that had ever not won the National Championship. Now every returner knows the feeling.
With a roster packed with high end talent, a year older and year wiser, the University of Pittsburgh is  into the national tournament.
Roster Turnover. Or Lack Thereof.
After Pitt's second straight title in 2013, the levee broke and tons of talent came rushing out. Nick Kaczmarek and Dave Hogan had to find a way to make up minutes for seven starters, including Callahan finalists Alex Thorne ('12) and Tyler Degirolamo ('13). Replacing that many guys is a tall order.
This year Pitt loses just Aaron Watson and Marcus Ranii-Dropcho.
Wait. Check that.
They had lost Ranii-Dropcho, anyway. Now the Callahan finalist and 2014 Ultiworld 1st teamer is back in school pursuing a second bachelor's degree. This was not expected. Pitt competed all fall without Ranii-Dropcho. Now he's back.
"When I think of Marcus, I think of the most versatile player in the country and one of the most versatile players I've ever seen, especially at the college level," assistant coach Dave Hogan said. "I compare him to Jimmy Mickle."
Pitt now returns four first team all-region selections, two second team selections, and two All-Freshman players.
Star Power
You heard it here first: No one from Pitt is going to win the Callahan this year.
They have too many good players. It splits the vote. There isn't one guy doing all the work. Make a video for one guy and people will complain that they picked the wrong player. This is exactly what happened with the Alex Thorne and Tyler DeGirolamo Callahan campaigns.
No matter. This is one of those good problems.
Max Thorne. Pat Earles. Trent Dillon. Oh right – and Marcus Ranii-Dropcho.
Dillon is the top defender. Thorne is lethal in space. Earles is rangey and lefthanded. Ranii-Dropcho has an ankle-breaking first step and can reset the disc at will.
In the same way that they will, in all likelihood, prevent each other from winning the Callahan, they will protect each other in matchups. That's four guys to account for. They can all handle. They can all cut. And they'll all be on a double game point D line when the time comes.
It's tough to play man defense on guys that athletic, and, like we saw last year, Pitt's O line will get plenty of reps against a zone and transition defenses that don't think they have the personnel to run with them.
Ultimate is no longer just a sport for people who used to run cross country or used to play football or used to do anything.
Max Thorne and Pat Earles illustrate that milestone nicely. These two have been playing together for nine years. They joined the Pittsburgh High Ultimate League — as a middle school team.
"Their experience playing together is so long and in depth," remembered Kaczmarek. "What they've been able to learn together has just been phenomenal. For me it's been an honor to sort of watch them grow and see the chemistry they've developed."
Kaczmarek's history with Thorne and Earles is pretty remarkable as well. He's coached them from Impulse, Pittsburgh's youth club team, through college.
Christian Pitts serves as the team's big man and had a breakout tournament at nationals last year, leading Pitt in Ds. Look for that to continue.
Fifth year co-captain Tyler Kunsa will handle and play D on double game point lines. Haven't heard of Tyler Kunsa? Bob Krier and the U23 selection staff have. Kunsa might be the only player without any All Region recognition to be chosen to represent USA on the U23 team. Part of that is because Pitt's roster is that deep, and part of it is because this guy has been underrated by everyone for a long time. Ultiworld included.
Pitt has four players on the U23 open squad (Thorne, Dillon, Ranii-Dropcho, and Kunsa). Pat Earles did not try out.
Offensive Efficiency
Unsurprisingly, you'll see a lot of the same sets as last year. Pitt will run GO! plays with people clearing out space so guys like Max Thorne can get the disc and flow from there. They'll set the dump up 45 degrees from the disc for their resets. They'll strike cut. They'll break. Pat Earles will throw lefty flick hucks over the right shoulder of the mark to the deep break space.
Unlike 2014, there shouldn't be a learning curve for last year's starters to get acclimated with new personnel. Without Aaron Watson, expect senior Joe Bender to make up most of those vacant O points. Bender is a great cutter in space and finally healthy after struggling with injury much of last season.
More Man Defense?
Pitt will have a full arsenal of junk, zone, and poachy looks. They have sets that give up in cuts to get the disc trapped on the sideline and then tighten up. There is always communication from the bench like "Middle!" and "Swung!" to players on the field to let the defense know where the disc is.
The coaching staff let on that there is room for improvement on the defense side of the disc, especially in man-to-man. There should be a marked point of emphasis early in the season, particularly from their top players. Kaczmarek has never shied away from putting offensive guys out there on "Kill" lines for critical D points. It should be interesting to see how tight the rotation gets at early spring tournaments.
If you look back at that Wilmington game at Nationals, it was the failure to convert turns into breaks that really did Pitt in. The "Kill" line would get a turn then huck it away. Almost like they wanted to go up three breaks with one throw.  It doesn't work like that — something this more mature group is well aware of.
Other Players to Watch
– Look for handler cover Carl Morgenstern to expand on his role from last season. He's found himself in college highlights already this fall and caught some big upwind breaks for Temper on Thursday of Club Nationals.
– Sophomore Jonah Wisch will be co-captaining this spring after All-Freshman and All Region honors in 2014.
– After transferring from Dayton for the spring of 2014, junior Sam VanDusen now has a full calendar year under his belt and is someone coaches are hopeful can make the next step. "I see such a gigantic ceiling for him based on how good he can pull and how fast and high he can jump," Dave Hogan said. "He's been a good player. I think he should be an elite player. He's not there yet."
– All signs point to second year Dillon Tranquillo having a breakout season defensively after a great tournament at Classic City Classic.
– Continuing its trend as a destination school for ultimate, Pitt's rookie class has some promising and experienced young players like Andrew Lehmberg (U19 alternate), PHUL product Matt Hanna (1st team All State in Pennsylvania), and Kyle Hartley (1st team All State in Pennsylvania).
Three Out of Four?
This team isn't without its weaknesses. Pitt isn't a particularly tall team. As the quarterfinals at Nationals (and a pool play game against Central Florida) showed, they can be vulnerable in the hucking game. They love to get up for big rivalry games, then at times seems to come up short against teams they have no history with. Take a look at their 11-4 drubbing of Florida State, followed by a loss to Tennessee.
The bottom line is, with the 11th hour return of Marcus Ranii-Dropcho — and Simon Higgins not playing with Oregon — Pitt will be heavily favored to win a title this year. This is essentially the same team we saw last spring. Roster retention like this is quite rare.
Pitt was missing something between the ears in 2014 and Wilmington revealed that. Let's see what kind of difference a year makes.
"I think that resolve we came away with and a fire has really guided us through the offseason, and has guided us into this season," Kaczmarek said. "I think that's going to resonate in 2015."
Captains: Tyler Kunsa (5th), Trent Dillon (Sr), Pat Earles (Sr), Jonah Wisch (So)
Head Coach: Nick Kaczmarek
Assistant Coaches: Dave Hogan and Ryan Del Casino
Tournaments
Carolina Kickoff (3rd place, with one point losses to Central Florida and North Carolina)
Florida: Warm Up
Stanford Invite
Easterns