UNC Wilmington pulled away late in the QCTU final to defeat UMass 15-12.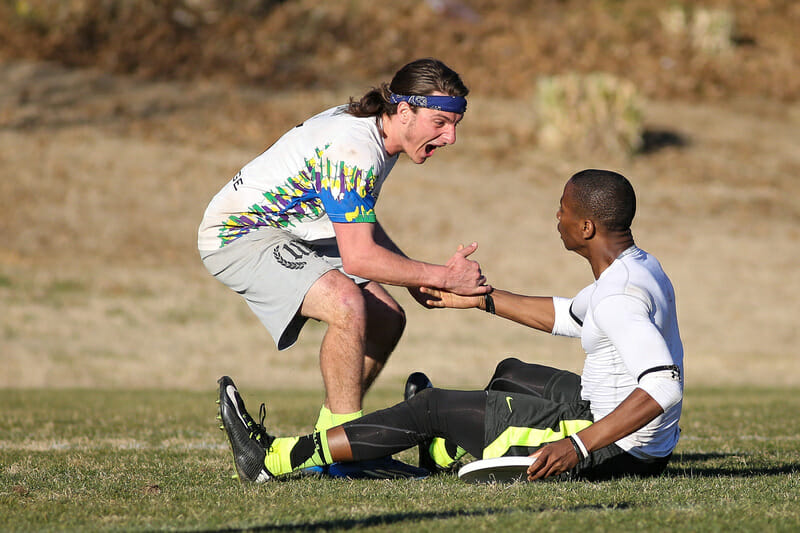 CHARLOTTE — A windy Sunday whittled the field at the Queen City Tune Up and set up an alternatingly sloppy and pristine final between #8 UNC Wilmington and #15 Massachusetts. A critical late upwind break for UNC Wilmington broke a second half deadlock and delivered a 15-12 victory for the Seamen.
"It's great," said Wilmington coach Greg Vassar about the tournament win. "We're on a good path. We got better as the weekend went on. Our ceiling is really high."
Both teams were not at their best in the first half — Massachusetts' four man cup zone wasn't able to stop big Xavier Maxstadt hammers, but Wilmington receivers had numerous drops and miscues. UMass had some mistakes of their own, often watching cutters unable to create separation and having to force up some high stall hucks.
It was, however, an exciting back and forth half. Wilmington struck first as Maxstadt led the UNCW defense to an upwind break on the game's second point. But after a Massachusetts upwind hold, Jeff Babbitt scored the first break for ZooDisc and then standout rookie Brett Gramann hit sophomore Conor Kline streaking upwind to take their first lead of the game. Kline followed up his score with an assist to take what would prove to be UMass largest lead of the game at 4-2.
Frequent turnovers for UMass eventually gave way to a huge Charlie Lian huck and Maxstadt sky: tie game at 5-5. The UMass offense continued to struggle, possibly in part because they played a number of points late in the first half without Babbitt — their most effective player — who hurt his shoulder laying out midway through the half. He had often served as a release valve for the offense, coming underneath and back into the handler space. Without that, Wilmington's strong downfield man coverage forced a number of throwaways.
Wilmington tallied two more breaks to UMass' one to take half up 8-7, with UMass set to receive.
The turnover-heavy first half gave way to a surprisingly clean second half, featuring eight straight offensive holds. There was a beautiful sequence in the middle with both teams trading body blows on huge hucks — two points in a row Gramann came flying across the field in a horizontal stack, received the disc off the first throw, and bombed a flick to Kline for the score.
Wilmington answered each with two enormous Jack Williams deep scores.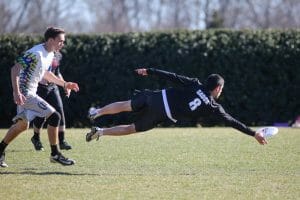 The game stayed on serve until UMass' Ben Sadok uncorked a 50 yard hammer downwind that fell perfectly to an open Gramann, who dropped it. Although Wilmington didn't score immediately on that possession, that miscue seemed to force the wind out of the UMass sails. Two possessions later, a floating huck sailed into a three-on-one UNCW endzone advantage; UMass' Jeff Dreyfus couldn't make the play. 13-11 Wilmington.
UMass held on their ensuing offensive possession to keep things interesting. Dreyfus made the play this time, with a huge sky grab over the top of his defender just outside the goal line. He hit Kline for the goal.
Kline was brilliant in the loss. He was involved in every UMass score but one, either as the thrower or the goal scorer. With Babbitt banged up and playing limited points, he put in a valiant effort and made a few key plays to keep them in it in the second half.
Kline couldn't reel it in on the game's final point, however. A Gramann huck was a little late and UNCW rookie Carlton Rouse — a former D-II college football player — got the big endzone block. With UMass out of gas, Wilmington worked it quickly down the field before Rouse found some open space in the corner of the endzone for the bookends score and the Wilmington victory.
"We wanted long points," said Vassar. "We wanted pressure on defense. We wanted to put it and put pressure on their zone. That's what we had."
Vassar gave a lot of praise to the rookies like Rouse and offensive starter Kevin Mateer. Grayson Sanner also made some big plays.
But there's no doubt that the team runs through its veteran stars like Williams — a breakout cutter at Nationals last year — and, particularly, Maxstadt.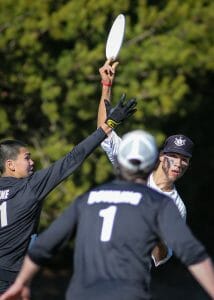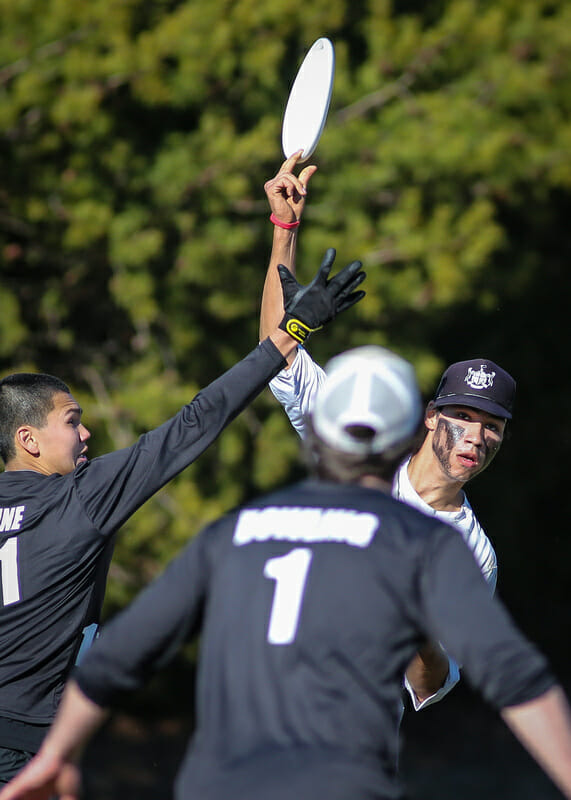 "He can throw everything," said Vassar. "And when he turns it on on defense, he can shut down anybody. We've relied on him a lot. He had the green light to thrown anything and everything, and he did." In the final, he played outstanding, with numerous big blocks and his usual arsenal of hucks.
UMass took their first loss of the 2014-2015 season. They had just poured a lot of energy into taking down #2 UNC in the semifinal and started to sputter on defense in the final. Perhaps it was mental as well.
"We thought we had beat the best team at the tournament," said Babbitt. "Now we're playing UNCW and thinking it's going to be a cakewalk compared to the [UNC game], so we came out really soft and just couldn't come back."
But, as is obvious from their results, they clearly belonged on the field and were easily the most impressive team at the tournament behind Wilmington. Their win over UNC was no fluke and their margin of victory was large all weekend. They just didn't have enough legs to hang with Wilmington for 120 minutes.
"We showed good fight," said co-coach Evan Johnson. "It was a tough game. We were tired and we battled through."
In some ways, this was also a revenge game for Wilmington, who lost to Massachusetts in last year's Easterns Qualifier final. Despite getting the win this time around, Vassar recognized the growth of the team.
"They're good," said Vassar. "They're deep. And they haven't been outside, so they're going to be really good. They're definitely in the talk for being one of the top teams this year."
QUICK RECAP
The full tournament recap will be out later this week. Here are some of the major stories we'll be discussing this week.
– Just how good is UNC Wilmington? We're starting to see Wilmington's massive potential realized. They have everything they need to be great: potent handlers, a couple excellent cutters, a strong team identity, a top coaching staff, and great rookies. But they're normally a team that takes time to develop. Is this a blessing or a curse?
– UMass was underrated at #15 coming into the weekend. They are obviously a top 10 team, but how high is their ceiling? The biggest change in the team seems to be mental, not a surprise considering Tiina Booth is at the helm. But they still lean a lot on Jeff Babbitt, reasonable considering how good he is. But can they be confident enough to win without him?
– Make no mistake: UNC is not the team they were last year. It won't be a charmed season again — the road will be a lot bumpier and they have a lot of developing to do and roles to determine. Jon Nethercutt and Ben Snell are elite tier players, but they can't do everything. Can the team forge a new identity without the big cutters that led them to so much success in 2014? Note: wind is still a big Achilles heel for Darkside.
– Harvard is a very young team. Tons of rookies, tons of rookie mistakes. They played well this weekend, but didn't even compete against the top level teams. They have a great system, so they'll get better, but is their ceiling lower than last year? There are major question marks about Jeremy Nixon.
– It's back to the drawing board for Georgia. It's not that they had a bad weekend, but they didn't really impress either. They got walloped by UMass and Wilmington and lost a heartbreaker to Michigan on double game point. There are a lot of great players on the roster, but they need to figure out who will handle the disc. Elliott Erickson is more of a cutter than a thrower, and their lack of disc skill depth showed in the wind.
– A bit of a question mark weekend for Michigan. They only lost one game — 15-10 to Harvard — but they didn't dominate lower ranked teams like some of their ranked peers. It could just be chalked up to their lack of outside practice time; they had lots of unforced errors. Outlook: hazy.
– NC State and VCU both had very nice Saturdays. They are also both very raw. NC State has a lot of skilled personnel and the ability to be a Regional contender, but they were mentally weak and crumbled when they got down in a game. VCU was having a blast playing all weekend and is chock full of athletes. They beat Harvard by winning jump balls basically the entire game. If they can develop some offensive consistency and polish up their handling, good things could follow.
– Luther went 4-4 with their losses all coming to ranked opponents. That's about where they are right now — a top 50 team, but not a top 25 team. They graduated a lot of players this past year, so we could see a bit of a rebuild this season.
– Three wins, and then four straight losses to close out a likely frustrating weekend for Iowa. They were oh so close to beating Harvard in prequarters, but falling there saw them slip into an o-fer Sunday. Nice potential, but they have work to do to prove they can contend in the North Central.
Additional reporting by Simon Pollock.