Florida's truly back in the hunt for a National title for the first time since 2010.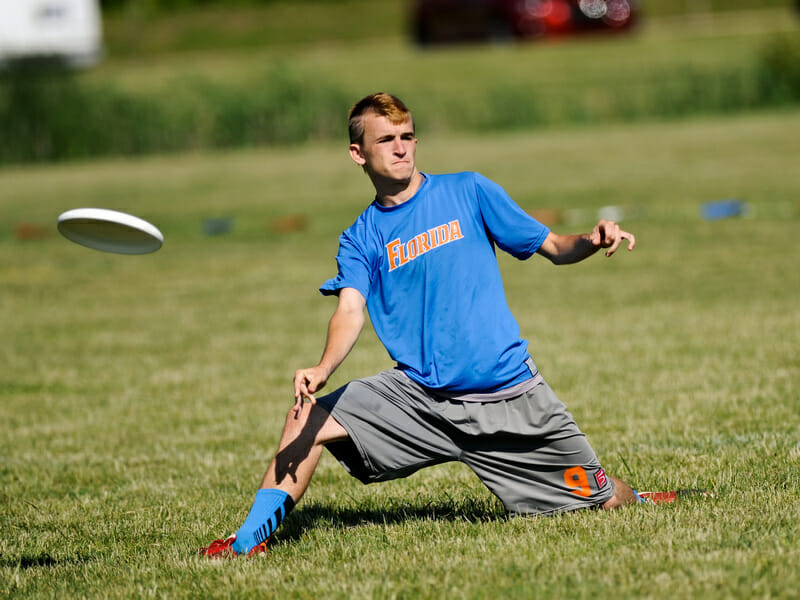 "We led the entire Wilmington game, up until the last throw" – Florida coach Cyle van Auken
Thats how the season ended last year for Florida. In the final game of pool play at the College Championships, Florida fell victim to the inspired run of UNC-Wilmington. But with that behind them, all eyes are on the Florida leadership to see if they can bring the Gators back to the top.
A Loaded Roster
Florida might have the smallest roster turnover of any top-ranking Nationals team from 2014 besides Pittsburgh, with their only major loss coming in captain Jason Silverman.
"Silverman is a big loss, and him being left handed gave us some specific advantages in our system,"  said coach van Auken. The player most likely to fill that hole will be Billy O'Bryan. After a very successful freshman season, O'Bryan is equipped to fill any role in an always evolving Van Auken system. The roster change doesn't exist much beyond that point, save for the young athletic talent coming out of the newly developed Florida youth programs.
"More and more we are adding young players who have played before," van Auken told Ultiworld.
Although he's not a young player, Jacob Dummeldinger has used the fall to adjust to a growing role on the team, one that seems to look more and more like one of the team's most potent deep threats. Van Auken went on, "Still our system emphasizes making the right choices, and those choices will be left to Bobby [Ley] and James [Dahl]."
Same Story, Different Chapter
This year's Gator squad isn't so far from the dominant Florida of the mid 2000's, in gameplan at least. As is standard practice, the captains and senior leadership in Gainesville won't see much of the bench. The top players play nearly every point in big games. Ley and Dahl both got valuable experience with Florida United this past club season and are ready to shoulder the load of the offense, like Brodie Smith, Kurt Gibson, and Tim Gehret did before.
"Bobby and James are at the point that they fully understand their game and their place in system, having two seasons under their belt where they've done the majority of the heavy lifting," van Auken says.
The Florida United experience isn't really that comparable to any other in the region and perhaps the nation. The club team has held true to its purpose in recent years, and mainly focuses on growing the talent through the college players. For example, at this year's Southeast Regionals, the starting offense for Florida United included college players like Ley, Dahl, Chris LaRocque (FSU), Connor Holcombe (FSU), and John Best (UCF).
Needless to say, Dahl and Ley are used to the pressure of high level competition and are ready for the responsibility. While this may seem like a limited system, Coach Van Auken doesn't shy away from the challenges it faces: "As always at Florida, the team will go as far as the best players can take it."
"Only One Goal"
A strong 2014 regular season, accompanied by an almost absent roster turnover, means the goal is clear for 2015. "Only one goal for 2015, the Title," said van Auken. "The pieces are in place, and the experiences have shaped them to make that run."
The hump could prove to be bigger than it seems. For whatever reason, Florida has not been able to translate regular season success into the Nationals run to which the program is accustomed. It could just be that it comes down to experience. Both Ley and Dahl are entering their third year as team leaders, by design. The Florida team of this part of the decade was designed to peak in 2015, making the "one goal" a win-or-bust situation.
Teams know what they'll get out of the aforementioned two, so the people that will really put them over are the role players. Every time an opponent says "who is that guy" when playing the Gators, they get one step closer to the last thing they need to have a legitimate shot at a title. Depth. They need players like deep specialist Tanner Repasky, top defender Bradley Seuntjens, and U19 freshman Ryan Hiser to produce all year. Sprinkle on some good decision making from the veterans, and 2015 could really be the year.
The experience comes early this year, with a tough spring schedule. Florida will be attending Warm Up: A Florida Affair this weekend, and then Centex and Easterns in March. But don't count out the challenge they'll get early in the Series. "Our region is always so strong that winning it is a good barometer for National competitiveness," van Auken noted. 
Florida started its season with a 4-3 performance at Carolina Kickoff, with close losses coming to #1 Pittsburgh, #4 UNC, and #6 Central Florida. What's encouraging for Florida, though, is that they played the entire weekend without Ley. They wouldn't have had similar success even a year ago without their best player.
It remains to be seen how this team will really come together, but we won't have to wait long to find out. Not only are their Nationals hopes high, but Ley may prove to be an unexpected contender for Player of the Year as well. With the experience and the depth of talent there for them this season, their ceiling hasn't been higher since they last won the title in 2010.