The east elite gathered in Charlotte for early season action. Virginia emerged victorious with an impressive run. Find out what the rest of the landscape looks like following QCTU's results.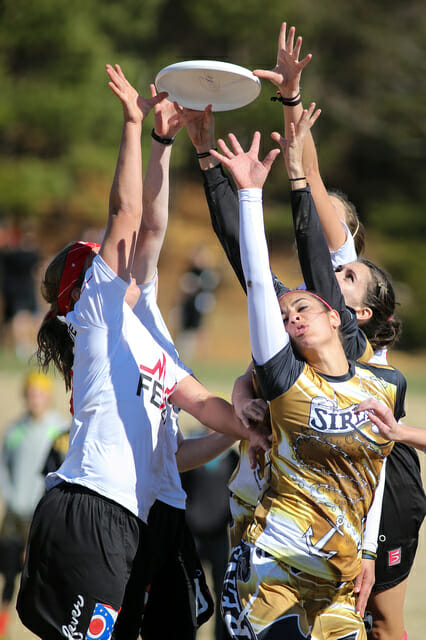 The quality of the field in Charlotte for Queen City Tune Up meant it would be hard to walk away from the weekend without learning a lot about the women's division this season. While the winning performance of Virginia merely confirmed what we already thought, plenty of other results began developing the characters and thickening the plot that will play out this season.
Two strange contexts did impact the weekend: the windy conditions of Sunday and the absence of Dartmouth. The gusts really kicked up for most of the last day of play, leading to some turnover filled matchups and low scores. Meanwhile, Dartmouth chose to head home early, fearing the snowstorms buffeting the Northeast would make their trip home too dangerous if they stayed.
Let's take a look at the weekend's results and the lessons learned.
Virginia: They're That Good
The tournament champion is the country's #3 ranked team, who mostly only confirmed that they are one of the key teams to watch this season. A 7-1 record in Charlotte included wins over Ohio State, Northeastern, Michigan, and Pittsburgh. They charged through Sunday's bracket, despite playing in a prequarter that morning, decisively striking down opponents at every stop along the way.
Their lone stumble was against Florida State in pool play, a game in which they failed to execute and gave away too many possessions. That was an aberration in a string of good offensive play from nearly their whole roster. Captains Nada Tramonte and Sarah Hansen gave most of the credit to the team's trust in their systems and depth.
"Everyone stepped up, both our rookies and veterans," said Hansen.
Hydra's depth did prove to be too much for most opponents. Their skill level was simply superior, keeping their offense consistent even when the wind kicked up. That allowed them to score efficiently while opponents struggled through turnover filled points or field position punt strategies. Hansen was dominant with heavy touches, as was star Alika Johnston, but Michelle Derieux, Rebecca Meeker, and Janie Mockrish all made big contributions.
Return to Form for Ohio State
Over this first few weeks of the season, we've seen two very different Fever teams. They've yo-yo'd up and down the power rankings, going from a 3-3 weekend with a quarterfinal exit to a 6-1 showing with a finals appearance. It doesn't hurt that they beat the Central Florida team in semis that knocked them out at FWC. They left Charlotte with their only loss coming against Virginia while beating UCF and Tufts.
While it wasn't a single individual who made the difference, Stevie Miller's bounce back certainly correlated with her team's. Miller looked significantly more comfortable in the backfield and on defense, showing off some patient handling paired with a few impressive hucks. Catelyn Ramsey's return to the field was a real boost for the defense, and Katie Backus continued strong offensive play.
OSU will be at Commonwealth Cup, offering them another chance to get a shot at Virginia. That tournament will provide a nice view of which Fever team is closer to their true identity.
The Carleton Perspective
Syzygy's stock has dropped markedly after a disappointing weekend. They failed to make the championship bracket, surprisingly falling to Pittsburgh in their season opener. Almost all of their wins came against the tournament's lowest finishers. The team's personnel was clearly impacted by the loss of center handler Kirstie Barton, who opted not to play with Syzygy this season.
Conversely, Carleton went home 5-2, with a win over Dartmouth (although it seemed like Dartmouth gave that game away). They were a couple of goals away from making the bracket – or if Dartmouth had forfeited before the bracket was made – and both of their losses were to ranked teams. And it was their first time playing all season.
From watching them play, it is safe to say Carleton hasn't gone away. They still may be the best team in the North Central. When Emily Buckner gets to go upfield, she's a dangerous threat for handlers like Katie Ciaglo and Lucia Childs-Walker. But they also lack the dominant backfield presence they've had for so many years, meaning adjustments will be necessary.
Southeast Continues Strong Opening
Coming in, the three Southeast teams' seeds added up to 29; their finishing positions totaled 18, meaning they broke a combined 11 seeds. 5th, 6th, and 7th place finishes were the result of a 14-6 (12-4 vs. out of region competition) weekend where both Florida State and Georgia won their pools on Saturday. This follows up a good showing at Florida Winter Classic.
Florida State is the big story after being the lone team to defeat Virginia. In fact, the Seminole Ladies have defeated the otherwise-undefeated tournament champion for two tourneys in a row. They looked very solid behind the disc, despite being without senior handlers Lauren Brunner and Kristin Lloyd. The vast corp of FSU returners has them in the thick of things early; they looked team-oriented and deep.
Rinse and repeat for Central Florida. Slightly healthier, the team had to trudge through an eight game weekend. Their high volume players — Eli Williams, Alexa Wood, Janina Freystaetter, and Shayna Brock — are likely still feeling the effects of a very busy weekend. While their lack of efficiency made it harder, they still demonstrated their toughness, including grinding out a 30+ minute universe point against Northeastern in quarters. The Sirens notched some good wins over Pittsburgh, Carleton, Northeastern, and moved to 2-1 this season against Florida State.
Finally, Georgia also had one of the strongest showings they've put up in some time. Dawgma went 6-1 in Charlotte, losing only to Virginia while defeating Tufts, Central Florida, and Michigan. Hannah Leathers looks like a good bet for a second straight Southeast POTY, with Jennifer Farrell and Melissa Merrill also delivering nicely. Dawgma's offense is still coming together, but their defensive personnel can run with the best.
Tufts Solid On The Way to Semis
With so many teams to talk about, it's possible Tufts Ewo has flown and is flying under the radar. They sit outside the top 10 in power rankings and made a semifinal exit on their way to a third place finish at QCTU. A pair of wins over Michigan and one over Florida State look good, an overall 5-2 with losses to Ohio State and Georgia. That's solid work.
There was a certain comfort to the way Tufts operated. There was never the sense they were under the gun, and that comes from having a veteran group of handlers — Qxhna Titcomb, Jojo Emerson, and Laura Fradin — guiding them forward. Winnie Zhang and Rachel Kramer stepped up as impressive cutters. Ewo's defensive game can be ramped up, but that is something they have time to work on.
Titcomb is the real deal. During the windy quarterfinals round, where Ewo took on FSU, she stepped out and threw an unreal backhand huck between two players in the cup, around the wing, and beyond the deep to hit a cutter in stride. Letting her throw backhands turned into the downfall of many defenses throughout the weekend.
Other Impressions
"Throwers Seeking Receivers" might be good ads for both Pitt and Michigan. Pitt's trio of Carolyn Normile, Kate Loughery, and Vaughan Skinker powered them to a great showing, but often seemed overburdened; a few too many of their hucks had to be to each other. Likewise, Michigan's crew of Tracey Lo, Hannah Henkin, Charlotte Wilson, and Carolyn Vlach were impressive, but Flywheel's cutters seemed athletic, yet inexperienced. Lots of potential for both teams should they develop stronger downfield presences.
It's hard not to be disappointed with what Wisconsin has done so far. Through two elite tournaments, they are 1-9 against ranked teams. That's even more confusing when you see how many strong players they have and how, occasionally, their offense just shines. Coach Robyn Wiseman may be focused heavily on development and the long run, anticipating a single bid in the North Central region, but they seem capable of much better results than they've achieved.
Things took a turn for the strange when Dartmouth tweeted an announcement of their early departure. The team faced a two hour drive even after hitting the tarmac, supposedly in some sort of shuttle, which is pretty risky in a massive snowstorm. Their choice to put safety over playing three games seems reasonable. On the field, freshman Julianna Werffeli was excellent and their handlers as a group were fearless.
Northeastern's trajectory is still undefined. They were a 30+ minute universe point away from semis, but instead settled for a 3-4 weekend with no impressive victories. They were a point short against Florida State and have some solid wins, so they fell just short on the weekend. On a weekend where Dartmouth, Tufts, and even Harvard all looked solid, it stings a little to struggle.
Speaking of Harvard, it isn't just the India Stubbs show. Eliza Pugh joined Stubbs to do a lot of work in the backfield, and their other handlers were no slouches. Mia Bladin was present, but looked like she was still finding a role with the team. Second in their pool on Saturday and a very-near prequarter victory is a good weekend's work.
Not a great showing for the host Atlantic Coast region. Without Virginia, they were 7-25 (five of those wins over each other) on the weekend, finishing in five of the bottom six spots in the tournament. No one looked within miles of what Virginia is doing and a second bid doesn't look likely at this point.
Additional reporting from Liz Gates.