Warm Up Day 1 was filled with twists and turns.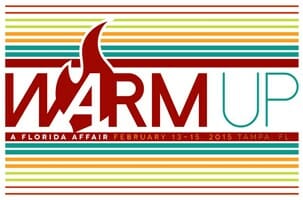 Here are some of the stories we're following after Day 1 at Florida Warm Up.
Florida State (3-0, +17) Back To Form
Florida State started their 2015 regular season with a bang, defeating Carleton, Texas, and Virginia Tech with ease on Friday. They crushed all of their opponents with one of the best man defenses at the tournament, and they got great efforts from Chris LaRocque, Andrew Roney, and Connor Holcombe.
Though FSU didn't look convincing in the fall, this is what we expected to see from them: high energy, great defense, a lot of athleticism, and good chemistry on the offensive line. They weren't challenged. We'll see how they hold up tomorrow with varied threats, including a tough late day matchup against Wisconsin that will likely decide the pool (and an autobid to the bracket).
Saturday Opponents: Georgia Tech, Arizona State, Tufts, Wisconsin
Central Florida (3-1, +8) Definitely A Contender, Despite Bad Showing v. Pitt
A lot of onlookers will no doubt look at UCF's 13-5 loss to Pittsburgh on Friday evening as a sign of where the team stands. But don't be fooled by the results of a game that got away early: UCF is legit and will likely be in the mix later this weekend.
Their loss to Pitt stemmed from a big comeback victory against Carleton minutes earlier that sapped both energy reserves and leg strength. The second half of the Carleton/UCF game was one of the most intense and exciting of the day — and it showed in UCF's legs against Pitt. They never really played a quality defensive point, and the offense was frazzled in the first half.
Their win against Carleton showed a better picture of the team: tall, fast, and athletic — and looking to boost it. Jeremy Langdon and Michael Fairley were an effective duo all day long.
They'll have two easily winnable games tomorrow, and then an important game against Texas A&M in the late afternoon.
Saturday Opponents: Illinois, Northwestern, Texas A&M
Carleton (1-2, +0) Rusty But Improving Fast
Frankly, Carleton looked awful this morning against Florida State — they couldn't keep up on defense and never found any rhythm on offense. But by the end of the day against Central Florida, they already looked like a different team.
Sure, giving up a 4-0 run to UCF to lose has to hurt, but it was no doubt a good learning experience for the younger CUT contingent: you can't tighten up just because the game is close.
Justin Lim was effective as the team's offensive center handler and, as usual, the playing time was spread pretty evenly. If they can continue to improve throughout the day tomorrow, they could be set up for a true classic vs. Florida for the pool in the showcase game.
Saturday Opponents: Northwestern, Cornell, BYU, Florida
Pittsburgh (3-0, +16) Not Without Flaws
Pitt's O line defense struggled mightily against Wisconsin in their second game of the day. How bad was it? Pittsburgh's staff had this stat: The O line had 10 turnovers, recovered only four back, and had zero Ds.
Fortunately Pitt's D line played well. They survived Wisconsin on double game point and went 3-0 on the day. It looks like Pitt found the answers to the O line's problems somewhere during their three consecutive bye rounds before efficiently beating a gassed Central Florida team. Things should be clearer as Pitt plays four games straight Saturday and fatigue comes into play.
Saturday Opponents: Texas A&M, Tufts, South Florida, Texas
Florida (3-0, +17) Looking Sharp
Bobby Ley is back behind the disc for Florida and the Gators had a very nice day on Friday with blowout wins over Northwestern and Penn State and a hard-fought victory over Wisconsin. Their deep game is red hot right now, and they found ways to attack deep even against the various zone looks they saw.
Billy O'Bryan and Brian Benge had excellent performances today to help lead Florida to a perfect start to the weekend.
All eyes (including Ultiworld cameras) will be on their showcase game under the lights tomorrow night against Carleton, a game that should decide the pool.
Saturday Opponents: Georgetown, Texas A&M, Cornell, Carleton
Texas A&M (4-0, +20) Handles Easy Friday Schedule
Dozen played four games right in a row Friday and won them all, including three of their four pool play games. That's huge. But Saturday the boys from College Station face a big test as they play Pittsburgh then Florida, and finally Central Florida for what will likely determine the pool.
It's a tough road but Dozen is still treating this like an early season tournament and using it to work some things out. Dalton Smith is being eased back into the rotation cautiously after his injury and Matt Bennett appears to be playing strictly D line. Forget about Warm Up; if A&M's offense can produce without Bennett, they'll always have a chance to break with him behind the disc after a turn. That strategy could yield huge dividends. Let's see if they stick to the plan when they play tougher competition.
Saturday Opponents: Pittsburgh, Florida, Central Florida
Wisconsin (2-2, +3) So Close To A Huge Day
Wisconsin may have lost two games on Friday, but they couldn't have been much closer to a 4-0 day. They had a barnburner of a game with Pittsburgh in the third round, going down by three before rallying to tie, then going down by three again, before tying again and then losing on double game point. It could have gone either way.
Wisconsin's defense was stout against Pitt and forced a lot of turnovers and converted plenty of breaks. The problem? Their own offense didn't hold up well against a strong Pittsburgh defense.
Wisconsin was right in it again versus Florida — they held some leads before going behind late to lose by two. Could have swung the other way but for a play here and there.
The defense is there for Wisconsin, and it will no doubt be dialed in even more later this season. But they have work to do on offensive efficiency — they struggled to stay consistent today. Luckily for the Hodags, they'll likely just need a win against Florida State to advance to the bracket on Sunday.
Saturday Opponents: Georgia Tech, Texas, Florida State
Texas (2-1, +3) Up And Down With Thin Roster
Texas made a statement Friday with a big win over Tufts. Hard man defense, deep shots to one-on-one height matchups. Texas showed big play potential and some personal growth. After a bad fall against Florida State, that win helps.
They're playing with just 17 guys this weekend; we'll see if fatigue becomes an issue.
Saturday Opponents: Wisconsin-Milwaukee, Wisconsin, Pittsburgh, Arizona State
Tufts (2-1, +11) Still A Question Mark
Tufts may have won two games, but they both came against weaker opponents. They struggled against the only top opponent they faced — Texas — falling behind 5-2 and never got back into the game. Tufts ran a lot of zone — which worked well against Northwestern in the first round of the day — but Texas wasn't phased. It was only when Tufts switched to man (too late) that they had break opportunities.
That said, it could just be that Texas was a bad matchup for Tufts. Texas is tall and athletic across the board, creating some matchup problems for Tufts. Texas hucked to their big receivers and brought down scores.
Tufts looked polished on offense, if struggling a bit with execution at times. Tyler Chan and Carter Thallon played well on the day. Tomorrow will be the test.
Saturday Opponents: BYU, Pittsburgh, Wisconsin-Milwaukee, Florida State
***
Here, we evaluate the stock of the 11 teams in attendance at Warm Up that didn't make Nationals last year.
Buy
Arizona State
Hold
Georgia Tech
Virginia Tech
Wisconsin-Milwaukee
Penn State
Georgetown
Sell
Illinois
BYU
Cornell
Northwestern
South Florida