Pittsburgh left no questions about which team was the best in Tampa.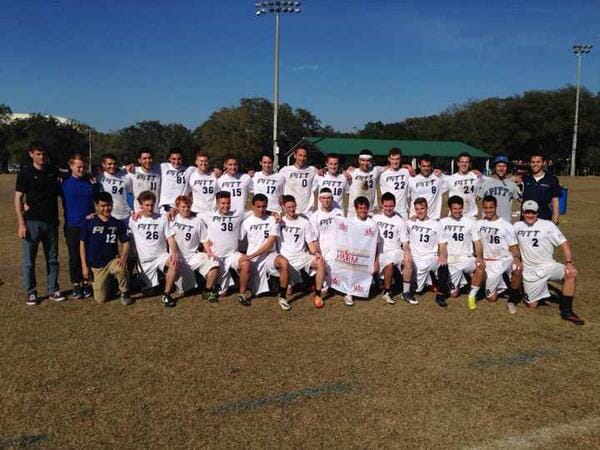 TAMPA — Florida State was still in the game. Though they had given up two first half breaks, they were about to score to cut the Pitt lead to three. A short floating flick to their star Chris LaRocque in the endzone would get their defense back on the field.
But suddenly, there was Pitt's Max Thorne, flying above LaRocque for a huge block. He sprinted to the line and dished it to Pat Earles, who fired a 65 yard break flick that came back into play right at the front left cone to find a sprinting Trent Dillon all alone. And just like that it was halftime. 8-3 Pitt.
Pittsburgh went on to defeat FSU 15-8 in the finals of Warm Up, finishing an undefeated weekend with effortless dominance over a team that had looked so strong until that point.
Pittsburgh's big four — Thorne, Earles, Dillon, and fifth year Marcus Ranii-Dropcho — were just fantastic, combining for 10 assists and 10 goals. One more than one offensive possession, the four worked the disc all the way down the field amongst themselves before finding the endzone.
"We have an offense and a defense that is starting to gel and take advantage of what everyone's talents are," said Pitt coach Nick Kaczmarek.
Pitt's offense had been shaky at points earlier in the weekend, but it was nearly untouched against Florida State, yielding just one break after Pitt had already built a sizable lead.
FSU never found a rhythm on either side of the disc. After a weekend of fiery man defense filled with huge momentum-shifting layout blocks, FSU tried a lot of zone and junk looks to try to slow Pitt's flow. But it backfired — the team was listless and a step behind for most of the game.
"We just didn't do a good job of dictating on defense," said FSU coach Peter van de Burgt. "We were just trailing."
Offensively, Florida State first struggled with decision making, putting up too many hucks to contested deep space. When they started to work the disc more patiently, Pitt did a fantastic job of getting the disc out of the hands of LaRocque and Andrew Roney and into the hands of less dangerous sideline handlers. Once the disc was on the sideline, Pitt clamped down on resets and unders, forcing numerous turnovers. FSU finished with 14 offensive line turnovers in the game.
"We came out focusing not enough on our game and too much on the fact that we were playing in a finals game and playing against Pitt," said van de Burgt.
While FSU may not have played their best game, their struggles were a testament to just how well Pittsburgh was playing. Pitt got a break to go up 3-1 after a LaRocque huck turnover. They forced another turnover three points later and ran a beautiful transition attack with great pace, creating an easy score to go up 5-2.
After halftime, FSU looked like they might have a chance to get back into the game after Connor Holcombe got a deep block on Thorne and Roney hucked to the goal line to set up an FSU break. The score there made it 5-8. But Pat Earles got one of his four assists with a flick huck to Thorne to hold on offense, and then great pressure forced an FSU turn and Ranii-Dropcho dominated the Pitt possession to put Pitt back up by five. It was over.
Pitt started sending out the second unit on defense and their offense didn't turn it over again in the game. Pitt's offense had just two turnovers.
"I really think that this year we're figuring out how to play together and really understand each other," said Kaczmarek.
Florida State and Pittsburgh will both return to the playing field at the Stanford Invite in three weeks.
Additional reporting from Tad Wissel.