Pool play is over with at Florida Warm Up -- who's going to take the title?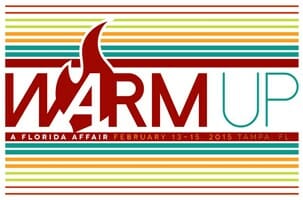 Here's a recap of the second day of Florida Warm Up. Check out the Sunday Championship Bracket.
Florida State Is #1 So Far At Warm Up
FSU has been the best team in Tampa this weekend and have the #1 seed headed into Sunday's bracket. They haven't faced a true challenge yet at the tournament, winning their games by a combined 37 points.
They crushed Carleton and Texas on Friday, and did the same to Tufts and Wisconsin on Saturday. But now comes the real challenge.
They'll get the winner of Central Florida and Carleton in the semifinals; both teams have been inconsistent, but also have the ability to give FSU trouble if they bring their best game. Carleton, particularly, looks well suited to counter the athleticism of FSU with the zone they stymied Florida with today.
Regardless of the outcome on Sunday, FSU has proved to be one of the country's better teams, and Chris LaRocque, Andrew Roney, and Connor Holcombe have formed a terrific trio. FSU's explosive athleticism and surprising depth will have them competing in every game this season.
Carleton Heats Up On Saturday
Carleton opened the weekend with an ugly game against Florida State that they never came close to winning. That was to be expected, perhaps, as it was their first time outside since the fall and they played the most impressive team at the tournament to get things started.
But when the dust settled on Saturday night, Carleton was through to the championship bracket with a date set with Central Florida.
Carleton's bracket hopes came down to a game against Florida. The Gators were undefeated to that point and had looked like the more impressive team. But Carleton's depth and intensity started to wear on Florida and eventually cracked them midway through the first half, when CUT went on a 4-0 run to take half 7-4, including the punctuation mark point from Alex Trautman to break for half.
Florida didn't have much left in the tank, and Bobby Ley and James Dahl weren't very effective against a tough Carleton zone. CUT rookie Sol Yanuck had some big plays, including a bookends break score and lots of quality cutting on offense.
Carleton is just 1-2 against teams that made the bracket, though, so there is work yet to be done. They have a rematch with UCF in the semis play-in game tomorrow at 9 AM. Central Florida broke Carleton twice to win their pool play game late and may come in with a bit of a mental edge. But Carleton has to feel like the game got away — and no two teams had such divergent paths on Saturday, with Carleton playing red hot and UCF stumbling out of the gate in a surprise loss to Illinois.
Don't be surprised if the much deeper Carleton squad runs UCF off the field tomorrow.
Florida Fall Victim To Tired Legs
It's hard to pinpoint exactly what went wrong for Florida in their big loss to Carleton — the only loss they've taken this weekend. Perhaps it was that they were just tired in their seventh game in two days. Maybe knowing they were already through to the bracket sapped their focus and energy. Either way, it wasn't a pretty game for the Gators.
Looking back over Florida's six wins, they're not as impressive after the Carleton loss. They beat Wisconsin (who also lost big to Pittsburgh, Texas, and Florida State) and they beat Texas A&M (who had one great half against Pitt before going on to an 0-3 day). Florida is expected to beat Arizona State tomorrow, and then they would get a true challenge — with full motivation — against Pitt in the semis.
That will be a measuring stick game for Florida. How do they stack up against an elite team with excellent defense? Carleton's zone ravaged Florida's deep game — something they rely on heavily in their offensive attack. Don't be surprised to see Pitt try it out as well.
First, though, they'll have to get past a team that — as Texas knows — is dangerous. Arizona State will take advantage of miscues and has the athletes to matchup downfield with Florida.
Depth is still a major question mark for Florida against top competition. They'll have to hope it was a mental letdown tonight against Carleton, not a physical one.
Arizona State Needed A Big Win, And Got One
It would be easy to say that Arizona State backed into the bracket thanks to a fluke win over Texas late on Saturday. But that undersells how well they've played this weekend, and how well they played in that game.
They took it to Texas, who may have been a bit out of steam after three straight games against Wisconsin-Milwaukee, Wisconsin, and Pittsburgh. ASU was the better, more energetic team, and they earned their spot in the bracket to face Florida tomorrow.
From the start of the weekend, ASU was clearly the best team at the tournament that hadn't been to Nationals the year prior, and they took advantage of two easier crossover games (Wisconsion-Milwaukee and Cornell) and the big win over Texas to advance.
Can ASU keep it going tomorrow? They'll have to hope big cutter Danny Bellissimo is able to play; he injured his hip today against Texas. They'll need his physical presence against the tall athletes from Florida if they want to compete.
Texas Is Better Than Advertised
They're not in the bracket, but this is the same kind of competitive Texas team you see every year.
Texas dug a 4-1 hole to start their game against Wisconsin then ripped off six unanswered scores en route to a 13-8 win. No fancy junk looks to spark that run. Just hard man defense.
There are a lot of ways Texas can win. They can grind out possession offense, they can beat people over the head with their size and deep game, and they can still win points with star power — headlined by U23 Open selection Chase Cunningham. Whatever the approach, head coach Calvin Lin has these guys on the same page.
Against Pitt, Texas watched an early three point lead disappear but kept fighting, breaking up wind to force double game point. Pitt would patiently work it up the field and win 12-11. In their fourth and final game of the day Texas lost to Arizona State 13-9 which eliminated them from bracket contention.
No repeat of their 2014 Warm Up championship, but that's quality wins over Wisconsin and Tufts, with a double game point loss to Pitt. 2-2 on the day but not a bad weekend.
Saturday of Warm Up was a coming out party for Texas. Standout performances from Joel Clutton, Dillon Larberg, and Logan Kinney proved that the cupboard was not bare. There is, in fact, life after Will Driscoll.
"It's definitely put a chip on our shoulders," Cunningham told Ultiworld about the frequent talk of Driscoll and Mitch Bennett's departure. "They're great players — they're obviously big losses to you guys and in other teams' eyes. Everybody always talks about our system – Calvin [Lin]'s a great coach, he's been here for 20 years. And we're able to take our role players and put them into bigger roles when we need to."
Don't sleep on Texas. This team is still rising.
UCF Regroups, Avoids Total Disaster
On paper it was a snoozer, but on the field it was the upset of the tournament as Central Florida came out flat on Saturday morning — just as they did last year at Warm Up — and got shocked by Illinois, 13-9.
Tough to win a game when you drop a pull, throw a Callahan, and go down 3-0 in the first three points. But there's a lot of game between 0-3 and a shock loss like that though. For whatever reason, UCF was unable to tighten the bolts and simply play better.
Humbled, UCF was able to regroup after a bye.
The Dogs handled Northwestern and put together a tough 14-12 win against Texas A&M to secure a spot in bracket play.
A tournament saving win over A&M with great efforts from Brawley Adams (who was swapped with Jeremy Langdon to offense from defense), Alex Bullock, and a banged-up Michael Fairley. Those guys will have to carry the water again in elimination play.
The biggest difference between this year's Dogs of War and the squads of the last few seasons is the overall lack of depth. UCF had 28 guys around Thanksgiving but due to some "life happens" situations they took a roster of 20 to Warm Up.
Dogs head coach Andrew Roca assures that his team will be playing to win tomorrow, even if it means running a very tight rotation. It'll be interesting to see how much Central Florida has left for day three but this team is still packed with top end talent and going not afraid to give those guys points.
UCF comes out against Carleton, who they came back to beat on Friday.
O Line Worries – And Wins – Keep Coming For Pitt
Pittsburgh's offense has turned in some shaky halves thus far at Warm Up. Texas A&M led them 7-4 in round one on Saturday. The University of Texas went up 6-3 with three breaks in the early part of that contest. Add that to Friday's BOGO break sale against Wisconsin and Pitt should have some actual concerns.
That said… Pitt is a perfect 7-0.
The bright side is that, when they need them badly, Pittsburgh has been able to get the breaks back in a hurry.
The season is young and Pitt has not yet reached its final form. They're good right now, but don't expect them to survive a three break skid on Sunday.
Pitt plays the winner of Florida and Arizona State in the semifinal tomorrow.
Wisconsin Is One-Dimensional But Getting Healthy
Wisconsin gets defensive pressure. Unfortunately right now that's about it.
That can all change. The Hodags haven't been outside with the wind and they're dealing with their fair share of injuries.
"We have five people that aren't cleated up this weekend and we've lost three more since the weekend started," Wisconsin coach Hector Valdiva told Ultiworld between rounds.
The Hodags show flashes of skill. They went up 4-1 on Texas before giving up five unanswered points before eventually collapsing 13-8. The story of the game was Wisconsin's inability or unwillingness to work the disc short, causing them to turn over a number of low hucks.
Later on they lost to Florida State, who might be the top team at the tournament, 13-8 on the showcase field.
The man defense is there. The success of the season will depend on Wisconsin's ability to build offensive chemistry on both sides of the disc.
Texas A&M Still Learning
Dozen came out on fire against Pitt in the still morning wind and took half 7-4 on a huge Ben Lewis layout grab. Pitt would storm back to go up 9-8, forcing A&M to make the decision to turn thrower Matt Bennett loose on the offensive line — where he would remain for much of the day.
Saturday was an 0-3 outing for A&M but with tight losses to quality teams; a combined -6 against Pittsburgh, Florida, and UCF.
Bringing Bennett over from defense isn't something A&M planned on but they were so close and these games matter for bid allocation, why not go for it?
The original schematic that coach Jose Cespedes came to Warm Up with has had some success. If the offense can score without Bennett, they should be able to manufacture breaks with him on the D line. It's not the worst thing in the world for this team to miss the bracket. It gives them more games to gel against good teams. The arrow's pointing up for Dozen.