The first day of Centex was...muddy.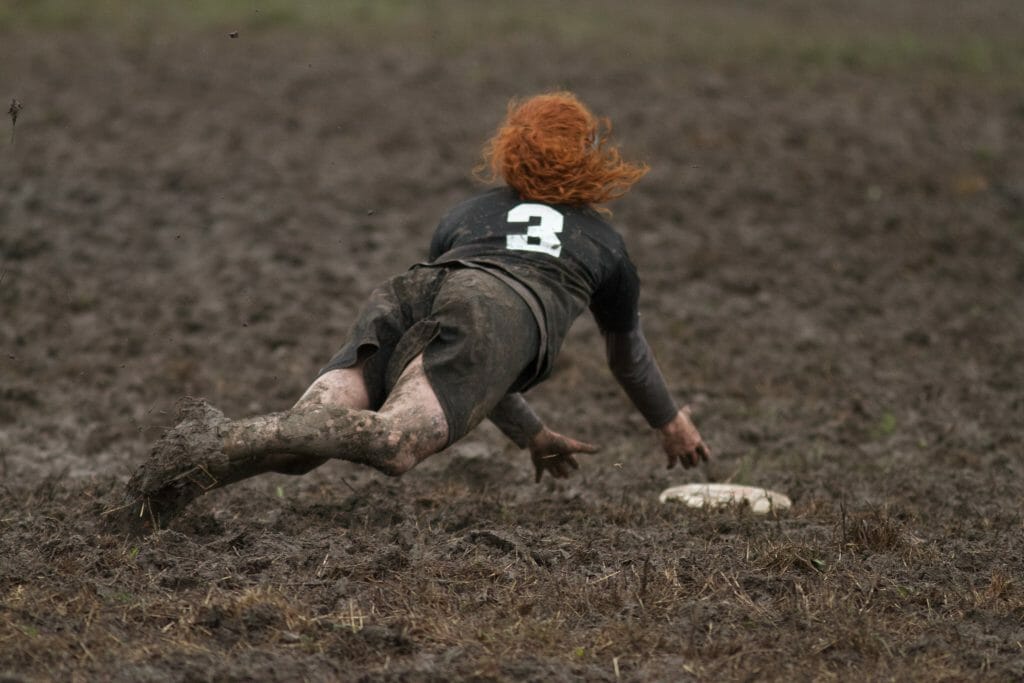 They say wind is the "great equalizer." On day one of Centex, mud was the equalizer… at a tournament where wins and point differentials matter more than ever.
By the final round of the day, the mudpit had peaked. The field was no longer a field. It had become a cratered, watery battleground of sinkholes, with worms littered in endzones like unwitting casualties of war.
As the day grew muddier, it's increasingly important to take each point scored with a grain of salt. Every team was slow, and every team made execution errors. But the USAU algorithm doesn't see grains of salt. It doesn't see mud, or wind, or cold. It sees wins and they see losses.
South Central
Number of Bids: 1
Three SC teams competed in Tier I today with a shared goal: earning another bid for their region. Seeded fourth in the pool, Kansas had the most opportunity for upsets, and they capitalized with gusto.
Kansas upset everyone, playing each team closely but edging out a victory every time. Kate Eshelman's presence was noticeable downfield for Betty, and their mental game seemed stronger than it was in St. Louis. They earned their place in the championship bracket tomorrow, but they will need more discipline on offense to crack into the higher echelon of the rankings.
Colorado shut down California in the first round: from an early 1-3 deficit, they went on a 14 point run for the rest of the game, only allowing California 1 more point.  They ended their day with a 12-4 win against Florida State as well. Kali would have had a perfect day, too… if it weren't for those meddling kids from Lawrence.
At their best, Kali was lethal on the break side, looking for the around backhand before even checking their open lane. Like many teams today, their worst moments were poor-decision throws rooted in tired legs. As expected, Megan Cousins had several impressive defensive plays through the day, but Lisa Doan and Kelsey Bennett had particularly solid days.
Texas Melee held seed, closing out USC but struggling to contain Ohio State and Tufts' stars. Texas has the talent to compete, but it's getting late in the season to fix their mental game. They face the rising Minnesota tomorrow, and the outcome could have significant bid implications if Texas can't rally.
Southeast
Number of Bids: 2
Even with two bids, neither Florida State nor Central Florida acted like they were safe today. They know their strength bid is vulnerable, and they don't want to lose it.
For the Central Florida Sirens, this weekend's games matter for an additional reason: they had unknowingly played Florida Winter Classic and Queen City Tune-Up with an ineligible player on their roster. Their results from both tournaments are therefore nullified, and only their performance at Music City Mash-Up and Centex will count toward their ranking.
When looking at their record today, it's important to remember the Sirens' goal: to win Centex. Not just to break seed, and not just to play out of region teams. They want to win it all.
In the first two rounds, they worked through Iowa State and Northeastern respectively, playing their signature offense with new pilots in the cockpit, namely Shayna Brock and Steph "Eli" Williams. These games kept their seed safe, but they do little for their region.  Entering their final game in the mudpit against UCLA, however, the Sirens benched their starters halfway through the game, letting the rest of the team play out the match.
With such a big game on the line, it may seem absurd for Central Florida to make that call. But an argument can be made that playing in the deep muck at 5 PM was never going to be the Sirens' best chance of beating UCLA. They had their seed, and they would have a chance to see them again tomorrow.
For their part, Florida State always seemed to be on the cusp of breaking a game apart, only to lose their grip when it counted. They had powerful deep looks; but they also punted the disc more than any other Tier I team, forcing tired players to play more defense than they had to.
Because they dropped seed, they will face UCLA tomorrow morning in the bracket, and they're unlikely to survive UCLA's skill and patience.
New England
Number of Bids: 2
Tufts and Northeastern were the unanswered questions of the day: would these hibernating teams rise to the muddy challenge? Like the Southeast teams, they have a strength bid to protect.
Unlike the Southeast teams, Tufts delivered by taking down a behemoth. Tufts worked through their first two games against USC and Texas with steady efficiency, permitting both teams 7 points each. When they reached the final round against Ohio State, however, they seemed exhausted.
Everyone seemed exhausted. The mud sucked feet out of cleats, weighed the disc down, and had already coated everyone in a miserable second skin. Points lasted forever as both teams punted the disc, trudged after it, and punted again.
Down 3-6, Tufts opened their lines. According to Ewo coach Meriden D'Arcy, the team's fresh legs were the surge of energy they needed. They went on an incredible 8 point run to upset a stunned Ohio State, simply outhustling the tired Fever team.
In their first game, Northeastern looked like they too would unseat a heavy hitter, UCLA. Despite roster turnover, their team is still tall and physical, and chemistry between Mei Brust, Hannah Walters, and Melissa Ellis kept them in dangerous range of an upset. Unfortunately, their only win of the day was over Iowa State 13-5.
All in all, the North East will have to slay more monsters tomorrow if they want to protect their second bid.
Southwest
Number of Bids: 2
Three South West teams are in Tier I, but only two need another bid: Cal Berkeley and USC. Stanford is royalty this season, and UCLA is the biggest breakout team of the season.
Today both teams played strong, solid Ultimate, and it wasn't ever enough. USC played the scrappiest game of the day against Ohio State in the mudpit, and they nearly won. California lost their chance during double game point to Florida State, 7-8.
Tier II Shoutouts
Word can't describe how much I wish I could cover all the tiers. I'm emotionally and professionally invested in so many storylines in Tier II, and only one hour of Texas highway stood in my way. I wasn't able to see these games, but I wanted to shout out a few highlights:
Three out of the four pools were upset entirely by the fourth seed:
It's no surprise that Rice, a longtime D-III champion, upset their pool. But their victory against the Seattle Fryz was particularly impressive, winning 12-9. Rice will face Iowa State tomorrow, and they have a real chance of going deep in the bracket.
Purdue AMOC has been flying under the radar so far this season, so their upsets over UCSD, Wisconsin, and Maryland were a big surprise. They will face off against Cal Berkeley tomorrow.
The Minnesota Ninjas were a dark horse favorite after Midwest Throwdown, and they delivered: they rolled Michigan Flywheel 12-5, they beat first seed MIT 11-6, and they closed out Florida 15-4. They will see Texas tomorrow, and they will be dangerous.
Notes
The mud was real.