Florida State came out hot and stunned Kansas en route to a 13-3 finals victory at Centex.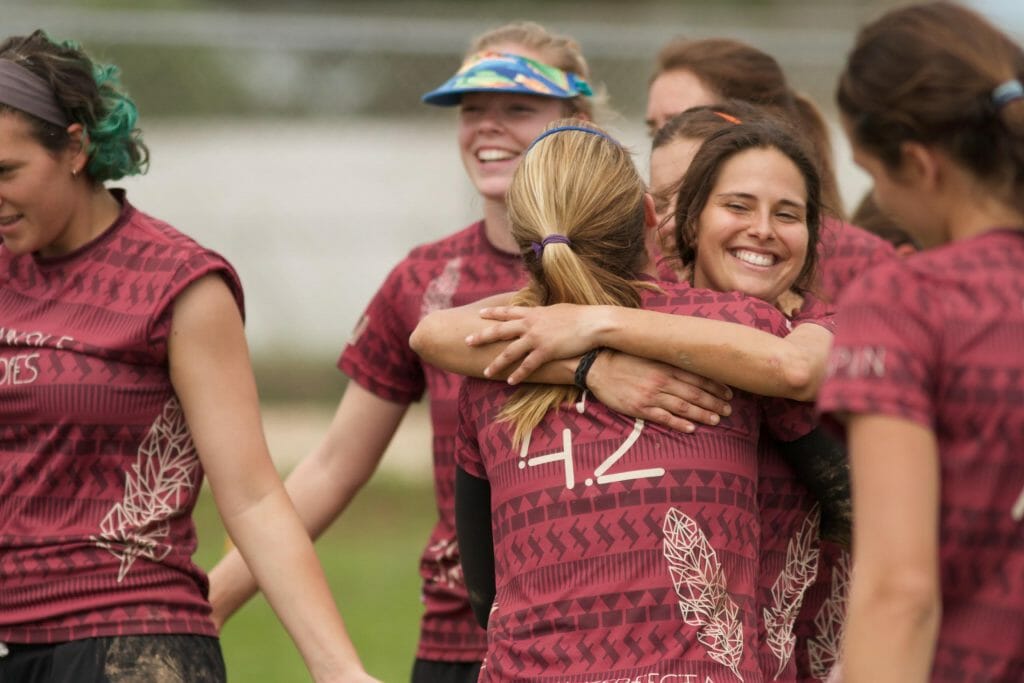 The Florida State Seminole Ladies took command of the Centex finals on Sunday and easily defeated Kansas Betty 13-3.
The game was slated to be redemption for both teams: each had defied expectations to reach the finals. Kansas rose from 4th seed in their pool to 1st, upsetting Colorado, California, and Florida State in the process. FSU under-performed on Saturday, playing hasty offense and suffering more than most in the mud. Neither team was expected to be in the big game. The finals would truly be a clash of two teams discarding their underdog labels.
That's not how it went down…at all.
Florida State scored first off a Kansas pull, sealing their natural break. They quickly followed that point with yet a defensive break…and then another and another. They were up 4-0 before anyone had a chance to blink. Kansas was stunned.
"We have a focus, where we like to win the first three points of the game," said Kansas coach Loren Schieber. "We like to come out and throw the first punch. And they came out and threw the first punch, the first couple punches. It set the tone of the game."
Florida State reached the finals in part because of their flat, unrelenting zone. They set a 3-person wall, with wings ready to attack swings. The flat wall invites teams to swing the disc endlessly, and then punishes handlers if they try to take a shortcut through the middle. The short deep – often FSU captain Kristin Lloyd – lurks behind the seemingly open cutters behind the cup. When handlers try to slip the disc low through the cup or loft it high over the top, Florida State was always ready to attack.
"That was the first time we've had the chance to play that zone against Kansas," Florida State coach Josh Boyd said after the game. "We've gotten mixed results against Kansas [in the past]… but better results with that."
Indeed Kansas and Florida State have matched up before. At Florida Winter Classic, Florida State won 11-10, and on the Saturday of Centex, Kansas won, 14-13. The finals were shaping up very differently.
For Kansas, the new defense was brutal. Away looks are Betty's bread and butter, and they failed to adjust to the reality that 10 and 20 yard gainers weren't working. Their struggle was compounded by the absence of Kailee Karr. Karr had popped her shoulder out during the game-to-go while bidding for an un-catchable score (she did catch it, and they did score). Karr has been the downfield cog for Betty all season, and her absence was noticeable for Betty's offense as they struggled to connect plays. Sometimes handlers Jenni Corcoran and Caitlin Fitzgerald would release shots to spaces were Kailee would have been…only to have the disc land tragically in open real estate.
But Kansas didn't just lose the finals; Florida State won them. Florida State's defensive line was deadly on offense, translating their intensity into efficient conversion plays. Larissa Ferreira was a force running deep, and she was usually running deep after earning the block. Her counterparts in the backfield were no less impressive; Alleigh Grover and Skylar Taggert were the cannons for the Seminole Ladies, owning the deep space as well for Florida State in their zone.
This focus on defensive conversion was a new adjustment for Florida State, and it worked:
"Our defensive offense was about playing a little more crazy, a little more loose," Boyd said, "[We tried] maybe not being so patient… making their O-line work through us rather than making our D-line grind and grind."
Florida State's conversion rate pressed fast-forward on the game. They took half 8-1 in under 20 minutes. Both teams were in disbelief, for entirely different reasons.
The second half dragged on longer as both teams opened their lines, but the mental game was already done, and Kansas had lost. The Seminole Ladies were out of their minds with excitement; their energy never plateaued, and each point stamped their victory more firmly into the team's history.
Florida State polished off a long final point to win the game, 13-3, an astonishing score for two teams who have matched each other so closely in the past.
This finals loss means different things to each team. For Kansas, the game was a lesson in mental strength as well as a reminder that they need to be able to perform without their stars. Their decision to open lines halfway through the game was an acknowledgement that they may need those deeper players to step up in April. Injury has been an undercurrent for Kansas' story all season, but they can't afford to have it be the asterisk to their underperformance in 2015.
For Florida State, it proves to the country that they're worth a long look. The Southeast still has its two bids, and Florida State clearly earned one this weekend. If the region doesn't earn a third — and it looks unlikely — they're ready for a heated battle with Georgia and Central Florida at Regionals.