Some huge storylines emerged on Saturday at Easterns.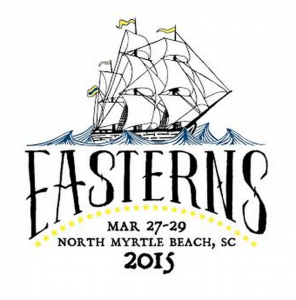 MYRTLE BEACH — Here's a recap of Saturday's play at 2015 Easterns.
Pool A: Pittsburgh, Massachusetts, Carleton, Georgia, Illinois
While there was serious drama throughout Saturday at Easterns, the top team coming out of Pool A was never in doubt. Pittsburgh defended their top seed and then some, winning every game today by at least five points. Since the return of Marcus Ranii-Dropcho, En Sabah Nur has been the prohibitive number one team in the country, and in a deep pool featuring Georgia, Carleton, and UMass, Pitt barely broke a sweat cruising into the quarterfinals.
Pitt's offense has been its strength all year, and it was no different today. When faced with man defense, Tyler Kunsa and Pat Earles where able to manufacture essentially any look they wanted. Pitt's O-line wasn't responsible for many of the highlight plays from the day, as they were usually able to find wide open receivers for easy goals.
Pitt's D-line generated plenty of excitement though, as a team that had been called out by their coaching staff for not hitting the deck enough turned heads all day with their intensity. Trent Dillon, in particular, made some incredible layouts that clearly galvanized his team.
The one concern for Pitt all season has been their D-line's ability to convert break chances, and it was an issue at points on Saturday. When the disc wasn't in the hands of Dillon or Ranii-Dropcho, movement stagnated, which lead to either ill-advised standing deep shots, or high stall bailouts. Of course, this is picking nits, as Pitt was dominant on Saturday, and if they continue to play this well on Sunday it will take an inspired performance for any team to derail them from a third consecutive tournament title.
The other team emerging to quarters from Pool A is Georgia, who came out ahead on point differential in a three way tie for second with UMass and Carleton. All three of those teams played close games with each other, but Georgia's 14-12 first round victory over Carleton proved enough to push the Southeast team into the championship bracket.
Many of Georgia's cutters are willing and able to pull the trigger on continuation throws, which allowed them to quickly strike down the field. Elliot Erickson and Sam Little have been leading the team all year, and their ability to get open on anyone and then turn around and find an open receiver downfield marked the high point for Georgia.
Georgia's dominant cutter play comes at a price though, one they paid in their game against UMass. In a chippy, somewhat sloppy game, Georgia's lack of rock solid reset-handling ability cost them some possessions that came back to haunt them in the one point loss.
The 11-10 victory for UMass over Georgia was the highlight for a Zoodisc team that has to come away disappointed in their results. Entering the weekend, UMass had ambitions of redeeming their subpar performance at Centex last weekend, but they still leave questions about their potential hanging in the air. The polish simply wasn't there for Amherst, as they shot themselves in the foot more than once. Jeff Babbitt and Conor Kline both made more than their fair share of huge plays, but these plays were often necessary to overcome procedural errors that plagued the team throughout the weekend.
While they didn't make the quarterfinals, Carleton should be encouraged by their performance on the day. After a slow start in the opening round against Georgia, they stormed back to tie the game before falling just short, and then rebounded in the next round to take down UMass on double game point. After some initial struggles with Amherst's 1-3-3 zone, Carleton hit their stride and scored three points in a row to take the game 13-12. Carleton is famous for not putting everything on the table until nationals, but in the last few points of the UMass game when CUT dialed up the intensity, it was clear that Carleton has the potential to make some waves in the series.
With CUT sitting just outside the bid window, they have plenty to play for in the consolation bracket on Sunday, as securing a third bid for the North Central would all but assure them a trip to Nationals.
Pool B: UNC Wilmington, Wisconsin, Florida, Colorado College, Cornell
Riding a 23 game winning streak into Easterns, it wouldn't be out of the question to expect UNC Wilmington to suffer a let down. After Saturday's play, you can add four games to that win streak and bury the idea of any kind of a Centex hangover. If Pitt's offense looked the smoothest of any team, UNCW's was the most imperious. While other teams where beholden to playing in the wind, Wilmington's handler core of Xavier Maxstadt, Luke Hancock, and Charlie Lian proved that they can dominant games in almost any conditions. Watching Luke Hancock calling his shots with hammers over the cup to bust apart zones made it clear that confidence is not in short supply in Wilmington, and when the Seaman execute the way they did today, it shouldn't be.
Wilmington's defense was lackadaisical at times on Saturday, and played down to the competition at points. Cornell came closer than they probably should have to pulling a first round upset before UNCW pulled away in the closing points, as the Seaman didn't apply the kind of defensive pressure they are capable of until late in the game. UNCW will need to dial in their focus on the defensive side of the disc if they want to keep their winning streak alive through the end of the weekend.
The team that gave Wilmington their toughest game was the second seed in the pool Wisconsin, who had a solid day for a team focused on improving and peaking later in the season. The trademark defense was there for the Hodags, and the offense that had struggled mightily at Warm-Up and still looked rough around the edges at Stanford was noticeably improved.
The conversion rate for Wisconsin's D-line offense is still far too low given the number of turns the team is able to create. Against Wilmington in the game to win the pool, Wisconsin was able to force several turns in the first half, but could not convert them into breaks. If they hope to pull off a big upset over Pittsburgh in bracket play tomorrow, they will need to make use of just about every chance they get.
It has been an up and down year for Florida, and after falling to both Wilmington and Wisconsin on Saturday, they missed out on the chance to pick up a signature win that could have propelled them going into the series. One of the problems evident was fatigue, which was exacerbated by a round one matchup with Colorado College that likely required more energy than Cyle Van Auken wanted his team to expend. For a team that relies on their studs as much as Florida does, any extra points on the legs of Bobby Ley and James Dahl are going to loom large in the later stages of tournaments.
Pool C: Oregon, Central Florida, Auburn, Maryland, Harvard
At some point, fifteen guys is not enough for a perfect 4-0 in the pool. Defiant of the physical odds of matching up against teams with a line or more's worth of players on the bench, Oregon Ego walked away from Pool C, still a top dog and holding their seed.
Much like the way we've seen them win most games that make up their 23-2 record this season, no single score showed blowout or statement win. Ego is a fast, dynamic team boasting loads of chemistry, and it showed today during their first three games. There's mental cohesion present in the way this team plays.
Still, win margins remained slimmer than you'd expect from Oregon, particularly their 16-14 win over a charged-up Maryland team. In their lone loss of the day, a huck-happy and lazy last round matchup with UCF that ended 15-10, it was hard not to point out that the top seed in the pool belonged to Ego regardless of the outcome. The eight guys choosing to sit on the bench or the ground on their sidelines was indicative of a team that was ready to go back to the hotel and focus on bracket play.
Despite Oregon's wins, Harvard Red Line and Maryland Space Bastards ran away with the Pool C headlines today, both dispatching Auburn and Central Florida, with the young squad from Cambridge owning the matchup between the two and snagging the second spot in the quarterfinals. Harvard was strong and consistent today, finding their throws and rhythms in a 11-15 loss to Oregon during the first round. The rest of the day was a grinding, systematic takedown of three teams straight. Coach Mike Mackenzie was quick to credit his young squad with a lot of defensive improvement. "Our defense has picked up tremendously –we have a lot of young guys, hungry guys on D," said Mackenzie at the end of the day.
Harvard made quick work of no one in the pool, but their seemingly endless stream of effortless resets had a nagging effect on opposing zones and junk looks that appeared during a blustery day in Myrtle Beach. Mark Vanderberg was critical behind the disc for Red Line, pairing well with John Stubbs and Alexander Hem downfield. Tomorrow brings a much more difficult matchup for Harvard: Florida State. DUF is deeper than any team that Harvard faced today, Oregon included (if only because Ego brought 15 people to play).
Maryland made their mark earlier in the day as the first team to start what would become a four game slide for Auburn, a southeast team ranked #19 in USAU rankings and gunning for a fifth bid for the region. Instead, Maryland began Easterns by working to secure a rare third bid for the Atlantic Coast. That outcome will depend on tomorrow's play and the resulting rankings next week, but the Space Bastards also snagged a 13-11 win against a streaky Central Florida team that looked (at times) like lost dogs without their coach Andrew Roca.
Maryland often showed a frustrating zone look in the wind today, designed to nag at backfields and wear down focus more than it was to force hanging throws over the defense. They got exceptional performances from Nathan Prior, Mark Lin, and Max Cassell, all of whom played both ways for the team.
The Dogs of War notched another victory against a top five team, Oregon, at the end of the day today. Oregon had little to play for with the pool already secure, and Central Florida's other major wins came early in the season, but it was a win nonetheless. Their performance was spotty today and their win against Auburn was watered down considering Auburn's immense slide.
There's no other way to describe Auburn's day than simply rough. For a team that has been building expectations in 2015, some combination of the wind, the heightened emotions of yet another first appearance at a major tournament, and a lack of experience combined to create a disappointing result.
Pool D: North Carolina, Florida State, Michigan, NC State, Northwestern
Pool D belonged to Florida State, a team that needed redemption after a lackluster showing at the Stanford Invite. Surprisingly, the high-flying defensive acrobatics that opened big leads at Warm Up were still largely absent from day one of Easterns. DUF came away the only 4-0 team in the pool, but with only one win margin greater than two points. NC State, Michigan, and Northwestern were all two point wins, with each competitor staying close and relatively unphased by the Florida State defensive lines.
Grit, in the end, won DUF their games. The leads they generated came from second half adjustments and patience today, other than their strong last round performance against a tired, injured, and outmatched UNC Darkside. Tomorrow, Florida State will need to be better — letting bracket-worthy competitors hang around at 8-8 won't fly with so much on the line.
UNC had three gritty wins of their own earlier in the day, although it's still tough to pick out the true strengths of this team from Chapel Hill. Jon Nethercutt is still a top talent, but Ben Snell spent the entire day as acting assistant coach and his absence on the field limited Nethercutt's ability to roam free and pick his spots with less pressure on the field.
Defensively, Nick Macleod and Vikram Sethuraman were excellent to start the day, but Sethuraman left halfway through Saturday with a limp and UNC spent much of their third game with NC State trailing. Still, spend just a moment on the Darkside sidelines, and the extent of their game-planning and systems is apparent. This a well-coached team that may yet improve, and they'll have a chance to do it tomorrow against a shallow Oregon Ego squad.
The last three spots were a mess in Pool D. Northwestern, Michigan, and NC State all had their moments today, each of them offering up close games with the two top dogs in the pool. After a rough start against UNC, Northwestern showed plenty of fire against NC State, trouncing the Wolfpack 15-5. In a late round matchup, NUT put away a streaky Michigan team 15-10, grounding any hopes that MagnUM may have had of reprising last year's cinderella run at this tournament.
Michigan, still a team with moments of polish and fierce competitive spirit, had trouble stringing a full game performance together. Their day cemented any last-ditch hopes that the Great Lakes would see Top 20 glory in the final regular season rankings. If anything, Northwestern put some fear into anyone assuming that MagnUM would take the single bid to Milwaukee this year.
NC State, a team that has often spoken of how important it is to focus just on the moment and not its overall implications, could not hold their leads or perform consistently today. Despite constant heroics from Jake McGoogan, the Wolfpack left the fields today without a win, and will need to use Sunday to find a little redemption in consolation play.