Pittsburgh defeated UNC Wilmington 17-16 on double game point to win Easterns in one of the season's best games.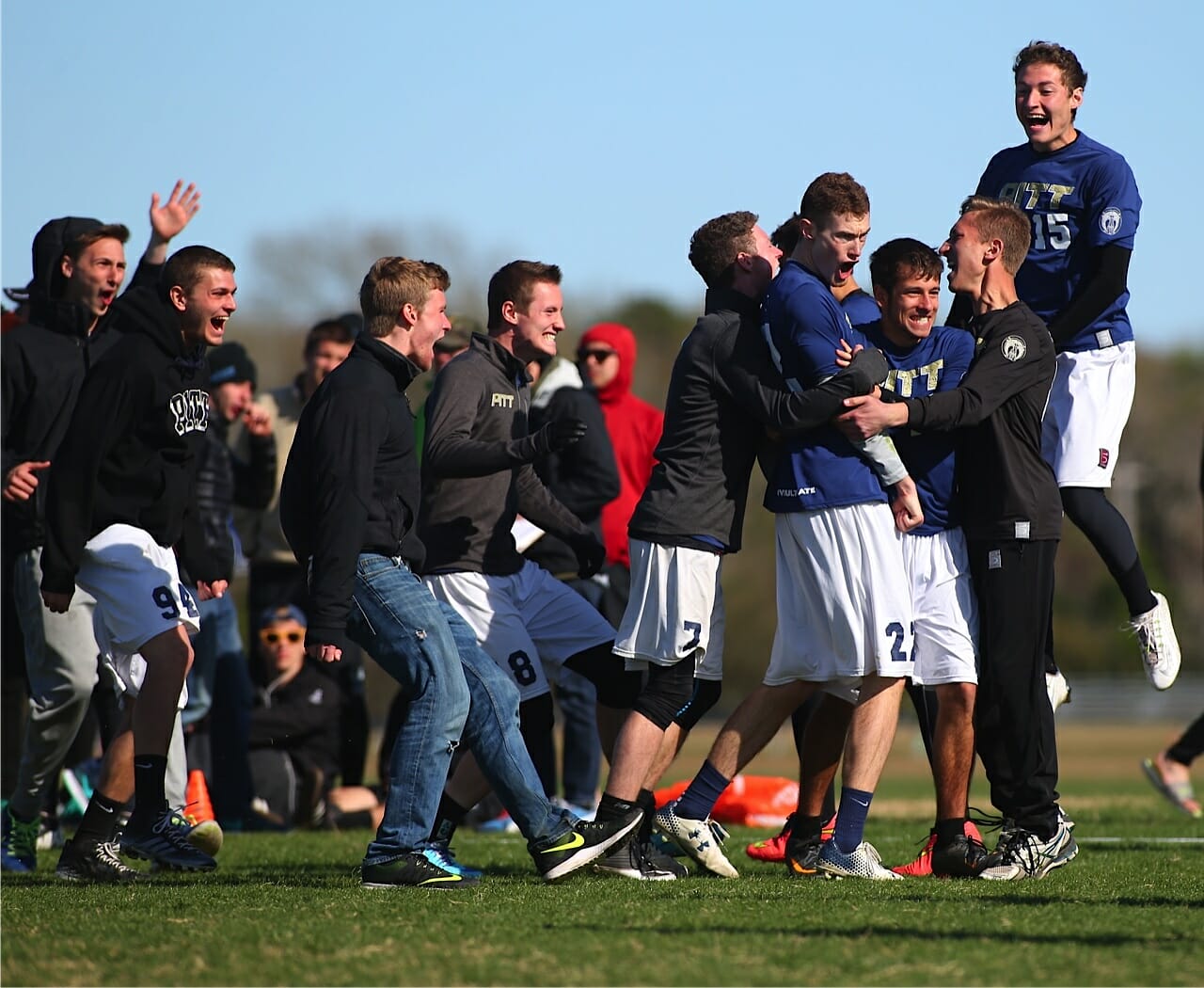 MYRTLE BEACH — In perhaps the college regular season's best game, Pittsburgh defeated UNC Wilmington 17-16 on double game point in the Easterns final. With the win, Pittsburgh captured their fourth straight tournament victory and ensured that they will receive the #1 seed at the 2015 College Championships.
The game stayed on serve for the majority of the contest, with each team notching just one break in the first half. Wilmington's offense — shaky at times during the weekend — was much sharper against Pitt, but mounting reset pressure in the second half forced turnovers on many of their possessions. After multiple chances, Pitt's defensive line finally found the end zone.
After a huck turnover, Max Thorne hucked up the sideline to Christian Pitts to within 20 yards of the endzone. Pitt took a timeout, then worked patiently until a floated throw looked like it would be a certain turnover at the back of the endzone. But Jonah Wisch made a superb sliding catch and managed to stay inbounds to give Pitt its first lead of the game at 16-15. That would prove to be the difference.
Pitt's Max Thorne was outstanding, finishing with five goals and three assists, and Marcus Ranii-Dropcho had easily his best game of the day and one of his best of the season with a three goal, three assist performance.
Both players were on the line for the game's final point, with Pitt receiving and facing a moderately upwind offensive point, their first of the half. Before the pull, the seven players huddled up.
"We went around, each of us, telling each other what we love about this team, what we love about this game," said Ranii-Dropcho.
Then they marched up the field and Pat Earles threw a crossfield flick to Thorne for the win.
It was a resilient performance from a team that faced a deficit most of the game. UNC Wilmington broke first after Earles dropped a low pass on the first Pitt offensive possession. UNCW's Jake Gallagher uncorked a huge hammer to give Wilmington a 2-0 lead.
Pitt got it back later in the first half after some well-timed switching led to a Christian Pitts run-through block on a Jack Williams in cut. Ranii-Dropcho controlled the offense and then made a perfect strike cut into the endzone and caught the score on a pass from Trent Dillon  to tie the game at 6-6.
Pitt's defense ratcheted down in the second half, but UNC Wilmington's backfield duo — Xavier Maxstadt and Luke Hancock — were able to keep coming up with big plays to get the disc into the endzone. They often got those scores thanks to goal scoring dynamo Williams, last year's breakout star at Nationals. Still, Pitt's defense had chances but gave it back, often within a few throws.
"Our D line's offense still isn't clicking well," said Pitt assistant coach and defensive line coach David Hogan. "There's still a lot of really inexcusable turnovers. We need to stop thinking and start running."
Despite UNCW's offense facing more trouble throughout the second half, the pressure was on Pitt late before they got the break, as Wilmington pulled twice with a chance to break and win, first at 14-13 and then again at 15-14.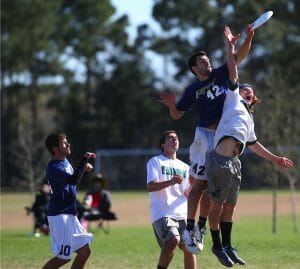 On the latter, Maxstadt came up with the play of the game, an enormous layout block in front of Joe Bender on a crossfield throw from Thorne. He immediately stood up and fired a flick deep aggressively looking for the win, but it hung up and was intercepted by Ranii-Dropcho over Wilkin Hanaway in a pile up. But that's how close UNCW was to overtaking the #1 team.
"We went toe-to-toe with Pittsburgh, and that's tough to do," said UNCW head coach Greg Vassar.
Pitt players and coaches downplayed that they were excited to exact revenge on Wilmington after last year's upset loss to UNCW in the National quarterfinals.
"We don't want a source of motivation that goes away depending on who the opponent is," said Hogan. "We want to be internally motivated with the joy of winning, the joy of playing."
Each team has clearly risen to the top of the Division; both have wins over now-#3 Oregon and capped off spectacular regular seasons with a classic matchup that will be watched for years to come. But the focus will shift quickly.
"At this point, the regular season doesn't matter anymore," said Thorne. "We just have to focus solely on Sectionals, Regionals, and Nationals."
Get Ultiworld's College Subscription to watch this game and seven more from Easterns.