The Radnor Invite is bigger and deeper than ever this season.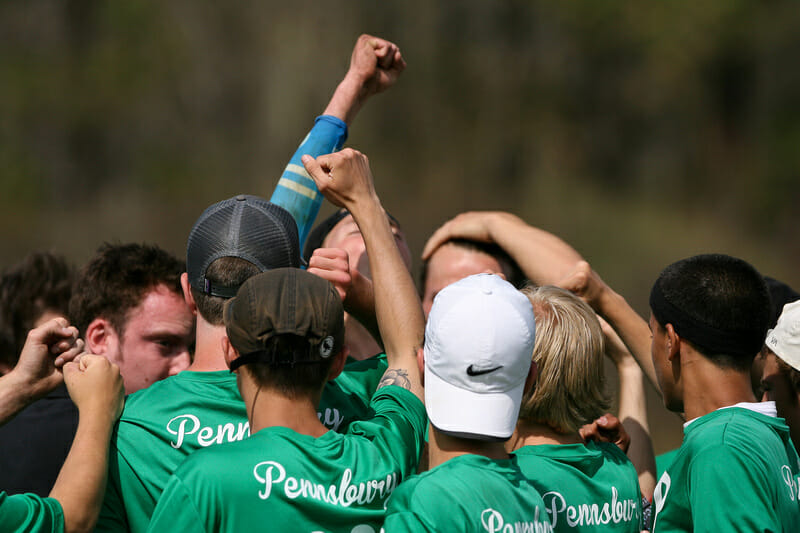 Disclosure: The author is a captain of the Radnor High School team.
For the past seven years, 6-8 boys varsity teams from the suburban Philadelphia area have descended upon Radnor High School in late March to participate in an early season, local level tournament. In past years, it has offered PHUEL teams a warm up and provided an opportunity to gauge talent and get rookies adjusted to higher level play.
This year, however, Radnor Invite (less formally known as Green Eggs and Spam) moves to mid April, and the move has attracted interest from higher level teams. Based off the high early season interest in the tournament, Radnor decided to expand the Open Varsity division to 10 teams for the first time. While the tournament is one day, the pools are deep and talented, and there should be exciting matchups in both pools to watch for throughout the day.
Tournament Profile
– Radnor Invitational (Green Eggs and Spam)
– Radnor High School; Radnor, PA
– Teams: 10 elite HS Open, 6 HS girls, 8 lower level HS Open
The Field
Note: The pools are not seeded, and instead were created to be of even strength and for regional diversity.
| POOL A | POOL B |
| --- | --- |
| Lower Merion | Haverford |
| Washington Lee | Yorktown |
| Watchung Hills | Pennsbury |
| Radnor | Science Leadership Academy |
| Westfield | Columbia |
Pennsbury Looks To Continue Regional Dominance In 2015
Quick Facts
– Pennsbury High School, Fairless Hills, Pennsylvania
– 2014 Ultiworld Ranking- #6
– 2014 Notable Results: Pennsylvania state champions, Northeastern Regionals runners up, 1st place Born to Dive, 1st place Amherst Invitational
– Fall 2014 record: 26-0
– 2015 Tournament Schedule: T7th Garden State (March 28-29), Radnor Invite (April 12), Born to Dive (April 18-19), Amherst Invitational (May 2-3), Northeasterns (May 16-17), Pennsylvania State Championships (May 30-31)
Pennsbury had one of the most successful seasons of any high school team in the country in the 2013-2014 season, taking home numerous tournament wins, including a hard fought Pennsylvania state championship. Looking to repeat their 2014 success, Pennsbury kicks off the 2015 high school season at Radnor Invite, where they will most notably face 2014 Virginia state runner up Yorktown and Columbia High School.
Returning many of their key players from a year ago, the Falcons use their skilled throwers and talented athletes downfield to initiate their offensive flow. Captains Cole Drummond and Alec Hunziker should continue to impress and display their athleticism throughout the tournament. Look for Pennsbury to have any extremely successful weekend, but the game with Yorktown should give them an indication of what to improve upon leading up to Amherst, Northeasterns, and States in May.
Yorktown Aiming High With New Attitude
Quick Facts
– Yorktown High School, Arlington, Virginia
– 2014 Ultiworld Ranking- #22
– 2014 Notable Results: Virginia state runners up, 5th place Southern Regional Championship
– 2015 Tournament Schedule: YULA Invite (March 21-22), Radnor Invite (April 12), Southerns (May 9-10), Virginia State Championships (May 16-17)
Coming off a 2014 2nd place finish at Virginia states, Yorktown is bringing a more focused, intense attitude heading into the rest of the 2015 season.  "We're cognizant of our overarching goals, one of which is to remain consistently at our peak through each game and throughout every tournament," said captain Sean McSweeney. "That mental fortitude is something that we agreed was important at the beginning of the season."
Despite finishing 7th at YULA, McSweeney said that "after so many close games with top level teams, there's a palpable sense of excitement on the team… we're confident in our ability to compete with the best…" Yorktown will need the field vision of McSweeney and the athleticism and versatility of fellow captain Joe Freund to lead the team this weekend, especially against Pennsbury.
This weekend, Yorktown will wear teams down with their legs, particularly with their hardworking cutters. Playing Pennsbury is a good test for the program, and should be an entertaining match up.
Radnor Looking To Defend Home Turf
Quick Facts
– Radnor High School, Radnor PA
– 2014 Notable Results: PHUEL Philadelphia City Champions, Pennsylvania State runners up
– 2014 Ultiworld Ranking: Honorable Mention
– Fall 2014 Record: 20-6
– 2015 tournaments: Radnor Invite (April 12), Born to Dive (April 18-19), Beth Coltman Memorial (April 25-26), Amherst Invitational (May 2-3), PHUEL City Championships (May 16-17), Pennsylvania State Championships (May 30-31)
Radnor is looking to win their home tournament for the first time since 2011. A senior laden squad led by captains Michael Ing, Spencer DeRoos, and Nate Donaher, the team is coming off a 20-6 fall season that saw the team pick up several good wins over Columbia and a split Westfield squad en route to 5th and 3rd place finishes at Jersey Devil and Fall Brawl respectively.
At Radnor Invite, look for handlers Simon Prushan and Jake Belitsky to dominate touches with quick movement and control the tempo of their offense. YCC player Mike Ing returns to anchor an aggressive defense. The team is experienced, as they return 14 players from their 2014 state championship finalist team and many of their seniors have been playing together for four years. Senior leader Jack Staples said, "We're excited to have gotten a bid to the Amherst Invitational, and success at the Radnor Invite would be a huge first step in our hopes for deep runs at Amherst and states."
Their games with deep, talented regional contenders Watchung Hills and Westfield should be a good first opportunity for Radnor to test themselves against tough competition.
Westfield Hopes To Build Off Of Historic 2014 Season
Quick Facts
– Westfield High School, Westfield NJ
– 2014 Notable Results: 1st Place NJ state championships, 8th place Northeasterns
– 2015 Tournaments: YULA Invite (3-3, 10th place finish), Radnor Invite (April 12), Born to Dive (April 18-19), Amherst Invitational (May 2-3), NJ State Championships (May 23-24)
Westfield looks to build upon a historic 2014 season, as they ended Columbia High School's multi-year run of state championships, taking the title 15-5 over West Windsor North. After a successful fall season with a finals appearance at Pennsbury's Fall Brawl in October and a 5th place finish at Tidewater Tuneup, the team is gearing up for a deep run at Amherst and New Jersey States in May.
After losing U19 worlds team member and YCC player Andrew Lehmberg, who is now playing for Pittsburgh at the collegiate level, Westfield hopes to replenish with their depth. According to coach Ryan Belline, Westfield "will be rolling lines at Radnor and Born to Dive to continue to develop depth so we can be competitive on Sunday afternoons and at our bigger tournaments like Amherst and NJ States."
Westfield is led by captains Kevin Stelmach and Connor Russell, but the team is deep and experienced from top to bottom, with 19 of its 22 players having YCC experience, which will prove invaluable as they hope to defend their New Jersey state title. Their game with the hosts late in the day Sunday is a matchup that may be seen down the line at Born to Dive and Amherst.
Washington Lee Looking To Find Their Place In Virginia
Quick Facts
– Washington Lee High school, Arlington, Virginia
– 2014 Notable Results: 5th place Virginia State Championships
– 2015 Tournaments: 9th place – TYUL Queen City Tune Up (Feb. 7-8), 14th place – YULA Invite (March 21-22), Radnor Invite (April 12), VA State Championships (May 16-17), WAFC HS tournament
Washington Lee has made huge strides as a program in just its second year of existence. In a state with many strong high school programs including Woodside, HB Woodlawn, and Yorktown, Washington Lee managed to finish 5th in the Virginia state championships in its first year as a team.
At YULA Invite (you can see full coverage of YULA on Ultiworld) in Arlington in late March, WLee finished in 14th place with a 2-4 record, but played close games throughout the weekend, including playing top seed in the tournament Chapel Hill to a 12-9 game. Look for them to continue playing very competitive, close games at Radnor Invite this weekend.
One major question mark coming in to the 2015 season is if they've improved enough to take down the Virginia powerhouse programs. Captain Andrew Roy says the team aims to "keep growing, but show everyone how far we've already come."
Radnor Invite is a deep tournament, and Washington Lee will have opportunities to grow their reputation as a program and step out of the shadow of Yorktown, Woodside, and HB. Look for them to come out with energy in every game this weekend, and don't be surprised if they pull off a few upsets along the way.
Columbia Has Plenty Of Questions To Answer, But Talent To Do So
Quick Facts
– Columbia High School, Maplewood, New Jersey
– 2014 Notable Results: 4th place New Jersey State Championships
– Fall 2014 Record: 14-10
– 2015 Tournament Schedule: 6th place YULA Invite (March 21-22), Garden State (March 28-29), Radnor Invite (April 12), Born to Dive (April 18-19), Middletown Invite (April 25), Northeasterns (May 16-17), New Jersey State Championships (May 23-24)
Seeing your multi-year run of state championships come to an end definitely hurts, but bringing back Jesse Nelson, Gabe Fearon, and first team All State selection Zach Cincotta certainly helps Columbia's prospects for the 2015 season. Led by Cincotta's elite speed and athleticism, Columbia hopes to rebound from an undoubtedly disappointing end to the 2014 season.
After a 6th place finish at YULA despite not practicing prior to the tournament, Columbia heads into April and May with their sights set on Northeasterns and States later this spring. Radnor Invite provides the team with an opportunity to groom some of their younger, less experienced players below their stars. "The team has grown a lot over the past year; we are better, faster, and stronger," said Fearon. "From explosive cutting to talented handlers, our roster is filled with young talent."
Placed in a pool with Pennsbury and Yorktown, Columbia will have an immediate opportunity to show their growth as a team.
Rest of the Field
Watchung Hills is slowly emerging as a mainstay in the New Jersey high school ultimate community, and is continuing to develop their regional reputation as well. As they build towards Northeasterns and New Jersey states in May, look for them to continue to grow stronger as the season progresses. They were extremely impressive in the fall, narrowly falling to Radnor in the quarterfinals in a tight, windy game. They utilize their athleticism and speed to exploit their opponents. Look for Watchung Hills to have close games throughout the tournament, and their game with Westfield should be an early preview of two of the top New Jersey contenders.
Science Leadership Academy and Lower Merion both have the potential to beat higher seeded teams in their pools this weekend. Lower Merion will rely on an extremely young roster and an efficient offense to grind through games. Science Leadership Academy has continued to develop as a program over the last few years, and is aiming to continue to improve their finishing position in the Pennsylvania State Championships. Look for the game between LM and SLA to be a tight battle from both sides throughout.
It remains to be seen what Haverford is capable of this year. After losing many seniors from last years team that exited in quarters at states, the team is developing younger players to fill the roles. HUDA is always a threat in the Pennsylvania State Championships picture come May, but they may have trouble stacking up against Yorktown and Pennsbury.
Players to Watch
Joe Freund (Yorktown)
Hunter Shumaker (Yorktown)
Cole Drummond (Pennsbury)
Alec Hunziker (Pennsbury)
Zach Cincotta (Columbia)
Connor Russell (Westfield)
Michael Ing (Radnor)
Andrew Lewis (Washington Lee)
You can find updates and scores from the 8th Annual Radnor Invite on Twitter: @RadnorInvitational. Jack Staples contributed reporting.