The bid-rich Southeast is one of the deepest in the country.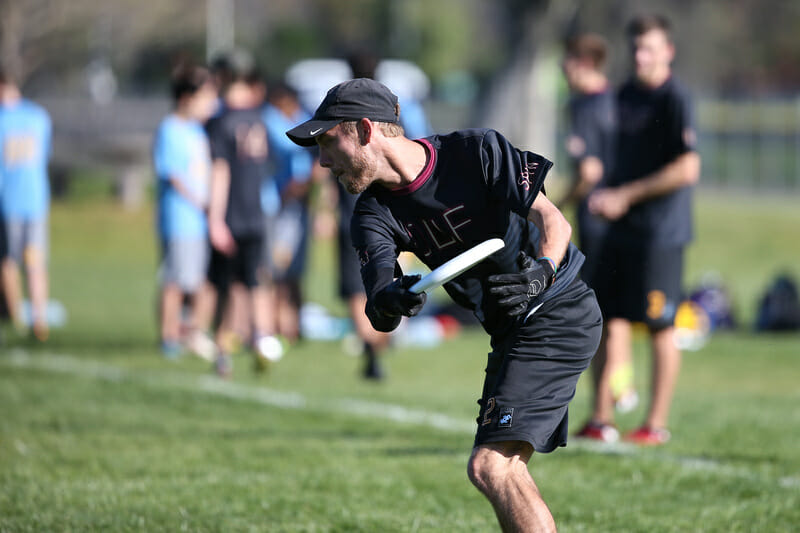 The regional fields across the country are set, including the only four bid men's region for 2015: the Southeast.
While the top handful of teams have remained steadfast, the region as a whole has had such a strong year that, at times, there were talks about five and even six bids to Nationals. From Florida to Auburn, the Southeast is fiercely competitive. And with the region set to be played out in Tallahassee, will anyone be able to stop the DUF train from rolling?
The Powerhouses
There's something you'll notice when sifting through results of the top four in the region: teams from the Southeast region have had a tough time against top five teams. Of course, that may be true for everybody, but if you take away the top ten of the Ultiworld power rankings, all four of the SE bid earners had a combined five losses. Two came at the expense of #12 Maryland, and one came at the expense of each other. So what does that mean?
These teams can take care of their business.
• Florida State has surely at this point risen to legitimate national prominence. Their three regular season losses came at the hands of #1 Pittsburgh, #7 Colorado, and #10 Wisconsin. It's hard to imagine this team losing the regional title, with their wide array of athletic defenders and a deadly offense. And with a team leader like Chris LaRocque — one of the frontrunners for Player Of The Year — DUF has aspirations beyond this weekend.
FSU won't get through without being tested, of course. They had just a one point win over Central Florida at Conferences, but sealed their #1 seed at Regionals with a blowout win over Florida, 13-8, in the final. With the exception of a weak(ish) Saturday at the Stanford Invite, Florida State has been nearly untouched this season.
• Central Florida will notch the #2 seed at Regionals thanks to a strong Conference finish, but their regular season had its weaker moments. Losses to Illinois, Maryland, and Harvard leave a bit of a question mark on how UCF can consistently perform against strong opponents. Michael Fairley has stepped up big for the Dogs of War as a utility player and deep threat, while Jeremy Langdon is continuing to prove himself to be one of the best athletes in the region. Of course UCF is a favorite to lock up a bid come Sunday, but they'll have to be on upset alert at all times.
Last year, they narrowly avoided missing Nationals but came through in the game-to-go against Georgia.
• Georgia seems to have forgotten entirely about the nightmare that was 2014 Regionals, where they lost three straight games-to-go. With the return of Elliot Erickson and Sam Little, the plethora of rookie talent that UGA has brought in only compliments the already loaded roster. Like DUF, Georgia's only losses have come to strong national contenders like UNC-Wilmington and UMass. It'd be hard not to think about what happened last year, but it will be difficult for the next tier of teams to upset the deep UGA squad. That being said, Emory (Atlanta) was able to notch an upset against the Dawgs at the Appalachian Conference Championships.
On the plus side for Georgia, they have played their best ultimate late in the season. They were a bad throw away from upsetting UNC Wilmington in the quarterfinals at Easterns, and may well have come into Regionals as a favorite to win had they won that game. Georgia should absolutely go through to Nationals; the question remains how high they will finish.
• Florida rounds out the list of bid earners for the Region, and they're just as strong as all the rest. They had a tough close out at Conferences, losing to FSU in the final and then to UCF in the 2nd place game, but it's hard to imagine this team failing to qualify for Nationals. Close games with UNC-Wilmington and Wisconsin show the promise they have, and most know that Coach Cyle van Auken won't overlook the lower seeded opponents come this weekend. As always, Florida is led by veterans who will play nearly every point: Bobby Ley and James Dahl are the big offensive throwers, and they will look deep to Tanner Repasky early and often.
Florida has not really broken through the very top tier of teams this year, but they've also avoided falling below that second level. They will again be at Nationals. But will they pull it all together at Regionals to win the crown?
The Next Tier
• Auburn is fresh of their first Gulf Coast Conference championship since 2008, and, more importantly, their best regular season in program history. Ryan Landry is making his name heard around the Region as one of the better pure handlers around. The best thing to know about this team is that they always think they can win, at all times. That shows in two of their more impressive games: double game point losses to #3 Oregon and #1 Pittsburgh. They had a chance to earn a fifth bid for the region at Easterns, but they had their worst showing of the year. A nice bounceback at Conferences should give them plenty of confidence heading into Regionals again as an underdog.
• Tulane is one of the hottest teams in the region, coming off an impressive tournament win at Huck Finn in St. Louis. Tulane plays the strongest man-defense in the region, bearing a striking resemblance to Florida State. They're led by Greg Cousins (Sub Zero), Evan Walters (Southern Hospitality), and Pat Douherty (Southern Hospitality). The aforementioned three play a staggering amount of points, possibly inspired by in-region Florida. We'll have to see if the combination of ideologies is enough to beat one of the top tier squads.
• Georgia Tech got an off-season boost when they picked up Revolver stud Nathan White. Tribe had a challenging regular season, but they did themselves a favor by traveling well. In-game experience is priceless for handlers Stephen Burkot and Ashwin Ananthraman, who both got valuable experience over the summer with Georgia Tech's summer club. Even so, White will have to be heavily involved on both sides of the disc for Tribe to return to Nationals.
The Contenders
There's a long list of Southeast teams that have long been hungry for a trip to the big show. Teams like Tennessee and Alabama have played solid games during the regular season, but both have been unable to put together wins when it mattered most. Along with Kennesaw State, the best advantage the lower tiered teams have is familiarity. While the top squads in the region have been preparing for their quarterfinals nationals match ups against the Wilmingtons and the Pittsburghs of the country, the upset-minded lower seeds have had their sights set on taking out one of the bid earners.
Still, the top four have proven to be some of the country's best teams, and it will take more than just a hungry contender to knock them off.