Three top candidates and a field full of danger are just the status quo for the Southeast.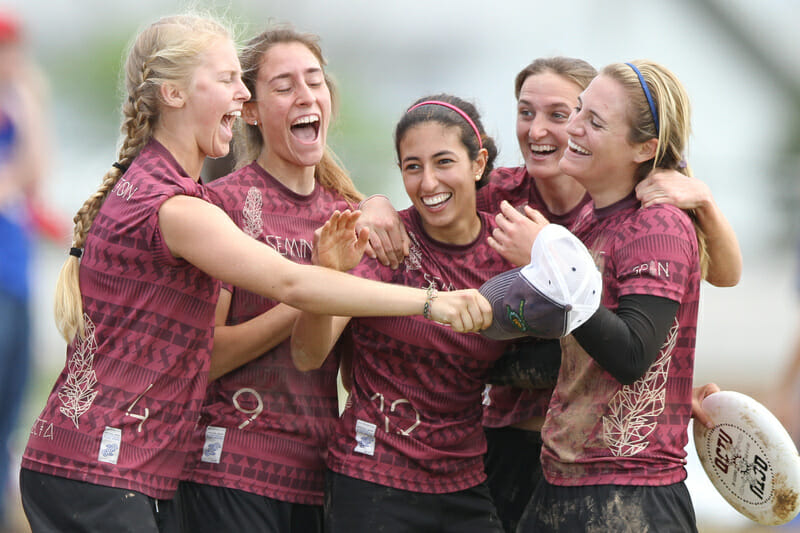 My what a difference another year makes! Last year's Southeast Regionals lacked for excitement, the clear favorite going in coming out in the same way. Central Florida was bound for greater things and mercilessly rampaged through Regionals, including a 15-6 win in the final. This years storylines, however, run deeper and are far less predictable.
It starts because there are two (!) bids. While there are two clear top contenders for those bids – #8 Florida State and #16 Central Florida – the gap between the premier tier and the next is far smaller than last year's. #21 Georgia has been loading up all season with an eye on a return to the College Championships. Sleeper squad Auburn is the only other team in the field with a victory over the top three and has all the ability to be an agent of chaos…and maybe steal a spot to Nationals.
Tournament Profile
Date: April 25-26
Location: Tallahassee, FL
Bids Available: 2
Finally Is Now For Florida State
FSU has been rising up the ladder: they've moved from 4th, to 3rd, to 2nd, and now 1st seed at Southeast Regionals over the past four seasons. While last year's final appearance was a relieving breath of fresh air from losing back to back years in the game to go to the game to go, Florida State hardly played how they had hoped. Once again, the dream of nationals slipped away.
Now they have a crew of 11 players graduating, most of whom are likely to leave after the season. They are the top seed, top ranked, and top performing team in the Southeast. Finally, they are the favorite. So is this FSU's year?
"Absolutely," says captain Kristin Lloyd.
The team is seeking their first trip to nationals with a veteran laden group that's been building to this point. Most of the graduating 11 are in their waning time with the team. Six of those players – Lloyd, Lauren Brunner, Skylar Taggert, Alleigh Grover, Kari Tomarelli, and Lari Ferreira – are in their 4th year. To them, this opportunity has been long awaited.
"We all came in together and we've seen what it's taken to go from where we were four years ago to where we are now," says Lloyd. "It's been upsets and defeats followed by more hard work and some huge wins and the realization that we can compete with the top teams in the country."
Unlike some of the country's other top seeds, there isn't a big margin for error. Even a second bid doesn't provide a huge cushion to the Seminole Ladies, who have fierce competitors breathing down their neck. That includes intrastate rival Central Florida, who sports a 3-2 record against FSU, and 4th seeded Auburn, who is 2-0 against Florida State over the past two seasons.
"We have to play for each and play to have fun," said Lloyd of how the team can overcome some of those struggles. She also praised the team's improved in-game adjustments, a key point in matchups with very familiar teams who've had extended time to prepare.
Florida State isn't at the top by accident. They are well rounded and deep. Their experience and athleticism are second to none. The question will be if their mental game has caught up to their ability.
"Nationals is and has been [our ultimate goal] since the first day of fall practice," states Lloyd. It is right there for the taking. Finally.
Same Successful Sirens
It probably feels like you've read a lot less about Central Florida this year than last. There's lots of reasons: they are not scoring the same wins and achieving the same success and their starpower has graduated. The buzz on the Sirens is not the same as last year, where they stormed from the midtier to finish yards away from the title game.
But there's another reason as well. There just isn't much to be said that hasn't already been said.
That isn't a knock on the team. UCF has the pieces and process to build an effective machine. Even if the cogs and the wiring is different, there's no reason to abandon a proven blueprint. Even with a drastic personnel shift, they've piloted their strategic vehicle to wins over Florida State, Ohio State, Carleton, and Pittsburgh. You wouldn't be crazy for calling them the favorite to win the Southeast.
Central Florida, however, is not the boogeyman they were last year. Sunny Harris and Mariel Hammond cast long and imposing shadows over the region – you could hear them coming from a mile away – and their replacements don't inspire the same dread. Steph "Eli" Williams, Shayna Brock, and Janina Freystaetter are going to get their touches and tally their stats, but UCF doesn't suffocate teams into listlessness anymore. Their zone can win them games, but it doesn't embarrass top teams.
Underestimating them would be a mistake. The big trio is highly productive and now has the better part of a season's worth of dishing it to each other, working out their timing and execution. A lot of their depth – Alexa Wood, Jesse Baldwin, Shelby Spence – have all played in huge games during their careers and aren't afraid of any matchup.
The Sirens may not waltz through the region this year, but they still plan to be dancing come Sunday.
Underdawgs Powered by Defense
Two years in a row have ended with unexpected finishes for Georgia Dawgma. First, it was a debacle at nationals, after a triumphant regional showing. Then, in 2014, it was a stumbling 7th place finish unbecoming of the Southeast's most prestigious program. It hasn't dampened their optimism. In fact, it has brightened it.
"We didn't leave regionals last year in shambles about our loss," says 5th year senior Hannah Leathers. "It was a coming together moment for the team, and we have been exponentially progressing ever since."
This year has certainly created a better forecast with stronger results. Wins over Ohio State, Tufts, and Pittsburgh give that nationals-quality sheen every team wants going into Regionals. The peaks have been higher than they have in years.
But the valleys that have captured the team – and arisen in the postseason – are still there, casting shadows of doubts and recalling ghosts of years past. Georgia's forward outlook, however, is using those moments to empower themselves; phantoms become guiding spirits.
"We put a lot of emphasis on fostering a team dynamic, and building up each player," says Leathers. "We went through some definite learning periods, but came out of it a stronger, more mentally tough unit."
Their physical toughness is already well out in front of most teams. Dawgma's person to person coverage is some of the country's best, anchored by their defensive pit viper, Leathers, who is liable to come flying from the periphery to generate a turnover or ten. Melissa Merrill, Kate Hines, Katherine Jennings, and the rapidly developing Erin Chun form a stout defensive core.
Where their mental strength will come into play is if their offense can stay poised. To be frank, their offensive skill level is below par for an elite team. They have the ability to overcome that deficit with their star players, athleticism, and most importantly, trust. Leathers is a dependable backfield presence with deadly moves to get up the line. Even some portion of the oft-injured Lane Siedor is one of the region's premier big play threats; if she's feeling fresh, she'll be one of the best offensive weapons in Tallahassee.
When Georgia plays with trust, moving the disc quickly and clicking with high energy, they are a stark contrast to the outfit that's underperformed on recent big stages. They'll likely have to step over Florida State or Central Florida to get to nationals, but Dawgma is not afraid of a challenge. That's because they've walked through the fire and survived. Time for the trials to pay dividends.
Auburn Could Be Southeast Shockers
The region is through taking Auburn Nova lightly and they are through being lightweights. Auburn is ready to prove that, even without the hype or the national names, they belong in the inner circle of the Southeast. And while their men's team stole the spotlight, the women have been putting in work as a rising power and the most likely challenger to the powers that have ruled the region these past few years.
"We started off the season with Nationals as our goal. Our team has worked hard this season to see that goal move towards a reality," says Nova captain Joanna Vogt. "It's pretty awesome to say that Nationals is our goal and 100% believe we can get there."
That says a lot for a team that has come mostly out of nowhere over the past couple of seasons. Auburn went from 8th seeded to tied for 3rd at Regionals in 2014 and spent most of 2015 inside USAU's top 20. They hang their hat on a 13-12 win over Florida State at Tally Classic, but are 6-1 against the field coming in. The additions of young flashy handlers Kristine Fedorenko and Mandy Williams, along with the development of Vogt and fellow captain Rachel Sedlacek, have really boosted the team. Williams, unfortunately, will not be playing at Regionals, a pretty significant blow, but the team regains scoring machine Dani Mangieri.
The question marks that have followed Nova around, however, are not far behind. Are they deep enough to hang out in an increasingly difficult Regional field? Are they a disciplined enough team to make in game adjustments?
"Our biggest struggle as a program has been numbers. Most of these teams we are competing against at least have the option of a wholesale on the line where we are playing with anywhere from 2-8 subs (usually the lower end of that range)," says Vogt. "Rachel and I have been pushing fundamentals this season and working on new defensive and offensive options."
With two bids and some talented vets, this is a crucial opportunity for Auburn that might not repeat itself.
No Easy Buckets
Each year, the field seems to be increasingly deep and dangerous. While the region's expansion to 12 teams (from a previously 10 team Regionals) may have drawn the overall quality even with last year's, the tough thing is that the margin for error is shrinking.
It is unlikely another team is going to slip through the door to nationals. Florida is the most likely contender, built around one of the Southeast's most skilled cores, but will need to be on their A+ game to traverse the gauntlet. But a number of these teams are capable of throwing a wrench into the plans of the top seeds…or even ending someone's season.
LSU has been on a tear, led by the duo of Eme Marshall and Anna Meyers. But they run a tight rotation and have trouble defending deeper than the 5th or 6th player on a line. Alabama is a dangerous low seed that has lacked consistency all season. Georgia Tech is one of the most frustrating draws in the region because they grind hard, but their mental game has occasionally bested them in key moments this season. That's to say nothing of Tulane and Emory, both disciplined system teams that thrive in high execution environments that are the achilles of some of the region's more aggressive squads.
Traps are everywhere in the Southeast landscape and they'll be the first test for nationals hopefuls.