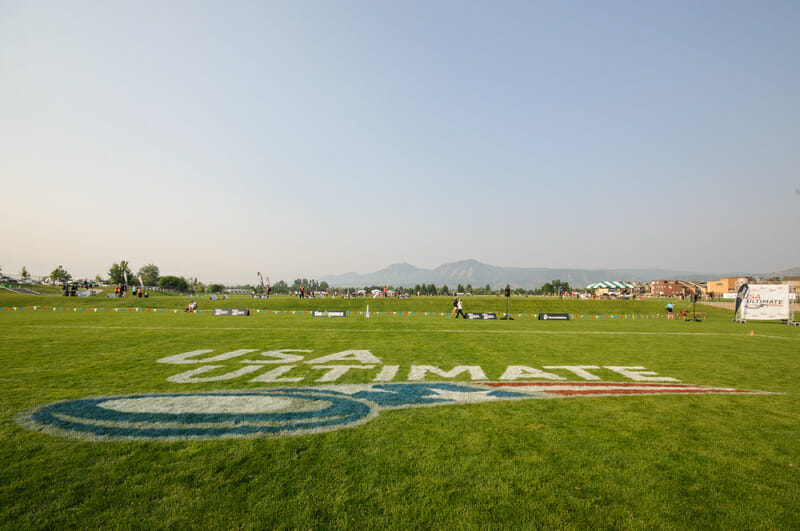 The Women's Division seedings may not be quite as complicated as the Men's, but there are still some thorny pieces to put in place. Whitman's big upset of UBC mucks up the Northwest seeding by pushing down UBC and Washington. And what do you do with an undefeated Notre Dame with few results against the field?
Here is our take on the Women's Division seeding.
| POOL A | POOL B | POOL C | POOL D |
| --- | --- | --- | --- |
| Oregon (1) | Virginia (2) | Stanford (3) | UCLA (4) |
| British Columbia (8) | Whitman (7) | Carleton (6) | Colorado (5) |
| Florida State (12) | Notre Dame (11) | Dartmouth (10) | Washington (9) |
| Ohio State (13) | Central Florida (14) | Pittsburgh (15) | Victoria (16) |
| Kansas (17) | Texas (18) | Middlebury (19) | Princeton (20) |
1. Oregon
The clear #1 seed with a Northwest title and a H2H win over Virginia.
2. Virginia
Virginia owns a H2H win over Stanford which should vault them to the second seed.
3. Stanford
Head and shoulders above everyone but Oregon in rankings points. Only drop to #3 because of H2H loss to Virginia.
4. UCLA
A H2H win over Colorado makes this spot even more clear.
5. Colorado
Colorado finished two slots ahead of Dartmouth in the USAU rankings.
6. Carleton
Carleton has a H2h win over Whitman and Dartmouth.
7. Whitman
The Whitman/UBC/Washington clump will be dependent on where Whitman gets slotted. Although they finished behind Notre Dame and Florida State in the rankings, their Regionals performance — against the country's very best teams — should be enough to push them into a two seed.
8. British Columbia
Will no doubt go immediately after Whitman.
9. Washington
Will no doubt go immediately after UBC.
10. Dartmouth
Dartmouth has a H2H loss to Carleton, Whitman, UBC, and Washington.
11. Notre Dame
Notre Dame may be a bit untested, but they have some wins against the field and, oh yea, they're undefeated. That plus the fact that they finished in front of Florida State in USAU's rankings should land them here.
12. Florida State
They could be ahead of Notre Dame if you want to bump them for a more robust resume. But otherwise they'll be at #12.
13. Ohio State
Yes, Ohio State did finish one slot behind UCF in the USAU end-of-season rankings. But Ohio State has pedigree, went 1-1 against UCF in the regular season, and won their region. We think that adds up to the nod above the Sirens.
14. Central Florida
You could make the case for them one spot higher, but regardless they'll go no lower than this.
15. Pittsburgh
It is very clear from here on out, as each team finished well above the next in the USAU rankings.
16. Victoria
Clearly behind Pittsburgh but above Kansas.
17. Kansas
Finished ahead of Texas at Regionals.
18. Texas
Ranking lands them ahead of Middlebury.
19. Middlebury
Clearly should be above Princeton.
20. Princeton
Clearly the last seed.
Note: This post was edited after original printing to reflect a misreading of H2H between Dartmouth and Carleton