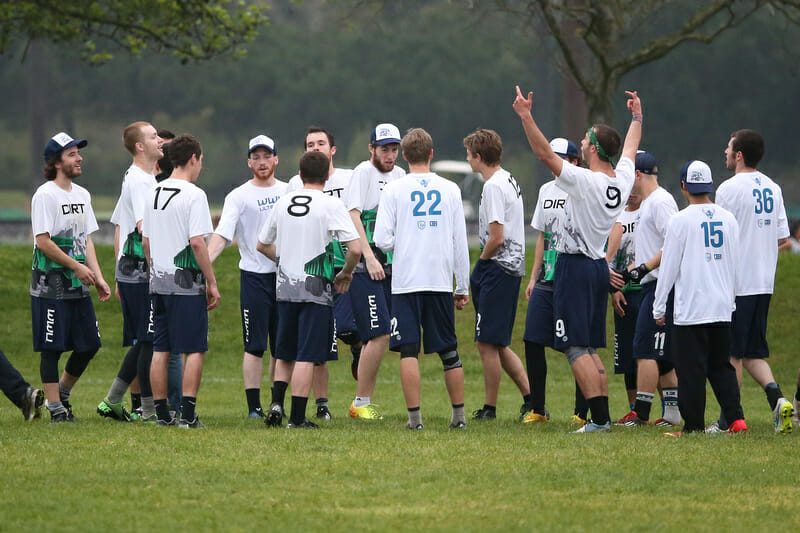 Given the relatively fewer amount of teams registered for the college series, Northwest D-1 Open Regionals is one of the smaller qualifying tournaments to Nationals. Twelve teams were in attendance and arguably just five were actual contenders to make a run at either of the two bids to Milwaukee.
The tournament was structured as two groups of six, where four of five pool play games took place on Saturday. Knowledge that pool winners were going straight to finals thickened the tension as Saturday games felt even more meaningful. With Washington, Victoria, and Western Washington all facing off on day one, it was clear that most of the day's action would take place in Pool B. It sure delivered, as the weekend closed the chapter on one of the wildest Regionals in either Division this season.
Saturday
Pool B
Picked to at least take the second bid to Milwaukee, the top-seeded University of Washington Sundodgers was set to bookend the day with their two most difficult games: Western Washington Dirt in the morning and the University of Victoria Vikes at 2 PM. Though neither team was to be an easy game, Washington's system, athleticism, and disc skills were expected to be more than enough until Sunday's elimination rounds. Western Washington made quick work of that prediction, establishing a sense of dominance early on that they would not relinquish all weekend long.
Western started on offense and looked unstoppable. When the Sundodgers came down man-to-man, Khalif El-Salaam took on Matt Russell while Seth Kotzman pulled a matchup with Zane Rankin. Kotzman abused the matchup frequently and was able to do most of the heavy lifting, creating separation in the cutting lanes or catching every other pass in the handler space. Russell was always available for the goal, continuation look, or emergency reset if necessary. If UW tried a zone defense, handler tandem Dennis Casio and Zhi Chen were up to the task, patiently working the disc until large downfield gains became available while never letting the stall count rise too high.
At 3-3, Dirt drew first blood. High defensive pressure forced two turns from handler Adam Fischette and two subsequent breaks for the Western defensive line. Dirt broke three more times, jumping out to a 10-6 lead behind three goals from defensive line big man Trevor McNamara. The Sundodgers attempted a late run, but the hole proved to be too deep, as they fell to Western Washington 10-13.
The story of the game was Western's defense, which went 5-6 on break chances. Frequently coming down in zone or switching defensive sets, Dirt did a phenomenal job pulling UW out of their set plays and disrupting their rhythm. With tight pressure on the Washington reset structure and El-Salaam initially playing mostly defensive points, Western was able to produce turns early and often.
In the following round, Dirt took on Victoria with a chance to effectively win the pool and earn a spot in the finals. Another lesser known squad, Victoria was a polished team led by Furious George big man Trevor Knechtel. Given their strong third place from the Conference Championships, which included a win over Western, the Vikes looked like early favorites.
From the get go, Victoria was able to flawlessly run set plays, creating space for very large unders. Unfortunately for the Vikes, a few careless mistakes late in offensive possessions provided opportunities to a red hot Dirt defensive line who continued their dominance, notching two more breaks on two chances for a 7-4 halftime lead.
Stellar play from Knechtel, handler Malcom Bryson and deep cutter Benjamin Burrelle kept the game within striking distance for Victoria with Burrelle scoring a majority of the Vikes' goals, despite his relatively shorter stature. At 8-5, Clement Yip, who was a frequent target of the set plays, had to exit the game with an elbow injury. Though Victoria would go on to score, Yip's injury seemed to knock the remaining wind out of Victoria's sails.
Kotzman, Russell, Casio, and Chen continued to play well for Dirt as the offense went unbroken for the entirety of the game. Western exhibited their depth on their way to a 13-8 victory, with contributions coming from Seth Johnson, Will Coffin, and Josh Kent. Defensive efficiency remained as the dominant storyline, as Dirt finished the game 4-6 on breaks and totaling 9-12 in the first two rounds.
UW would end up taking down Victoria on the last round of the day 13-8 and all three top teams took care of business in their games against the bottom of the pool. This put Dirt in the finals while Washington and the Vikes would have to reach the game-to-go through the dirt road.
Pool A
The main event in Pool A took place during the last round of Saturday: Oregon v. UBC.
The classic Oregon vs. Vancouver match-up was a battle from the get go as both teams held until 7-7. After a flick huck turnover from British Columbia, Oregon's inside-break heavy offense roared down the field until Mario Bundy found Kerry Athey. With an 8-7 halftime lead, Ego looked poised for a championship appearance. The second half would prove to be a different story.
British Columbia held on offense and broke twice to take a 10-8 lead. The Thunderbirds positioned their force side downfield defenders in the space underneath Oregon's horizontal stack, which tends to set up deep. Without fearing the stationary deep game from Ego, British Columbia was able to stifle the normally fast paced Oregon offense by preventing in cuts and force Oregon to move the disc laterally. When the disc was moved to the break side, UBC anticipated the inside-out forehand as the primary option and created multiple blocks.
Brayden Gee did a phenomenal job staying with Dylan Freechild in the handler space and Ego's Connor Matthews was unable to create separation away from Fred Lam. At 11-9, Gee forced another inside break turnover from Freechild and the Thunderbirds broke to take a commanding 12-9 lead. Both teams traded to close out the game, 13-10 in favor of British Columbia.
Championship Game
In a championship matchup that no one saw coming, British Columbia was trying to qualify for the first time since 2011 and Western Washington was looking to make their first ever trip to nationals. It was to be a duel of players as well as styles; Western exhibiting the disciplined vertical stack and UBC showing off their break heavy horizontal stack.
British Columbia looked poised to go, with Edward Guo, Peter Yu, and Sam Creed running the offense while Lam and Nick Lin created opportunities on defense. The Thunderbirds jumped out to a quick three break 6-4 lead. At 7-6, Western's Matt Russell got a layout block and Aaron Haddeland fired deep to tie the game at 7. UBC took half 8-7, still up a break.
There was a definitely change in demeanor between the first and second half for Dirt. "At halftime we remembered that one of our player's Mom's told us that if we won she'd buy us ice cream and that reminded us that we're here to play for fun," said coach Todd Sliva. "When we're stressed or tense, we're not going to play our best ultimate. If we're loose, having fun, and playing for each other, we'll find the joy in playing ultimate. We were worried about losing in the first half…in the second half we just had fun."
At the start of the second half, the wind started to pick up for the first time all weekend. Despite relatively low wind speeds, intermittent gusts made throwers look uncomfortable and or hesitate. Out of half, Western defended with two zone points, breaking both times to take the lead and bring the game on serve at 9-8. Later in the half, Josh Kent would come up big again for Dirt, notching back to back goals for breaks to extend the lead to 12-9.
Given that the game-to-go in the women's division was occurring at the same time as the men's final, there were no observers for Western vs. UBC. In situations like this, there is an increased capacity for games to turn sour. However, both teams would go on to finish the game with a high degree of spirit in the form of uncontested calls. The final point of the game, with Dirt up 14-12, was a multiple turnover point. Five yards outside of a bid to nationals, Seth Johnson from Western did not contest a stall call made by UBC's Guo. Two throws later, Brayden Gee retracted a foul call he made after Seth Kotzman got the disc back for Western. Two throws later, Kotzman found Johnson for the game winner, sending Western to their first Nationals in team history.
After the game, Sliva applauded both teams for staying true to SOTG in the biggest game of the season. "Well, everyone has been in chippy games where there are calls for the sake of calls," he said. "All year we've been talking about how you don't win by making calls; you win games by playing the right way and playing for each other. A lot is at stake and I can see why people are tempted to make those calls, but the fact that we didn't contest the stall call and they took back their foul call was nice to see."
The Game-to-Go
"The hardest thing to do at a tournament is beat the same team twice…" – Seth Wiggins before the game-to-go against Furious George (2011 NW Club Open Regionals)
It didn't look like a crushing blow, but British Columbia was coming off a loss in the finals. On the other hand, Oregon looked like they were back to annihilating opponents and having fun in the process. Their latest victim was the University of Washington in a 15-9 rout that was far more of a blowout than the score indicates. There is a large gap between these two scenarios and it takes a good amount of mental toughness to bounce back from the negative end of the spectrum. Add in the additional challenge of knowing that you need to take down a juggernaut like Oregon again? That's a lot of mental pressure for an inexperienced team. From the very start of the game, the sideline of British Columbia that had been so loud and energetic was silent, as if the outcome of the game had been decided.
Playing the predator, Oregon smelled blood and pounced. Ego started on defense and quickly jumped out to two break lead. The teams traded back and forth for most of the first half, with British Columbia holding behind the handler trio of Guo, Yu, and Creed. Oregon was also having little trouble getting it done on offense despite the British Columbia defense set that provided such a headache just the day before.
Freechild and Trevor Smith adjusted to UBC marks that tried to take away the inside break by throwing from different release points and taking the easier around throw. Additionally, quicker offensive points allowed Freechild to stay fresh and play more on the other side of the disc. By halftime, Ego had broken four times and was leading 8-4. Oregon would break once more, going 5-9 on the way to a 15-10 victory and the second bid to Nationals.
The difference between the two Oregon vs. British Columbia games were night and day. Coach Jay Janin alluded to this after the final game. "Yesterday we just got really scared that we weren't going to make it any further…," he said. "We've been kind of taking it for granted the whole year that we were going to make Nationals and that we were a top team. We realized yesterday that maybe we weren't."
In regard to adjusting to UBC's game plan: "I think the two things that helped us with that is having a deep game and not holding the disc too long, which is something we still struggle with."
Notes
– Shout-out to Whitman club sports, who was super accommodating and able to provide two extra fields after the men's division increased from eight to twelve teams.
– Another shout-out to Justin Wray, the sole observer for the entirety of the weekend. While a single observer may not be desirable to some, Wray worked every single round for the entire weekend with a huge smile on his face.
– Oregon revealed a giant chink in their armor and it'll be interesting to see what kind of defenses they face in Milwaukee. However I would put money on Ego rising to the challenge at Nationals and making at least the quarters in the bracket. Though they clearly have trouble taking down teams below them, Ego always seems to rise to the occasion against stronger opponents. "What we focus on is energy," said Janin. "We need to find the balance between being focused and being loose and a lot of times we fall on the side of being too loose and being uptight and what we need is focus and that comes from energy and staying pumped up." Freechild is also playing in his final college tournament and he's never won a title…there are few who hate losing more than him.
– Western Washington definitely has the attention of their competitors and I doubt any will be looking past them. I'm not in agreement with where Charlie has them projected to be seeded, as I think finishing atop the Northwest will help Dirt more than it hurts Oregon. Regardless, Western hasn't made much of an imprint on the national scene so far this season. They've made it out of a competitive NW region, but the conditions in Walla Walla were virtually perfect. Will Dirt have to play in the sweltering Wisconsin heat that was typical of 2010, or will it be the variable winds of 2013? Additionally, the defensive schemes at Northwest Regionals were fairly vanilla, with zone looks that would be laughable to offenses that hail from areas like the North Central or Southeast Regions. But, if Dirt can be somewhere close to the high defensive efficiency they showed last weekend, they'll definitely be in position to win some games on Memorial Day weekend.