A family atmosphere and good attitude have helped Victoria return to Nationals for the second straight year.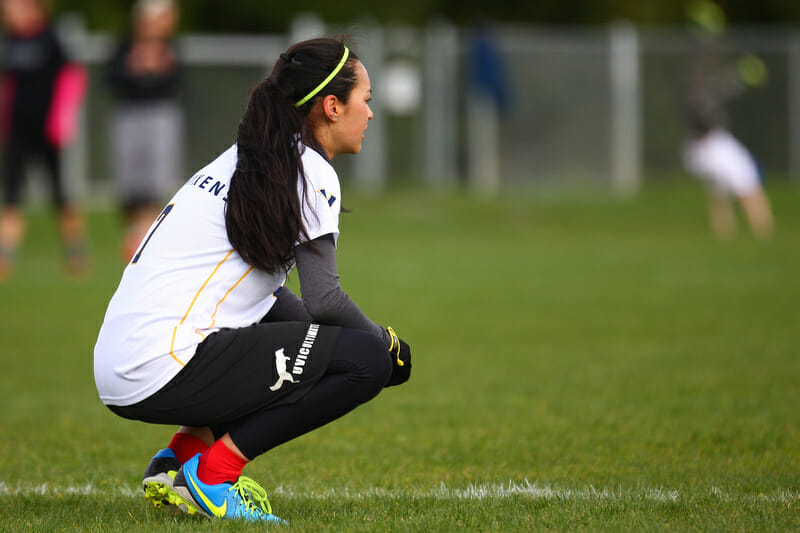 As one of the six top teams in the highly competitive Northwest Region, the University of Victoria UVixens are somewhat of a hidden gem. Their history as an ultimate team is only slightly longer than their tenure as a top team. Neither spans more than a handful of years and, in many ways, they are still developing. But this young, hardworking team is full of talent and drive, and they will be looking to capture our attention at Nationals this weekend.
Where They Came From
Part of Victoria's mystique is that they are relatively new on the national stage; they've really only become a coherent team in the last four years. Five years ago, they couldn't pull together enough players for a scrimmage. In fall 2011, at the Canadian Series western qualifier, they lost every game by 10 points or more. Just one season later, they won Canadian Nationals. Last year, they not only were able to put together a squad that went to Nationals for the first time, they also had enough devotees for a B-team. Despite not having their coaches in Cincinnati (due to the birth of their son) they held seed and won their consolation game after pool play.
Coming into this year after a solid first performance on the national stage, the Vixens graduated half of their 2014 Nationals squad. Taking that kind of heavy hit, the team assumed this year would be a rebuilding year, and, with only two tournaments under their belts before going into the series this season, they weren't even sure how they would stack up against the other power players in the Northwest.
Where They Are Now
The team recognized that their biggest challenge going into this season was recovering from the loss of 11 veteran players. In an email with Ultiworld, the team also emphasized that the Vixens are a family, so there was also the emotional toll of losing half a team's worth of sisterhood, a large contingent of which had bridged the gap from the club's early genesis to their current success. Their coaches, Kevin and Phyllis Bruleigh, dug deep into the roster to develop a team of well-rounded players who felt comfortable taking on many different roles. All returning players steeped in the now established program and systems were asked to lead, younger players were asked to step up, and rookies were asked to learn. All players became responsible for running plays and shutting down the other team on defense.
Their first test this season was the Stanford Invite, and it was a trial by fire. Both of their tournaments in the fall season were cancelled, so they were in the unusual position of being stocked with rookies who had never played in an Ultimate tournament before. The first game of the season was against Oregon, a 13-3 loss that stung, and they ended both Stanford and the Northwest Challenge with a 2-5 record.
In light of the high level of competition, their inexperienced squad, and their tight bench, Victoria had nothing to be ashamed of, but they burrowed even deeper to prepare for the series. At Cascadia Sectionals, they put up quite a fight against Oregon, at one point being up 12-9 before the juggernaut from Eugene closed on a 5-0 run. Even losing 12-14 was a far cry from their defeat a couple of months ago. They went on to go 3-5 at Northwest Regionals, beating Western Washington for the fifth bid to Nationals. 

Who They Are
If the Vixens could use one word to describe themselves, it would be "family," and their motto would be "Is This Enough?"
"We are a family that doesn't give up, we push each other to be better, and we give our all for our teammates," said captain Corinne Dunwoody. "We love the sport, and success isn't all about winning. We want to play Ultimate with the people we love; that's what makes us happy."
Their grit and obvious love for each other – cliché as it may be – are their defining characteristics, and means that they're the kind of team who's still having the time of their lives even when they're not in the finals. Saying your team is a family is one thing, but playing like it is a whole different animal. They're also delighted by their dark horse reputation, and their ability to surprise more prestigious and well-known programs with their determined playing style.
The team has certainly emphasized well-roundedness this season, but, as in any team, there will be standouts to watch at Nationals. Callahan nominee Kate Scarth is a prominent leader on the team who plays graceful, effortless offense and defense, catching nearly everything thrown to her. Her deep knowledge of the game makes her a skilled strategist and excellent role model. Corrine Dunwoody's pump fakes strike fear into her opponents, never mind her massive hucks. Lexi Omand has only been playing the game for three years, but has stepped up as a captain and formidable cutter who commands the lanes. Naomi Redmond is an incredibly hard worker with dime throws. Lilian Pham is a cool and collected player who is also incredibly fast and athletic. The Bruleighs are also a key component of the team; they helped bring this year's version of the Vixens together quickly, determined that this year not be a throw-away year, and guided their "family" back to the show.
What's Next
Victoria is coming into the tournament as a 17 seed, matched up in a pool with Oregon. Considering the run for their money they gave them at Conferences, expect Victoria to be competitive with every team in their pool, and don't be surprised about some upsets. The team who really didn't think they'd make it this far will be looking to break seed and give them hell. The Vixens have been on the rise all season, and will be leaving it all on the field, so look at this young, fierce squad for some great games. Lexi Omand sums up their Nationals attitude the best: "We fight for everything, we never give up, and we definitely have more fun than you!"