Normally the pool of death, Pool D is more of a pool of stars this year.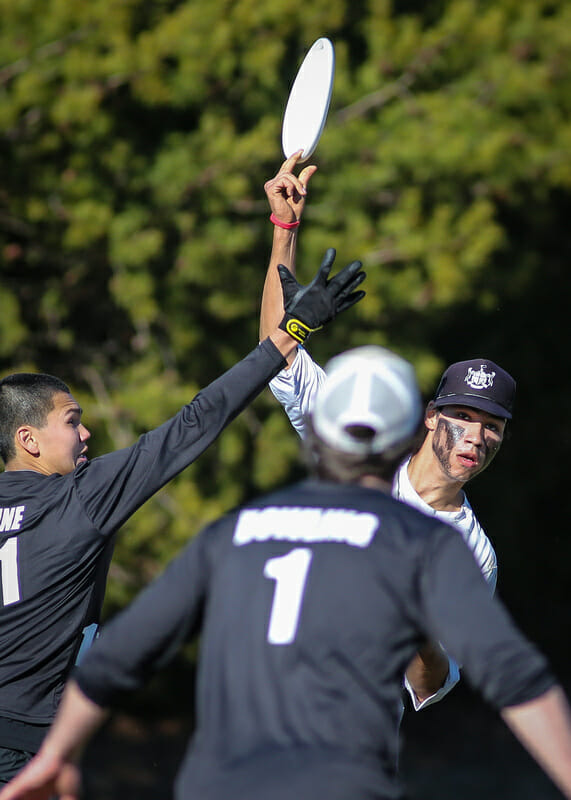 Disclosure: This post is brought to you by Ultimate Central. All opinions are those of Ultiworld. Thanks for supporting the brands that make Ultiworld possible!
By virtue of the format, Pool D at Nationals often bears the title "Pool of Death." Oregon's slipup at regionals that sent them tumbling to the 15th seed gives Pool C that distinction this year, but Pool D is still plenty lethal.
The number two team in the county and Centex champion UNC Wilmington comes in as the top seed, followed closely by defending national champions Colorado Mamabird, Ultiworld's #7 team in the country. Behind those two powerhouses are Massachusetts and UC Santa Barbara, teams sporting some serious talent at the top of their rosters, which could lead to some great individual performances over the course of the weekend.
Part of what makes this pool so exciting is that several of the teams in Pool D seem to have high ceilings and potentially low floors. It is unlikely that the results will shake out neatly, because of the high levels of variance these teams have displayed. Expect some wacky and potentially head scratching tiebreaker scenarios to play out in the final rounds on Friday, as it will be a tall task for any team to emerge unscathed from this pool.
#4 UNC-Wilmington Seamen
It has already been quite a year for the UNCW Seamen. Highlighted by spectacular wins, puzzling defeats, and one of the most unique playing styles in the country, Wilmington's season has been a blast to watch this year. Under the magnifying glass of Nationals, it's all only going to get bigger, better, and more insane.
Following a so-so performance at Carolina Kickoff in January, Wilmington turned up the intensity and started to cleave wide swaths through college ultimate during February and March. They won Queen City, Easterns Qualifier, and Centex in succession, carrying their winning streak all the way to double game point at the championship of Easterns before their trail of destruction was halted by #1 Pitt.
During that run of wins they played with an unmatched intensity, swagger, and vitality that made every game interesting, in a "what will they do next" kind of way. Their games were appointment viewing, because anything and everything might happen.
A lot of virtual ink has been spent praising UNCW's top players this year, and for good reason. Callahan nominee Xavier Maxstadt has been one of the most prolific players in recent memory, Luke Hancock and Charlie Lian play like they are raging against the dying of the light, and Jack Williams might be the best jump ball deep target in the college game.
But beyond their stars, what really stands out about Wilmington is the way that the entire team, from 1 to 26 on the roster, just goes for it. During their winning streak, UNCW players always seemed to get that the extra inch in every facet of the game that made the difference between winning and losing.
Of course when they couldn't get that extra inch on every play, the team got in trouble. In the championship bout at Regionals, a resurgent UNC Darkside demolished Wilmington in a game that showcased exactly how it can wrong for the Seamen. Unable to connect on big plays early in the game, the team became frustrated, and UNC thrived off of that frustration. After losing their confidence early, Wilmington's loss of composure turned what should have been a close game into a shocking blowout.
Perhaps Wilmington functions better as the underdog. They surprised everyone last year at Regionals by taking down UNC 15-10, and off of that momentum were able to scalp Pitt and reach the semifinals at Nationals. This year Wilmington has thrived when their defense has been the star of the show and let off the leash to make impact plays. Being the favorite and playing from the front usually involves running a suffocating, efficient offense which is just not Wilmington's game.
The other teams in Pool D will have to hope that Wilmington is uncomfortable as the favorite and that it puts them off their game, because as we have seen this year, when Wilmington throws their fastball, almost no one in the country can match it.
#5 Colorado Mamabird
Having to follow up a National Championship and the departure of one of the all-time great senior classes is tough, but Mamabird has remained competitive all year despite the gigantic personnel losses of last season. Of course, despite their high ranking and respectable success this season, there is a sense that we haven't seen this Colorado team really reach an elite level of play.
They are the exception in the pool in terms of variability, Colorado has generally proven to be a very consistent team this year, reaching neither dizzying heights nor embarrassing lows. The team hasn't lost any head scratchers to mediocre teams, but they also haven't been able to go blow for blow with the best teams in the country. Their most impressive win of the year was a 13-10 victory over Florida State, but that was in the midst of FSU's slump at Stanford, and DUF looks like a different team now than they did in early March.
In general, when Mamabird has been given the chance to make a statement win this season, they have come up short, losing to Oregon in the semifinals at Stanford, UNC in the quarterfinals at Centex, and Texas A&M in the South Central regional final.
It seems that Colorado beats good teams and loses to great teams, which will make them something of a litmus test in a pool full of squads that have shown the capability to be both.
Part of what makes Mamabird so consistent is the team's focus on playing their game the way they want to and not reacting to opponents. Mamabird coach Brent Zionic commented on his team's commitment to their own game by saying "We've tended to the philosophy of keeping it simple: that is to say, on offense figure out what you do well and stick to that."
This could be significant when they play Wilmington on Friday afternoon. Wilmington's style of play can sometimes coax their opponents into trying to match their frantic pace, or over adjust on defense for fear of getting burned by huge hucks and over the tops. Colorado seems unlikely to be intimidated into getting compromised defensively. "At our core," said Zionic, "we like to play our brand of defense." If Colorado wins the pool, it will likely be because they were able to stay cool and composed in the moment while their foes fall apart.
The other thing Mamabird has going for it is the notion that they haven't had all of their pieces in place until now. The team is loaded with very effective role players who do their jobs to a T, but lack some of the game breaking potential that the championship team possessed last year. The one guy on their roster who is really capable of changing the course of a game singlehandedly is Stanley Peterson, who may or may not be human.
Peterson has been playing on and off all season for Mamabird due to injuries, but should be sufficiently healthy and good to go this weekend. Having Peterson at 100% is a game changer for Colorado, and lets them do things they otherwise couldn't on both sides of the disc. It is possible that there is a hidden Mamabird that has been lying dormant all season, one that truly takes advantage of Peterson's transcendent talents. If so, things are going to get very interesting in Milwaukee.
#9 Massachusetts Zoodisc
The colors on UMass's jerseys this year are black and white, which is appropriate for a team that has performed at opposite ends of the spectrum this year. They started off the season on fire, manhandling UNC and Georgia at Queen City Tune Up, climbing to the top of the USAU rankings in the process. Jeff Babbitt and sophomore standout Conor Kline were unstoppable downfield, while Ben Sadok and Brett Gramann looked like two of the best underclassmen throwers in the country.
The scorching hot February lead to a much cooler March, as Zoodisc traveled to Austin for Centex and were dissected by several of the top teams in the country, including Wilmington and Colorado. Injury concerns for Kline and Gramann literally hamstrung the team, as they were knocked off their perch atop the rankings.
Inconsistency was the theme for Zoodisc later in the month at Easterns, as they managed solid wins over Georgia and Central Florida but lost to a reeling Carleton team, were upset by the ascendant Maryland, and were run off the field by Pittsburgh during pool play.
After suffering through March, UMass was on the ropes, and facing a one bid regionals. Whether or not Massachusetts was a legit contender became less of the question, as whether or not the team would even make Nationals became a concern.
But when push came to shove, with their season on the line, Zoodisc rediscovered their early season form to emphatically win the region and the bid to Nationals. As we look towards this weekend, the question is: which UMass team will show up? The one that rampaged through Queen City and Regionals, or the lackluster squad that couldn't get the job done at Centex and Easterns?
The key factor for UMass could be their health. When there top players have all been able to play at the same time, the team has clicked. The depth simply isn't there for Zoodisc to seriously contend without all of their studs. They rely on their best players to do a lot, and when they have to slide a role player into a larger role, it just hasn't worked out.
It is hard to predict exactly what UMass will do this weekend, as the team has performed so differently over the course of the year. If the team is healthy, they definitely have the potential to make some real waves. Of course, if things aren't clicking for them, they could just as easily sink below another team's wake.
#16 UC Santa Barbara
The Black Tide is back! One of the most storied programs in ultimate history returns to Nationals for the first time since 2010 after winning the lone bid from the Southwest region. Seeded sixteenth, they sit outside of the window for pre-quarters, but given the instability present in some of the teams above them in the pool, it certainly wouldn't be a shock if they were able to pull off an upset or two.
Emerging victorious from a brutal Southwest region is an encouraging sign for the squad from Santa Barbara; they were able to really hit their stride when it mattered most. The team's depth was a real strength at Regionals, as Black Tide put out line after line of intense defense as other teams were starting to wilt from the long weekend. Fresh legs are always going to be important in the cauldron at Nationals, particularly because they will give UCSB's top players, headlined by team captain and U23 stud Hunter Corbett, the rest they need to matchup with the other stars in the pool.
UCSB has wins over Minnesota and Cincinnati already on the books this season, and will be looking to add to the list this weekend. Winning games against other Nationals qualifiers shows this team's potential, but they have also lost to or barely beaten some teams that aren't even sniffing Nationals, which is concerning. It may be a case that UCSB plays down to poor competition, which will not be a problem for them this weekend when they face some of the best teams in the country.
Carrying the name and legacy of Black Tide into every game could be a burden. If players have the shadow of their team's past hanging over them, it can be a recipe for problems in the mental game. The Santa Barbara players have done a good job this year finding the balance between using their program's illustrious history as motivation while still maintaining a focus on the identity of this year's team. "We are always expected to do really well, with pressure coming from other teams and our alumni, but I think this year we used it as a motivating factor," said Corbett. "We gained enough confidence and became a cohesive team, displacing the pressure on other teams as they matched up against us."
UCSB will play this weekend with no fear, and every confidence that they have what it takes to pull off an upset. They proved at Regionals that they can play their best when it counts; now we will see if their best is good enough.
#20 Cornell
The Metro East champions bring up the rear in Pool D. After getting stunned by Rutgers in the game to go last season, Cornell took care of business at Regionals this year, dispatching Connecticut to retake their place atop the region.
It will be a surprise if Cornell manages to win a game in pool play this weekend, as they have yet to beat another Nationals qualifying team this year. That said, the other Pool D teams will still have to play hard in their games against the Buds, as Cornell brings intensity and discipline with them every time they take the field. The team's physical style of defense exacts a toll on their opponents, and Cornell showed at Easterns that they have the ability to hang tough with top teams and make things uncomfortable if someone underestimates them.
For Cornell, just getting back to Nationals makes this season a success. If they manage to win a game and break seed, it will be icing on the cake.
Points of Interest
A big theme in Pool D will be how teams play to the strengths of their star players. Wilmington has some of the best throwers in the game, and we know that they have sculpted their strategy and demeanor around that. Colorado, Massachusetts, and UCSB each have an immensely talented individual player that allows the team to open up their playbook on offense as well as apply more aggressive pressure on defense knowing their superstar is going to be able to make plays. How Peterson, Babbitt, and Corbett are deployed will be very interesting.
Speaking of star players, the individual matchup everyone wants to see will be happening at 12:30 on Saturday when Colorado takes on UMass. Stanley Peterson and Jeff Babbitt are arguably the two most athletic players in the college game, and seeing them go toe to toe will be a treat. Because Massachusetts likes to throw their 1-3-3 zone so often, there will likely be fewer instances of the two players guarding each other directly than you would hope for. Still, there is a good chance that at some point the two players will attack the disc in the air at the same time, which will be an aerial battle worthy of a WWII dogfight.
How teams prioritize saving their legs versus trying to improve their finish in the pool could have some unforeseen consequences. Last season Wisconsin saved legs and dropped their last pool play game to fall to the third spot in their pool, but then used that fresh energy to blow out an exhausted Carleton team in prequarters. With Pool A likely coming down to the wire in terms of which two teams behind Pittsburgh manage to qualify, it may be prudent for one of these Pool D teams to rest some of their legs on Saturday in order to be fresh for prequarters, even if it means taking second in the pool and not third.
Predictions
This is a tough pool to forecast because of the inconsistency most of the teams have shown over the course of the year. Predicting the finish comes down to which versions of these teams you think will show up during pool play.
I believe that, despite their puzzling capitulation to UNC at Regionals, Wilmington is still the class of this pool and will manage to secure first place and the bye into quarters, although their games against UCSB and Cornell will be closer than they would like.
Colorado and UMass play in the last round of games on Saturday, and I like Mamabird's superior depth in that matchup, which could very well decide second place in the pool.
For the last spot in the bracket, I'm calling UCSB to get in over UMass. We just haven't seen enough consistency from Zoodisc over the course of the year that anyone should feel confident picking them to go far this weekend. Of course, if they do put it together they have the potential to beat any team in the pool, so this prediction may look foolish this time next week.