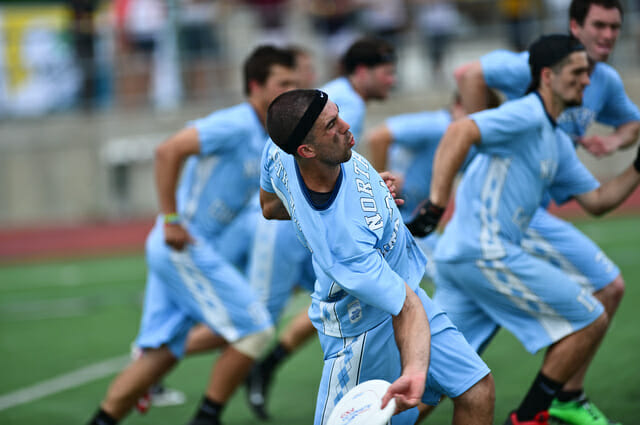 Disclosure: This post is brought to you by Ultimate Central. All opinions are those of Ultiworld. Thanks for supporting the brands that make Ultiworld possible!
Making it to Nationals is a little bit like an Everest attempt–even having the team in good enough shape to arrive at basecamp is impressive enough and, once on location, the odds for a summit run are slim. The climate can shift suddenly and drastically, affording some the chance to ascend when others try and fail.
In 2015, Pool C looks like a logjam somewhere close to the Hillary Step. North Carolina and Florida State arrive with the Atlantic Coast and Southeast Regional titles, while Maryland will take the field after a bevy of hard-fought and well-earned wins against key competitors. Three tough teams at the front of the pack is normal for a tournament of this caliber, but then there's Oregon lurking in the four spot.
Not that the format will allow it, but under other circumstances, would it be outrageous to suggest that this pool has three semifinals caliber contenders? It could certainly happen for quarters.
Shutting Out The Lights
At the end of April, North Carolina Darkside crushed their way to the top of the Atlantic Coast, including a full dismantling of UNC Wilmington to take the top spot. Even with key starters Tim McAllister and Vik Sethuraman sidelined and injured, Darkside rolled out a previously unseen set of defenses that stifled throwers, confused cutters, and generated turnovers. With Ben Snell close to a full recovery, the team's defensive efficiency reached a new height and the offense looked nearly untouchable.
Of course, no non-team entities were filming the above events, so Darkside will arrive in Milwaukee with only some buzz and a recent win streak to suggest their marked improvements since the beginning of the regular season. Maryland took an 11-15 loss to UNC before taking the Atlantic Coast's third bid — we'll see if that firsthand experience pays off on the second day of pool play. Florida State's 15-11 win over UNC during the regular season was against a Carolina team that was still dealing with injuries, playing mostly man defense, and without the critical play of Ben Snell, both as a star and as a pressure release for star thrower Jon Nethercutt.
The loss against DUF at Easterns won't be the only chance for Darkside to redeem themselves. Ego snuck away early in the bracket with a 16-15 quarterfinal win back in Myrtle Beach, but they'll take on a revitalized and newly confident Carolina team in the last round of pool play on Saturday.
"Our team is about as confident as I've ever seen them," said coach Mike DeNardis. The tight-knit community between Darkside, Ring of Fire, and the newly minted Raleigh Flyers has also benefitted the team in downtime between Regionals and Nationals. The Flyers (of which DeNardis is part owner) have acted as a Darkside sparring partner during the interim, and the nearly month-long break has allowed McAllister and Sethuraman time enough to heal.
There's a lot of heart in the young legs of the Carolina defense and premier talent in its leadership. With the freedom to roam a bit more off resets to Snell, Nethercutt will continue to unleash his full throwing arsenal to find Aaron Warshauer, Norman Archer and the rest of a battle-tested cutting corps. The speed of defenders Nick Macleod, JD Hastings, and Nathan Kwon should prove difficult for all opposing offenses. Carolina's signature sideline traps off rolling Nethercutt pulls will also aim to stagnate flow.
If Darkside can continue to match or improve on their caliber of play from Regionals, it would be surprising to see them fail to take the pool. "Our pool is undoubtedly strong, but you face tests every day at Nationals, [and] success is predicated on us executing," said DeNardis.
Tally Ho!
Good things comes to teams that have been grinding for the last five seasons. Florida State DUF may not have the distinction of lead climber in Pool C, but consider them an equally talented team ready to take over the top if Carolina loses footing.
DUF has lost just two games since the Stanford Invite. One was a hard-fought 13-15 loss to #1 Pittsburgh; the other a meaningless loss to Florida at Conferences. The fight for the last two bids in the Southeast was stormy, but DUF stayed above the fray with the fluid stylings of an experienced offense and a jet-propulsion defense.
While this bidding defense may have been flying somewhat under the radar after quietly taking the Southeast, their depth on defense has matched Carolina before and they've had a good hard look at the Oregon offense. DUF can use their speed to give Ego handlers trouble while also gumming up some of the deeper horizontal sets that Oregon uses to open up space underneath.
The real challenge will be handling both Darkside and Ego on day one. That's a very tall order. "Obviously, it's challenging because that's probably the hardest day of pool play that any one team in the tournament has. But it's also a bit of a blessing because we can really jump start our tournament with good performances in those games," coach Pete van de Burgt observed.
DUF has performed well against the other top talent in the country. Chris LaRocque and the rest of the O-line have been unflappable for the better part of the year, and though the Darkside team they'll face on Friday is playing at another level, the junk defenses may not phase the less predictable player-centric movements of the DUF offense. "I'm really looking forward to matching up with UNC. They seem to be peaking at just the right time and will be a huge challenge," van de Burgt remarked positively.
The D-line seems to have the ability to feel out opposing offenses before clamping down and taking late leads. For a team that has been working to improve the application of field-wide pressure on defense, they're somewhat unlikely to jump out to an early lead against worthy competitors. If DUF is executing the way van de Burgt and his co-coach Matt Childs have been preparing them too, the D-line will use their bidding prowess when less than perfect throws are generated by stingy, physical play elsewhere on the field.
This stacked pool won't make it easy for Florida State (or any other team in it) to find the bracket, but playing arguably two of the toughest teams in attendance right out of the gate will give them a chance to roll out their best ultimate right away and allow them to see where they stand quickly.
Controlling The Ego
Oregon will arrive in Milwaukee as the obviously most dangerous four seed in the tournament. Though their regular season win margins were smaller, this team went nearly unmatched until their well-documented slip at Northwest Regionals. Before Easterns, they were 17-1. Before Regionals, they were 28-3. Aside from the loss to UBC at Regionals, Oregon let no opponent come within five points of them during their post-season push. And they did it all with less than 20 players.
"We're at 17 [players]. Everybody really contributes," said coach Jay Janin of his tight-knit Ego team. Each player has had a hand in their impressive run and each has now bonded over the scare of possibly not finishing their season in Milwaukee. As much as a near-perfect run through the regular season can bring a team together, absorbing a loss and recovering can be an even more powerful experience.
"We were frightened we wouldn't qualify. Saturday night was tough, but by Sunday morning the leaders of the team brought a focus and intensity that saved the day," Janin told Ultiworld. "The team really pulled together in a way that has me very excited  for Nationals. We were still loose, energetic, and having fun, but we had a sense of urgency and confidence that really made a difference."
That energy and urgency translates well into an offense has been one of the best of 2015, second only to Pittsburgh's. Ego's blazing fast O-line, whether the defense knows the plays or not, is deadly in open space and, because of the roster size, each player can cut and create.
Ego takes on Florida State to kick off pool play; it will be exciting to see if the latter goes toe-to-toe in man defense or tries a few different looks to slow the Oregon offense. Maryland, athletic and new to the national stage, will likely try to create turns with some defensive system adjustments. Carolina may be the best prepared, with a fast defense and tricky traps to force Ego into offensive shifts.
Through it all, Ego will have an X-factor in Dylan Freechild. While his experience will help him be a motivator for the rest of his thin roster, he'll still need to be in top form to keep opponents on their toes. Ego needs their star to assess each point carefully and remain useful–he was nearly neutralized by Colorado in their 2014 meeting in semifinals when he seemed indecisive about what role to play on the field.
Oregon, however, takes its biggest risk with roster size. The team's success is built on top notch contributions from all 17 players this season, and there will be little in the way of backup to keep them climbing upwards in the bracket. The format should help minimize some of this risk, but particularly against Carolina and Florida State, Ego will need everyone to buckle down and pull their own weight.
A Bastard Of A Draw
The path to the bracket may look a little different for Maryland. Their regular season success was predicated on out-grinding and outlasting opponents in long tournament weekends, using the notable athletic depth on the bottom half of their roster to give their defense an energy boost in bracket play.
"It's no secret that Maryland relishes long, grueling formats, and the temperate weather doesn't do us any favors," coach Ben Slade explained. His team earned their Nationals spot by taking advantage of every opportunity that came their way during the season and being well-prepared. Key wins over Central Florida, UMass, and Auburn at Easterns helped earn the Atlantic Coast a third bid and boosted Maryland's confidence coming into the postseason, but the weather wasn't pretty and each of those opponents had Jekyll and Hyde weekends.
That shouldn't diminish what the Space Bastards have accomplished in 2015. Slade keeps his team in the know, playing his strategy close to the chest and prepping his sets to convert turns into breaks quickly. "This format also allows for individualized preparation, which is something that we are good at. You get more time to study the film, identify opportunities, customize your strategy for specific matchups," he told Ultiworld.
Combining Slade's attention to detail, a lighter schedule each day, and both the talent and leadership on the top end of the roster makes the Space Bastards no easy out for any of Pool C's other top dogs. Mark Lin is a two-way player who can contribute big flick hucks after layout blocks, but he's got plenty of support from the rest of the team's leadership. Max Cassell, Nathan Prior, and Eric Biggs have each had outstanding seasons so far and all three play crucial roles. Cassell and Biggs have been rock solid on defense, while Prior continues to fly under the radar as one the more patient and steady backfield contributors in the division.
Thy key to securing an upset will be shaking off their first-timer nerves. Maryland has now climbed beyond any elevation previously reached by their program and they'll need to keep their wits about them as they look to overtake Oregon, Florida State, or Carolina. It's not out of the question, but it won't be easy either.
"Since my players have prepared so well throughout the year, I'm ready to roll the dice against any team in the national [field] and will be proud of them regardless of the outcome," Slade said.
Making Some Noise
The 2015 regular season didn't yield the best results for Illinois. "A lot of it was trying to figure out what was going to work for the series," explained captain Marty Markenson. However, much like the conversation about Carleton CUT almost every year, this team is one that used January through March to fine tune its lines, sets, and mindset. While it may be preferential for some to come out of the gate in January ready to win, others will gear each of those regular season tournaments to build towards a postseason peak.
Starting furthest back on the rope, Illinois have the longest climb of any team in Pool C to make it to the bracket. They built a head of steam with an undefeated run at Great Lakes Regionals and will bring a squad with 13 seniors to Milwaukee to keep moving towards the peak. Markenson said that Regionals was the best team performance so far this year, a promising sign for Illinois since they'll need some upset wins to achieve a goal of reaching bracket play.
Their edge may be program experience. Illinois is no stranger to the national stage, having been at this tournament four times in the last six years. With 13 players who have been part of that experience already, they'll get an immediate emotional and mental advantage–especially given that two other teams (Maryland and Florida State) are newer to the national scene. A little bit of pedigree can go a long way.
Predictions
1. UNC takes the pool by avenging their regular season nailbiter loss to Oregon in the last round on Saturday. It might not be close this time around.
2. Florida State is out for blood and also looking to prove a point against Oregon. There's so much speed and talent between these two teams that it's tough to call, but whoever comes out on top after the first round on Friday will have gotten over a huge hump. I like Florida State to edge out Ego.
3. All Maryland needs to stay in the conversation for the bracket is a few slip ups from one of the top seeds. This team is very disciplined and knows how to convert. Oregon has the edge in talent and experience, but Maryland won't go down (as they didn't at Easterns). Close call for third and the last spot in prequarters, but Oregon takes it.