Oregon & UBC are no strangers.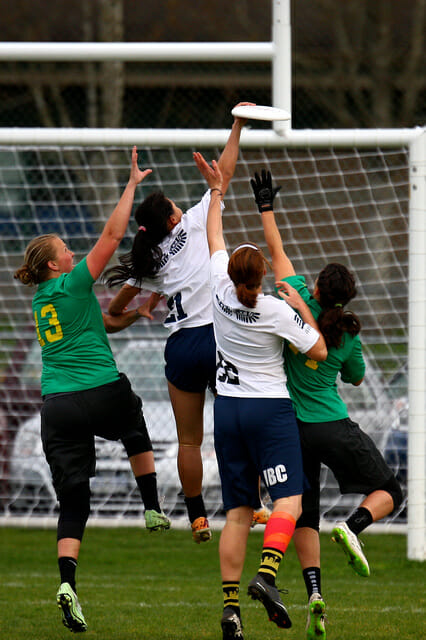 When Oregon Fugue and the British Columbia Thunderbirds line up across from one another for their semifinal at the College Championships, surprises will be hard to come by. The two teams have been top ranked contenders for the entire season. They both call the Northwest home, finishing 1st and 3rd at the tournament after Oregon topped UBC in the final and UBC dropped the 2nd place game to Whitman. It'll be the fifth time they've played this season; Oregon holds a 3-1 edge in the series, including winning the last two matchups decisively. These two teams are no strangers.
If Oregon can help it, the game will be more what you've come to expect. Fugue has been on a tear, leaving nothing but destruction in their wake. Since giving up 19 points in their first two games in Milwaukee, Oregon has had just 15 points scored against them, including steamrolling Dartmouth 15-6 in their quarterfinal. Excluding their first half against Notre Dame in their tournament opener, they've been untouchable. Beth Kaylor and Jesse Shofner have had their way with defenses, piling up goals and assists while making their case for the country's premier offensive duo. Fugue has also crunched through opposing offenses with their signature merciless transitions.
British Columbia will be hoping to stir up some shockers to follow their quarterfinal explosion. They roughed up a very strong Virginia team without their central playmaker, Mira Donaldson. And now they'll come is as the underdog against Oregon with the hopes to unseat the favorite, who is in there 6th straight semifinal.
"We know them very well," said UBC Coach Tasia Balding, "which is good and bad."
UBC's quarterfinal game was a great confidence building for what they could do sans Donaldson. Freshman Ellen Au-Yeung made plays on every axis and senior Terynn Chan was steady and available for her team. They used intelligent defensive strategy and some strong dump D to disrupt Virginia's rhythm and will hope to do the same to Oregon. They now truly believe they can succeed without their playmaker.
"They've got a really nice pivot of being a combination of finesse and blue collar," said Oregon Coach Lou Burruss. "Without [Mira Donaldson], they don't have any choice but to be blue collar."
Fugue is confident and prepared. They've rarely had to tighten up lines and enter this game fresh. UBC has played an additional game and many closer games than Oregon and their legs may start to give out against the pressure of Fugue.
"I keep waiting for a team to come and play great against us," said Burruss.
British Columbia is planning on granting his wish, and then some, but Oregon hopes its just another game.