Oregon dispatched UBC to reach the finals as the favorite.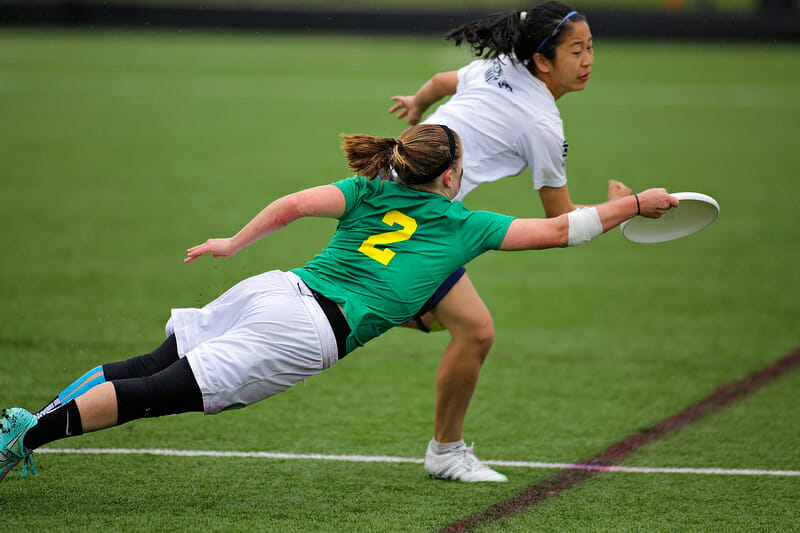 Oregon entered the semifinals for the seventh year in a row. They've been here before, taking factors like nerves and mental strength off the table. Last year, Fugue won the Battle of Cincinnati in their legendary game against UCF to advance, bloodied and weary. This year was different.
UBC's second seed ranking put them on the same side of the bracket as Oregon, a match they were likely hoping to play in the finals, not beforehand.
"You can always talk about ifs and whens – if we are on the other bracket," said UBC senior Victoria Lam. "But if you want to win the title, you have to beat every team."
That Oregon broke first surprised nobody. That UBC matched their pace, swinging patiently through the fearsome Oregon zone, was reason for pause.  UBC went toe to toe with Oregon for the first eight points. Together they set a fast pace, with both teams making plays to save or steal possession.
"Our zone defense has killed them all year, and it didn't today," said coach Lou Burruss after the game.
UBC spread their zone offense wide, forcing the Oregon cup to run further and rush to set. With open options on the wings, UBC slid up the sidelines to score again and again through Lisa Wong, Terynn Chan, and Victoria McCann.
Oregon won the points they need to win, only giving up one break in the first half, but several turns from Jesse Shofner and Olivia Bartruff made the job harder, and they were 0-2 on deep looks in the first half. UBC's break for 5-4 came with an incredible run by Naomi Morcilla to chase down a tailing huck, prompting a brittle dream: what if UBC made this game an effort for Oregon? Is there a world where Oregon loses this game?
The dream is closer to fairy tale in light of the Thunderbird's obvious absence: Mira Donaldson. The UBC star wrecked her shoulder during the last game of pool play against Carleton, and she was taped up and cleatless today for UBC's games.
"Mira going down was definitely a pretty big loss," Lam conceded after the loss. "But the way the team rallied to support everyone, and still having her there to support our offense was great. We were ready to play our own game as a team."
UBC has asserted again and again that they're 23 strong, and they've proved it since her injury. Without Donaldson's power, UBC was forced into patience and nuance to score.
Oregon continued to set zone, but they transitioned out earlier, giving defensive playmakers like Jesse Shofner and Beth Kaylor opportunities to eat up throws in the midfield. They would break back for half to regain full control of the game, 8-6.
The second half was Oregon's: they shifted from their pull play offense to a softer give-and-go flow through their midfield, hitting four or five unders instead of just one deep look. They outscored the Thunderbirds 7-3, with spectacular play from Jesse Shofner. There's a special mental space few players reach where they can play out of their minds and bounce back quickly from mistakes. Shofner accessed that space in the second half.
"The most impressive thing she did was, after having four throwaways in the first half, she had the maturity and the control to have none in the second half," Burruss stated. With 3 goals, 3 assists, and 3 Ds and 3 turns, Shofner would walk off the field with the most stacked stats line of the game.
Their final three breaks stamped the letterhead of their ultimate pedigree. This is Oregon. Don't forget it.
Victoria McCann made several crucial plays for UBC in the second half, hurling herself into layout D's and flinging hucks and hammers with abandon. But the Thunderbirds' final score of their game and their season came relatively early in the second half, and Oregon tucked the game into their stats record and their memories with efficiency and ease, 15-9.
This semifinals is significant for Oregon because they leave the field having played fewer and easier points than their semifinals last year. What's the difference for Lou?
"I'm not exhausted. It's not 90 degrees," joked Burruss. "There were probably less turnovers in that entire game than there were in either half [last year]. We went into the finals last year really wounded, really tired… we'll go into tomorrow will full speed and fully rested."
Correction: Coach Lou Burruss was previously misquoted in the opening of this piece. We regret the error.