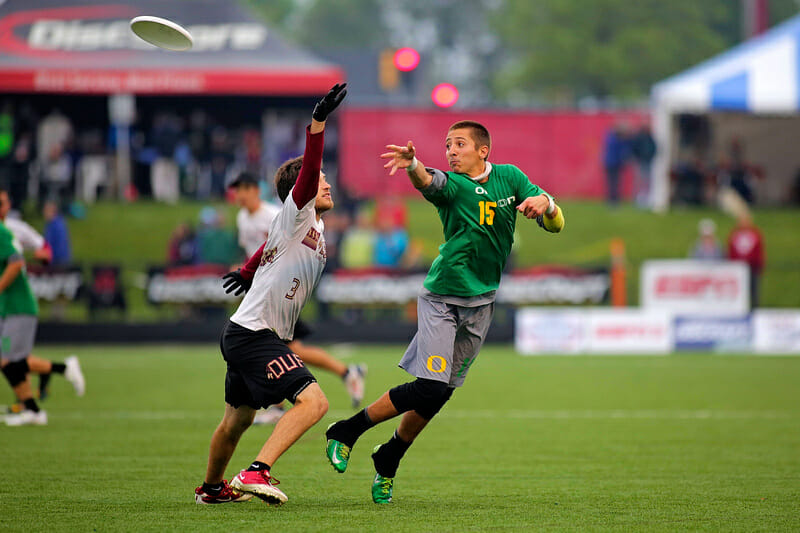 Florida State got the better of an unfocused Oregon on day one of this tournament, but Ego managed a major mental turnaround and went on a tear to reach the semifinals. Florida State, perhaps underestimating Oregon's ability to to crash their cutters into open space to create flow, fell behind early and could never quite catch up. Oregon opened up their until-now unseen deep game in the second half and put away Florida State 15-12 in a game that was hard-fought until the bitter end.
The rain created some early slip-ups for FSU, and Mario Bundy assisted on the game's first break to Braedon Petrus to make it 2-1. Drew LaRocque evened the score at 2-2 on a throw from Andrew Roney, kickspiking into an Oregon player by accident in celebration.
The Ego offense turned it on, showing their incredible speed and working right down the open side on the ensuing possession, with Freechild snagging an assist after finding fellow captain Trevor Smith for the goal.
Just two points later, Oregon's offense continued to roll through FSU, unfazed by the 2-3-2 and switch to man at half field. FSU had won matchups earlier in this tournament with stout man defense in the red zone, but Oregon faked their Freechild-classic give and go to bait the FSU switch to the open side lane, and got at least two scores off throwing lightning quick continues to the break side.
DUF made a run at Ego, breaking on a beautiful inside-out backhand from Larocque to Roney on an S cut to make the score 5-4. DUF stayed ahead until 6-5.
Bundy helped orchestrate a defensive run for Oregon next, going on a 3-0 run with two goals from Bundy to take half 8-6. FSU went to the huddle needing to make some adjustments on defense to stop the Oregon rampage on open side unders, but holding their immense advantage on deep looks.
Oregon started the second half having yet to fire off a huck, while FSU was almost perfect, connecting on 7 of 8 attempts, even though Connor Holcombe was relatively quiet with only one goal. The FSU defense used a roller pull out of bounds to start the half and broke to inch closer at 8-7. Turns peppered the next point before Trevor Smith found Eric Normen to make it 9-7.
The teams began to challenge each other in the air in the second half, with a Chris LaRocque huck caught by a fully extended Andrew Roney to even the score at 9-9. When Oregon opened the field and started looking for their cutters in the deep space, however, the FSU defenders who had adjusted to put more pressure on unders were forced to readjust.
Mario extended the lead to 12-10 with a phenomenal toe-in catch on the goal line. Soft cap was closing in, and desperation started to influence some ill-advised FSU throws. Petrus cleaned up a Bundy flick over the stack for another break and FSU was staring down the long hard road of three point deficit with little time left to catch up.
"We weren't connecting on our hucks the way the way we sometimes do," said Florida State coach Pete van de Burgt. At 14-11, FSU had suddenly dropped to just around 60% on their huck attempts, and they were too far behind to recover as soft cap sounded.
Freechild, the weight of three previous semifinal losses on his shoulders, won the game with a huck to Adam Rees, advancing to the final tomorrow and ending Florida State's impressive rise. "We were at a point in the game where everyone knew we had to grind," said Bundy of his team's run of breaks to push the lead and end the game. It's the team's first finals appearance since 2003.
For Florida State, a team that has focused on steady and impressive improvement throughout the season, finishing a semifinalist was bittersweet, but not because of the loss. "All season we preached being oriented around the process and not outcomes. I'm not sad that we lost, I'm sad that we're not going to be able to practice together, I'm sad that we're not going to spend time together, I'm sad that we're not going to work and sweat and bleed together," said van de Burgt as his team packed up and embraced.