Ben Snell's resurgence pushed UNC to a National Championship.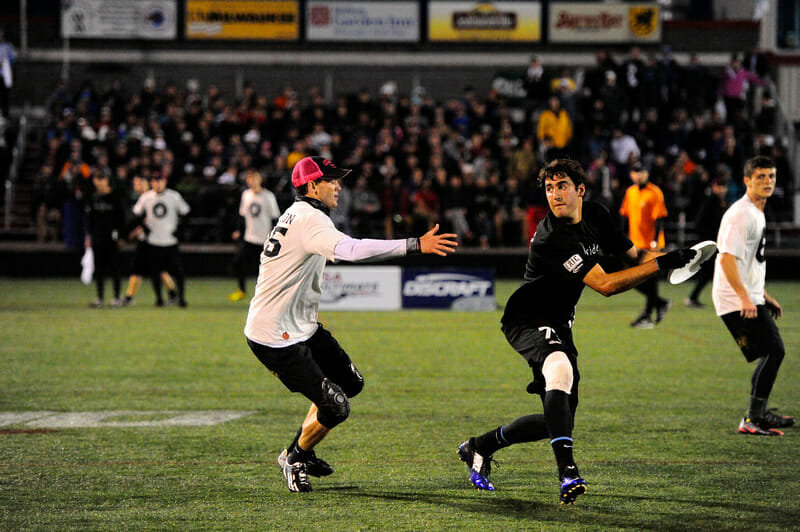 There have been a lot of changes to UNC's roster since last year, when the team fell to Colorado in a loss not dissimilar to the one North Carolina delivered to Oregon yesterday in the National final. Perhaps no change was more important than the return of a healthy Ben Snell.
While Snell has been framed as the Robin to Nethercutt's Batman, Snell so clearly raised the level of UNC at Nationals this year that the team's run would not have been possible without him.
Snell began to break out early in the last collegiate season, and he dictated their first match with the eventual champion Colorado in a highly anticipated matchup at the Stanford Invite. Snell was assigned to the Jimmy Mickle matchup and contained him better than anyone all season. UNC went on to win, thanks in large part to Snell's dfense, and he was a favorite to win Ultiworld Defensive Player of the Year. But a few weeks later at Easterns, his season would come to screeching halt; he suffered an ACL tear and didn't play in the postseason.
After last year's finals defeat at the hands of Colorado, the work began for Ben Snell. "Right after Nationals, I got in the gym thinking about today," Snell said on Monday. "I just worked as hard as I could for this moment." Snell began his transition back in February at Queen City Tune Up in Charlotte. Playing with a knee brace, he mainly worked to get back in the flow of the game. "It's been up and down," he said. "That's what they tell you with ACL rehab, somedays you're going to feel good and somedays you might not." Even around 60% healthy, Snell was still building chemistry with Darkside in preparation for their Nationals push.
UNC finished out the regular season with Centex in Austin, TX, and Easterns in Myrtle Beach, SC. Both of these tournaments gave him an opportunity to rest and get a bit more healthy, after being worn out by U-23 tryouts and Queen City. "There were some weekends earlier in the season when it was looking better, and then some it wasn't," said Snell. "So I wouldn't play some. But I think in the long term it worked out." Worked out might be an understatement.
Snell's first tournament anywhere close to fully healthy didn't come until Atlantic Coast Regionals. UNC coach Mike Denardis had Darkside prepared for a regional revenge title. UNC trounced UNC Wilmington in the finals of that tournament. "It's always a good feeling when your legs are churning and you don't feel like you're running through sand the whole time," Snell said.
Ben was getting back at the right time, and felt around 90% healthy by the end of Regionals. Throughout that tournament he provided a relief valve for Nethercutt, and then started to show why he's so valuable to Darkside. Snell's presence on the D-line opened up the matchup opportunities for the entire UNC defense. "He's huge downfield, but he can come back and control the offense as well," Nethercutt said. "And he takes the first matchup, which is a huge difference even if it doesn't seem like it." Snell would further prove his worth in the National Championship final. He played every point of the game.
For the weekend of Nationals, UNC had been running a junk zone that was flexible enough to change from game to game.
This zone was only possible with Snell back for Darkside. "His ability to know where I am on the field, and adjust accordingly, allows us to be so much more aggressive in our zone sets," said Nethercutt. In a championship game where field position was so important, Snell would see the disc a lot as the "free safety"of the defense. Late in the game, Oregon adopted a punt-and-play-D style that would hope to utilize their best deep threat Connor Matthews. Snell dominated the matchup. Matthews was limited to two goals, which, for the role he played in that offense, was not nearly the amount that Oregon needed to stay competitive in the final.
In the first half, Matthews overpursued a strong under cut from Snell, leaving him without a mark. Snell put an inside-out upwind backhand break on the money for the second break of the game.
Snell shut down multiple Ego deep looks. He was a full package on his own, not just a compliment to the star player of Darkside.
"He counters Nethercutt in so many different ways," said DeNardis. "He's got the big backhand while Nethercutt has the big flick. They're both leaders of different lines. They can come together and make our team even better when they're on the field together because they know each other so well…Nutt and Snell are basically like 1A and 1B."
Good players make their team better by just being on the field. After the game, Snell helped cement his status as one of those kinds of players. "You always trust him to make the right decision, which takes the weight off your back and lets you just play," said Nethercutt.
All weekend, Snell took the defensive matchup that earlier fell to their Callahan winner. With Nethercutt a little more rested, his offensive skills were even sharper.
*
In last year's National Championship, Nethercutt was missing an easy reset. He was also missing a downfield athlete that wasn't Christian Johnson. Snell filled both of those gaps in 2015. He was second on the team in assists, and he quarterbacked the zone that stifled Colorado, UCF, and Oregon.
It makes sense that Snell is thought of as playing in the shadow of this year's Callahan award winner, but as a defensive playmaker and a vocal leader, Ben Snell showed us that he casts a large shadow of his own.