Ultimate's TV ratings have been underwhelming.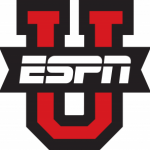 This marks the three year point for USA Ultimate's relationship with ESPN. Although most of the broadcasts happen exclusively online on ESPN3, the network's streaming channel, the College Championships do get a tape-delayed broadcast on ESPNU, the network's college sports focused channel, on the Wednesday following the tournament. ESPNU shows three consecutive hours of ultimate from 8-11 PM: first a one hour highlight show, then heavily edited versions of the women's and men's finals.
Thanks to Douglas Pucci and Awful Announcing, we have been able to track Nielsen ratings for each year's broadcasts (Earlier: 2014, 2013). Here are this year's ratings:
| Show | Household Rating | Viewers |
| --- | --- | --- |
| Men's Final | 0.0 | 41,000 |
| Women's Final | 0.0 | 38,000 |
| Highlight Show | 0.0 | 33,000 |
ESPNU is already a marginal channel next to the bigger networks in the family like ESPN and ESPN2, but ultimate has still been towards the bottom of the ratings of the college network's sports programming. It doesn't help that this year's games went up against the NBA Western Conference Finals between the Golden State Warriors and the Houston Rockets (Game 5, the highest rated game of the series) on ESPN.
In the first year, the Men's Final drew 86,000 viewers. This year, it drew just 41,000.
While those numbers are still well above online broadcasts, ultimate simply won't see major ratings unless games are bumped to bigger channels in the ESPN family. According to USA Ultimate, ESPN has so far been "pleased" with the viewership and will continue to be USAU's broadcast partner for the remainder of the contract, which concludes at the end of 2016.