We announce awards for the Division III Men's game!
We are excited to announce the 2015 Division III College Men's awards!
Player of the Year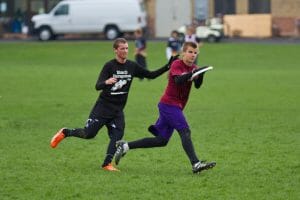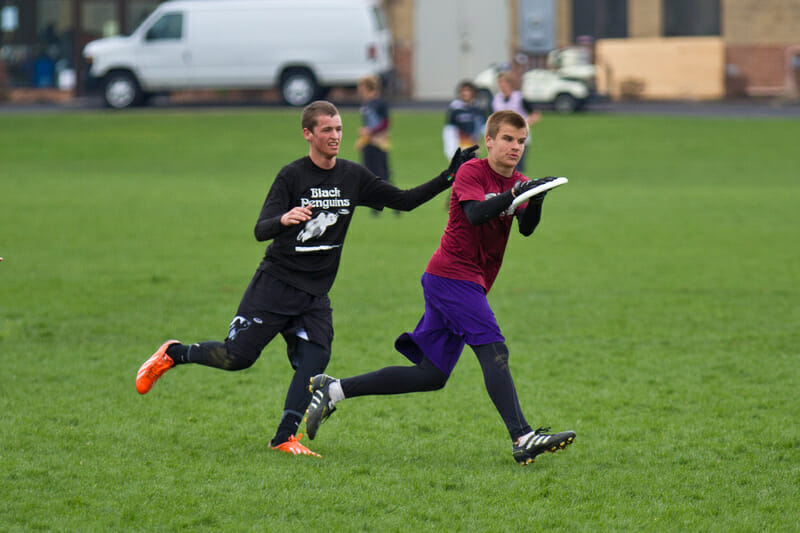 Travis Carpenter (Indiana Wesleyan)
The 2015 Great Lakes Player of the Year has made quite a name for himself outside of college, making the U23 Men's team and putting up some eye-popping stats in the AUDL. This season he brought all of that talent to bear at IWU.
Carpenter did everything for Huck Dynasty, playing virtually every point on both sides of the disc. Not only did he play a ton of points, he played everywhere on the field. He was the best thrower on the team, but also the best deep cutter, and as a result flew around on offense abusing matchups. Put a lockdown handler defender on him and he would burn them deep. Put a big downfield defender on him and he would rock give and goes all the way up the field.
On defense he did even more, playing just about every position in IWU's zone and taking the toughest matchup when they melted into man. His Callahan video shows exactly what sort of athleticism he is working with, but he isn't just a highlight machine. He is a sound player who makes plays all over the field.
Not making Nationals hurts his candidacy, but dragging a team to the game to go in a one bid region is nothing to sneeze at. To win POTY without making Nationals is quite a feat, but Carpenter demonstrated over the course of the year that he was the best D-III player in the country and not making it to Rockford doesn't change that.
Offensive Player Of The Year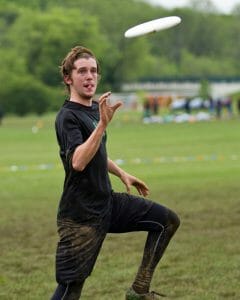 Will Shaw (Lewis and Clark)
Also last year's OPOTY, Shaw returned to Bacchus in 2015 and picked up right where he left off. He was the engine behind Lewis and Clark's sterling regular season, undefeated against D-III competition, and continued his excellent play at Nationals. Too quick to stop in the handler set, Shaw ran his marks ragged as they attempted to stop his incessant upline cuts. When teams overcommitted to stop the upline action, it opened up easy arounds into the break space that shifted the L&C offense into gear.
Even when his movement stagnated, he possessed an audacious range of throws that could create something out of nothing for Bacchus. Having a sparkplug to jumpstart a lagging offense is invaluable, and Shaw was able to do it time and time again. Around the goal line he becomes almost unguardable, as defenses need to choose between getting beat to the cone to Shaw himself or giving up easy scores to wide open cutters on the breakside.
The Rhino veteran has made quite a name for himself on the D-III scene, and it will be interesting to see how his career progresses on the club level.
Defensive Player Of The Year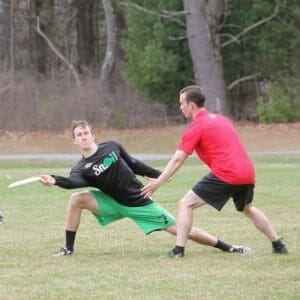 David Abbott (SUNY Geneseo)
After breaking his wrist and being forced to sit on the sidelines for Nationals in 2014, Geneseo senior David Abbott made sure to get everything he could out of his 2015 campaign. Fighting through illness at Easterns, he really turned it on in the series. In the semis and finals at Regionals, the PoNY rookie went head to head with Marques Brownlee and ME-III player of the year Kevin Quinlan, winning both matchups and both games to take his team back to Nationals.
At Nationals, Abbott was crucial in Geneseo's run of comebacks wins that took them within a point of reaching the championship game. His defense was unrelenting in those games, as huge layouts combined with suffocating marking that forced the turnovers Snail needed to engineer their big fight backs.
Abbott was essential for Geneseo on both sides of the disc, but his defense was irreplaceable. Arguably the best handler defender in the country, his return from injury this year is a big reason Geneso went from finishing last at Nationals in 2014 to reaching the semifinals this season.
Breakout Player Of The Year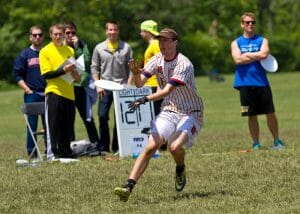 Alexander Taylor (Elon)
After coming so close to a championship in 2014 and, Elon Big Fat Bomb needed to reload rather than rebuild if they wanted a chance at claiming a title in 2015. The 3rd overall seed at Nationals ultimately came up short, but not for lack of talent, highlighted by the explosion of Alexander Taylor as their dominant O-line handler.
After being overshadowed last season by 1st Team All-Region stud Andrew Gruninger, Taylor broke out this year, taking his newfound role in stride. After not even making 2nd Team All-Region last year took home the title of Player of the Year in the Atlantic Coast this season.
Poise is an important trait for all handlers, but it was especially crucial for Taylor this season. Thrust into a bigger role with more responsibilities, he was cool and collected, and played the position like he had been doing so all his life despite the fact that this was in actuality his first year in the spotlight. Taylor was just as confident making the big play when the time came as he was efficiently working the disc when the shots weren't there, the perfect balance for the center of an offense.
Returning for his senior year in 2016, Taylor will be one of the premiere names in D-III ultimate next year.
Rookie Of The Year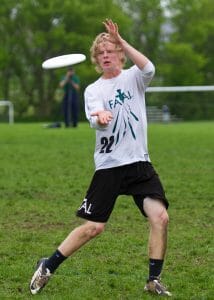 Dominic Schuster (Franciscan)
It isn't often that a D-III player wins rookie of the year for the entire region, but Schuster did just that this year, beating out the top freshmen on Pittsburgh, Cincinnati, and the other D-I programs in the region.
A rock solid player all year, Schuster exploded at Nationals, and showed poise beyond his years in the most pressure filled moments of the season. Particularly in the blustery winds of Sunday, his calm and composure with the disc allowed Fatal to ride out the runs that teams made on them and work the disc effectively up and downwind. The throwing ability he demonstrated this year was spectacular, and as he develops athletically and defensively over the next several years his potential is scary.
Schuster is a product of the Cincinnati YCC pipe line that elevated Franciscan from nobody to champion in a few short years, and if he is any indication of the talent heading Franciscan's way then FATAL may have to prepare some more room on their trophy case to go alongside their 2015 title.
Coach Of The Year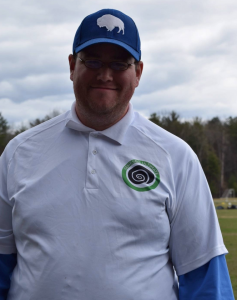 Bryan Jones (SUNY Geneseo)
In his second full year at the helm of Geneseo, Jones continued the rise of the team from their last place finish to the semifinals. His pre-game scouting and game planning gave Snail a big leg up all year, but his ability to make in game adjustments is what really stood out.
At Nationals, Geneseo made three consecutive huge comebacks in elimination games. Down 12-9 against Lewis and Clark in a game to 13, 6-1 to Claremont, and 10-5 to Franciscan, Snail was able to come back in each game, ultimately falling to Franciscan on double game point after tying the score 12-12. In each game, Jones knew exactly what buttons to push in order to get his team back in the game.
A big part of Jones' success comes from mental focus. He had his Geneseo team really believing in themselves, and despite all of the holes they found themselves in, the team always stayed positive and fought their way back instead of imploding. This speaks multitudes about the job done by their coach, who was the emotional rock the team needed.