Aussie Aussie Aussie! Oi Oi OI!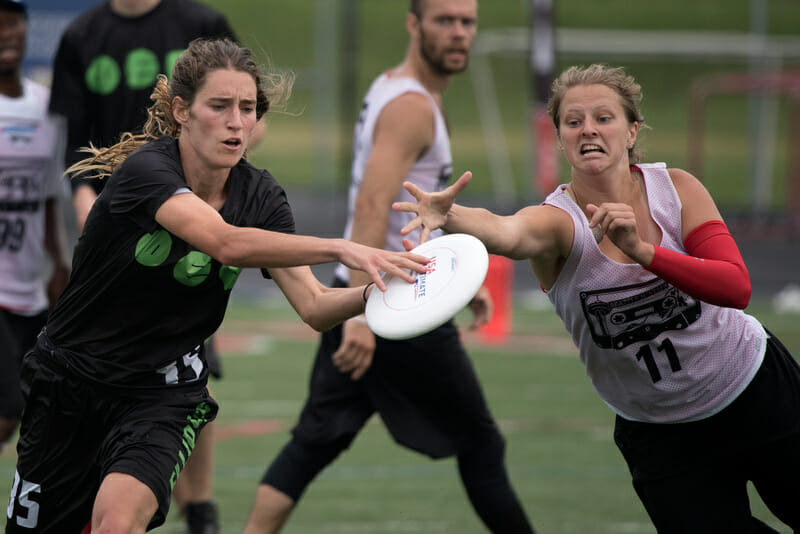 WEST CHESTER, OH — Australia's Ellipsis used a 3-0 run through halftime to open up an insurmountable lead on Seattle Mixtape and become the first team outside of North America to win the US Open, 15-13.
Something of an Australian all-star team, Ellipsis showed an offensive polish that most of its American opponents could not match as they both grabbed gold and the team spirit award.
"We're a good group of friends and we came here to have some fun and to play some frisbee," said Ellipsis captain Matt Hill. "Turns out we did it alright and came home with a trophy. Means a lot for Australia. We wanted to represent Australia well. The spirit was really important to us because we wanted to represent Australian ultimate and I feel we did that."
Ellipsis got out to a hot start with a hold and then a break as Andrew Jackson recorded one of his four assists as he hit Calan Spielman deep for the 2-0 lead.
Seattle Mixtape (formerly Seattle Mixed and Ghetto Birds) answered back two points later with a break of their own. An Ellipsis drop led to a big huck to Khalif El-Salaam who flew over two defenders for the grab and then dished to Taylor Kanemori to make it 2-2.
Each team tacked on another break before Seattle Mixed took a late first half lead when an Ellipsis huck to Dani Alexander sailed too high. Seattle fired back down the field and Mike Cavanaugh made an enormous layout catch before hitting Jennifer Coburn for the 7-6 lead. That would be the last time that Seattle held a lead.
After a quick Aussie hold, a multi-turnover point went Ellipsis' way after Cam Bailey couldn't come up with a second chance opportunity on a tipped disc in the endzone. Mike Neild, who finished with four assists and a block, hit Jackson in the endzone to take Ellipsis to half.
Dani Alexander, who had an enormous performance in the semifinals against CLX, tallied two of her three goals in the first half.
"Dani Alexander and Cat Phillips are the best women in Australia and you would've seen that at the World Games as well," said Hill. "You'll see that for many years to come. Our women are our strength by far."
Ellipsis closed out a 3-0 run with a break coming out of halftime after Phil Paul's throw up the line was intercepted easily and Gavin Moore got loose deep. The Aussies' offense, out of sync at times in the first half, was much sharper in the second half and didn't get broken until after the team had tacked on another break.
"They had an offense that seemed like it knew exactly what they were doing and they have a lot of chemistry," said Seattle Mixtape captain Khalif El-Salaam. "Whether it was throwing it to the open side or breaking the mark, they knew where each person could throw and they cut hard to that space."
Seattle did get back within one late when Ellipsis turned it over deep and Daniel Walton bombed a hammer to El-Salaam to make it 13-14. They got another chance on the next point when Michael Thomas' swing pass went over the head of Neild. But Seattle gave it right back on a reset turnover and Jackson hit Cat Phillips for the win.
"We thought we could lose every game, we thought we could win every game," said Hill. "It could go either way. We definitely didn't expect to win. We took every game as it came and we got here in the end."
Ellipsis was a fan favorite throughout the weekend with their crisp offense and infectious enthusiasm. They finished the weekend 6-1, their lone loss coming to Wild Card in pool play.
Seattle Mixtape reached their second straight final at a major tournament after surprising everyone at last year's National Championships. Again they walked away with silver, but they are clearly a program on the rise.
"To go from losing our first game to being able to turn it around and make it all the way to the finals, and then being down by a whole bunch and rallying to come back and get close to tying it up for universe?" said El-Salaam. "It's really good."
Ellipsis was simply the more polished team: they used some smart defenses, including force middle, and had great spacing on offense. Seattle Mixtape, playing in their loose, gun-slinging style, couldn't do quite enough defensively to make up for giving up five breaks.
"They are a national caliber team," said El-Salaam. "They acted like it and they played like it."
Ellipsis became the second international team to win the US Open after Montreal's Odyssee did it in 2013.