The MLU postseason is finally here.
The Conference Championships have been set for the 2015 postseason of Major League Ultimate.
In the East, the championship game will feature the Philadelphia Spinners and Boston Whitecaps, while the Portland Stags and Seattle Rainmakers will battle it out for the West title.
At the beginning of the pro season, we published a pair of divisional previews for both the East and West. Neither fully lived up to predictions, with the Spinners establishing themselves as the dominant team over D.C. in the East, and Vancouver conceding a playoff berth to the Rainmakers. While statistics and regular season head-to-head records may indicate strong favorites in both divisions, all four teams are confident that they have the strategy and personnel to win their respective MLU semifinals.
Eastern Conference Final: #2 Philadelphia Spinners @ #1 Boston Whitecaps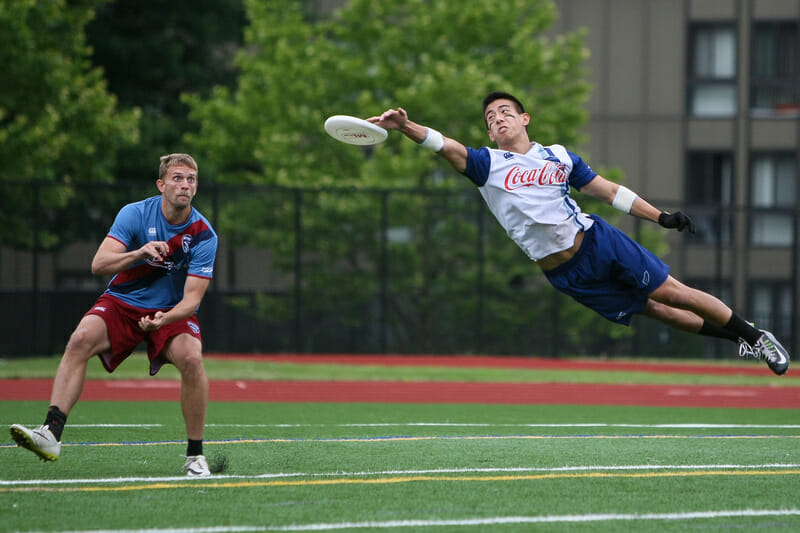 The Spinners will travel up to Boston for a rematch of their final game of their regular season, which saw the Whitecaps run away with it to win 25-12. When reached for comment, Spinners head coach Billy Maroon attributed the loss to two key elements, one mental and one physical.
"They were a much more physical team than we were during the game, especially on the dump," he said. "By disrupting our dumps, they stopped our rhythm. We have to match their physicality on cutters and the dump, and trust that our dumps will still get open regardless of matchups and the physicality of the defenders. In order to be a great team, we have to respond better to adversity."
After going down early, the Spinners started spiraling into a number of errors, both forced and unforced, and Boston's defense was clinical in dispatching break opportunities. They will need to be mentally tougher if they expect to rebound against this confident Whitecaps squad later this month. Philadelphia was also missing a number of important players (Marshall Ward, Leon Chou, Patrick Lindsey, Ian McClellan, and Dustin Diamiano) who are all expected to return for the Eastern final, providing them with the much-needed depth that was missing on the 20th. Chou, more of a shut-down defender than one who generates a lot of blocks, should see a lot of time on Boston's star cutter Jeff Graham (21G, 21A); that matchup will be critical to the Spinners slowing down the Whitecaps' offense.
When he spoke to Ultiworld, Maroon said he plans to utilize several different D-line combinations throughout the game in order to keep fresh legs bogging down Boston's offense. It also wouldn't be surprising to see Philadelphia try a number of early junk looks, or even just handler sags to stop Boston's pull plays, to make initial upfield looks difficult before falling out of zone.
Boston, on the other hand, will look to their recent win as an indication that they are very much in the driver's seat on the road to the MLU final. While anything can happen, if they bring the same intensity on defense and continue their offensive smoothness, it's tough to see Philadelphia taking them down.
Whitecaps coach Sam Rosenthal attributes their recent success as a result of a season of building chemistry. "We got a lot of new faces, and guys from a whole lot of different teams in Boston so the challenge for us this year has been getting guys with very different playing styles and habits to play in a consistent way, both defensively and offensively," he said. "We need to continue to focus on playing a similar style and all buying into the same system."
He was also wary of Philadelphia's missing players, noting that the return of several Spinners starters will cause shifts in matchups down the Boston defensive line, meaning that there will be fewer significant mismatches that the Whitecaps can exploit. Tyler Chan (19G, 22A) and Graham will likely be relied upon to take care of most offensive duties for Boston, and might see time on defense if the game is close in the fourth quarter. Also of note: offensive cutter Brian Zid and D-line handler Eric Wilburn will not be suiting up for Boston in the Eastern final.
With only home field advantage on the line the last time these two teams met, expect the rematch to be hotly contested whistle to whistle as the two teams battle for a berth in the final.
Western Conference Final: #2 Seattle Rainmakers @ #1 Portland Stags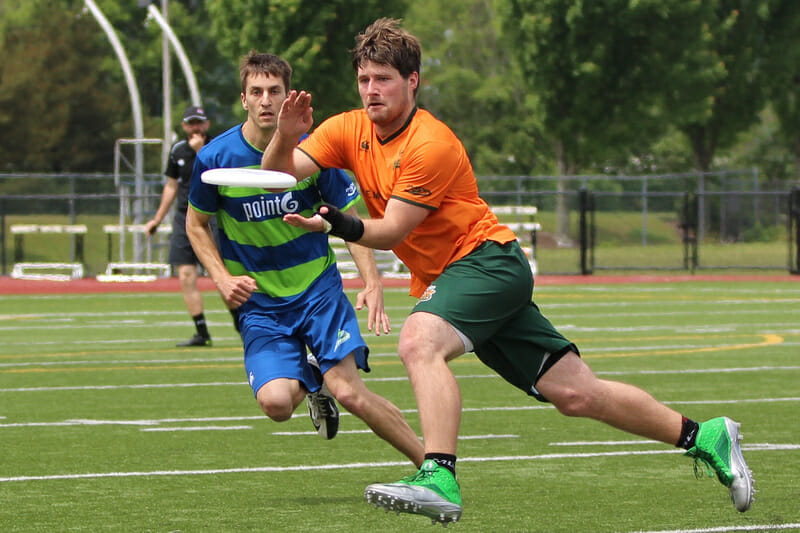 On the other coast, Seattle will travel to Portland this Saturday and attempt to defeat the Stags for the first time in 2015. It's safe to say that both teams are markedly different from the squads that saw Portland win 21-12 on the opening day of the 2015 MLU season. Despite their 3-0 head-to-head record in the regular season, the Stags have only edged Seattle by a combined +5 in their last two games.
Rainmakers head coach Steve Gussin is absolutely confident that Seattle can make the necessary changes in order to swing the final scoreline in their favor this weekend. Not listing any planned individual matchups, he instead focused on praising his team's depth and the abilities of players from top to bottom of the roster to adapt as needed on the field.
"Our results really hinge on our team's performance," he said. "During weeks where we played our best ultimate, we were able to blow teams out. During weeks where we were off our game a little bit, we struggled. We have the ability to beat every team in the conference, but we also have the ability to lose to every team in the conference, and our mental game dictates a lot of that difference."
He also expressed certainty that the opportunities to win will both be given and earned (Portland's offense has not been perfect this season), but the game will be decided by how many of those opportunities the Rainmakers can capitalize on, again placing the onus on Seattle's performance.
"Our key against Portland will be converting opportunities," he said. "In all three games, we gave away a number of chances to get breaks, as well as opportunities on the goal line. They're a great team, and they've done a great job of converting their chances all year long. We have to find a way to match their consistency over the course of an entire game."
While Seattle will be looking to put everything together for the first time in Portland, Stags coach Danny Quarrell has been pleased with his team's consistency in 2015. That said, everyone on the roster and coaching staff is aware that Saturday brings with it a new challenge, and the regular season record means nothing. Quarrell is of the opinion that both teams know each other well by this point, and the game will be decided by which team executes their offensive and defensive strategies more efficiently:
"I think both teams have advantages; we're generally taller than they are but they're generally quicker than we are," he said. "Individual matchups will be huge on both sides. We like our downfield matchups and we know if we are patient and run our system we'll be able to move the disc without taking huge risks. Timmy and Cody are big for us every week but guys like Aaron Adamson and John Siemer have been great for us as well, and at 6'3″ and 6'4″ they add to a solid height advantage we've been able to exploit against Seattle so far this season."
"We'll be looking to keep the game at our pace. We are a patient team and like games that have 35-40 points played. We love to grind and we want to force them to grind as well."
Unfortunately for the Rainmakers in terms of individual matchups, they will be without season-long standouts Khalif El-Salaam and Henry Phan (out for U23), as well as Eddie Feeley, but will look to Brad Houser, Clay Dewey-Valentine and Chris Rupp, among others, to shoulder the load of the absences. They will have to adapt quickly, as Phan especially has been able to almost singlehandedly change games with his throws and give go moves. Gussin believes that the Rainmakers' depth is among the team's strong suits, and that there will be many players capable of stepping up and taking larger roles on both sides of the disc against the Stags.
Portland will take the field without Eli Friedman, Riley Meinershagen, Tyler Cable, and Sean Parker. Ben McGinn and Steve Kenton will carry the load as O line handlers with Vinh Bui and Adam Bilbaeno ready to step in when needed. The Stags will likely rotate several defenders onto Rainmakers offensive target Mark Burton (34G, 29A), including Topher Davis, Brian Penner, and Raphy Hayes.
The Stags lead the MLU in breaks scored, but are tied for fewest offensive holds alongside Vancouver. The Rainmakers, on the other hand, hold on significantly more of their offensive possessions, but fail to generate nearly as many blocks as Portland. With both teams without several of their top starters, this divisional final is anyone's to win.
MLU FINALS PREDICTION: Portland Stags v. Boston Whitecaps