Two Canadian teams were stunned in semis as Australia Mixed and Japan Women's celebrated a spot in the finals.
Sure, the United States may have kept things running smoothly on Friday, but there was plenty of drama in the opposite semifinals. Here's a look at some of the brilliant play yesterday in London.
Open Division
Canada and Japan faced off for the second time this week in a contest that was all Canada, wire-to-wire. Canada had an evenly distributed performance, with ten different players throwing an assist and ten different players catching a goal. Ottawa native Nick Boucher led all Canadians with two goals and two assists.
"That was our first complete game of the tournament," said head coach Patrick Mooney after the semifinal victory. Mooney mentioned that against Ireland earlier this week they were up 9-1 in the first half, yet they only tied in the second. Their focus has been lacking for a full game length, up until today. "We're a team that's going to need to win with our defense," said Mooney.
Canada's first match against Japan was a bit different. They were able to calmly work through the complex Japanese zone, but after they broke through, they were stagnant. Today they showed the ability to push the disc forward. "After we broke through we just started going for it," said Mooney. "We thought we'd use the size discrepancy between the two teams." Mooney said he feels like their offense has finally come together, citing all the different personnel changes that happened over the course of the week. They'll no doubt need to find that strong offense to compete with the stout USA defense.
Mixed Division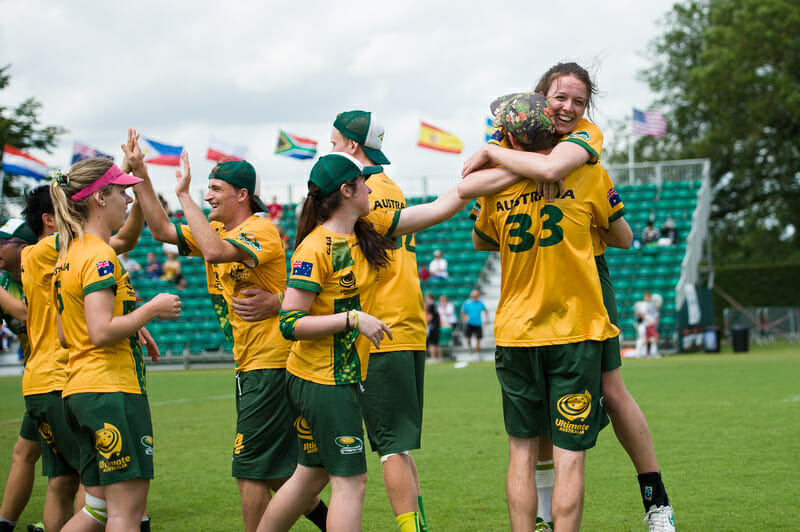 Today, I was confronted on four separate occasions about how I wrote off the Australian Mixed team against Canada in my semifinals preview. Many of them came during the game from players, parents, or fans. I shrugged it off as standard procedure for calling the underdog to behave like one, that was until the Australians pulled off the incredible upset.
Early in the game, Australia looked comfortable as they took an early 7-5 lead. But the Australians stayed loose. Canada demands perfection, and while the Australians are competitive, their coach Yeweng Ng told Ultiworld yesterday that they don't have a "set goal." They just wanted "everyone to come out of it feeling like they had achieved something good." Because of that attitude, the Australians were always smiling, and never on top of each other. 
The Aussies began using a zone that most native Australians call a "Pommie." In Australia, a Pommie is an Englishman. So it makes sense that years back the Australians got this zone from some of their English competitors. No matter the origin, it was effective. A stiff wind stifled the Canadian O, and gave Australia plenty of chances. Most of these chances used a punt and play D strategy, and it brought them to 7-7. With the half capped, the next point would take a valuable halftime lead. Australian captain Tim Copland got a layout D from the wing spot, and set up Stephen Burkot for a beautiful around backhand. Halftime: 8-7 Aussies.
During halftime, the personality difference was even more apparent. The Canadians threw most of the half, and huddled together towards the end to talk strategy. Standard stuff from a team gunning for gold. The Aussies played ninja, a game that involves slapping your teammates on the hands before they can react. Point is, they were just having fun.
It's easy to have fun when you're winning. It's easier to have fun when you're winning by more, and they must have wanted more fun.
The zone continued to shake Canada off their game. Another assist from Burkot extended the lead to 11-8. On the next point, Helen Thompson bobbled a disc that almost put her out of bounds. But with no hesitation, she dropped a long dime hammer to Alan Scarth in the end zone. At this point you thought Canada began to charge back into the game. A few breaks and an Australian hold led them to 12-12, double game point.
After a hectic multiple turn point, the Canadians called timeout on the doorstep. Again showing off their personality, the Australians gave a rendition of Waltzing Matilda to the crowd. Off of the timeout, the Canadians immediately gave the disc back as it sailed over the head of an under cut. William Norton picked it up for the Aussies, and watched Tim Copland begin a deep cut from the backfield. The Canadians read it, poached it, but Norton took a deep breath and went for the win. The clock never struck midnight on the cinderella story Australians, who won it right there, 13-12.
"We always felt capable," said Copland after the game. "Our deep game has just been phenomenal. It's what gotten us through this tournament."
Australia was undoubtedly helped by the wind, in that it allowed them to play their zone and forced most hucks to float for a little longer.
Will Norton not only had the final assist for Australia, but tacked on four more during the game. Norton played on the Australia men's squad in Toronto, but mainly as a bench player. This tournament has really allowed him to shine. "This campaign has been two years building for him," said Copland about his teammate. "He wanted to prove to himself that he deserves to be here, and I think he's shown everyone that he does." As for tomorrow, Copland thinks he'll have the crowd behind him. "Everyone loves the underdog story," he said. Maybe the Australians finally have a concrete goal: strike gold.
Women's Division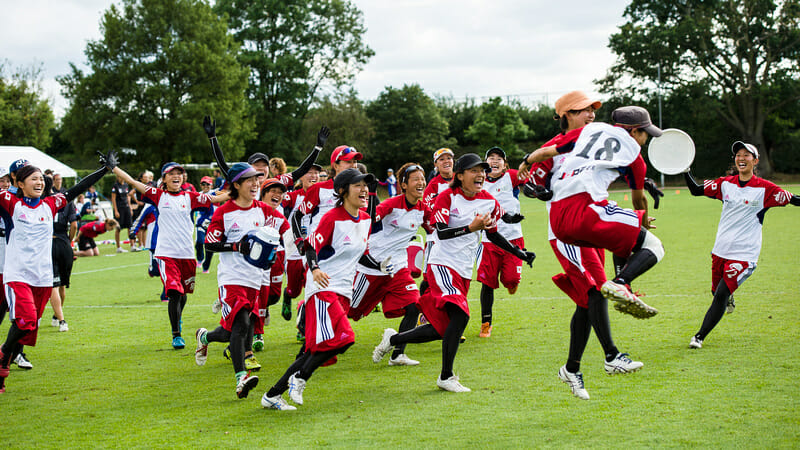 One of the Women's semis matched one of the Men's, with Canada and Japan going at it for the second time this week. Earlier, Japan gave Canada their toughest contest of the tournament. But going into today, the Canadians were still undefeated. And they showed why early with a fast 2-0 start. But as soon as the Canadians were on the upswing, it fell apart. Japan somehow scored six straight points in a ridiculous display of drops, gusts of wind, and random tipped discs that fell into the right hands.
The rest of the game was filled with comeback attempts from the Canadians, followed by responses from the Japanese. Canada was able to bring it within one at 7-6, but Japan quickly responded with three straight. The Canadians had one more surge left in them, tying it at 10-10. For the last two breaks in their run, they destroyed two straight discs on high energy spikes. But the Japanese energy was unwavering. An always chattering sideline was filled with smiles the entire time.
Canada then reverted to their earlier stage of drops and miscues. Multiple turns in the zone gave Japan an opportunity to win with a downwind break. Yuma Hamada hit Keiko Shimmoto for the game winner and a spot in the final. For Japan, there were only six players on their roster without a goal or assist. Such is the mantra. The quick and short movement of the Japanese is extremely difficult to defend, and every player can make every throw. The USA will surely have their hands full with the Japanese tomorrow.