Can some offseason additions and a more intense commitment lead Molly Brown to the top?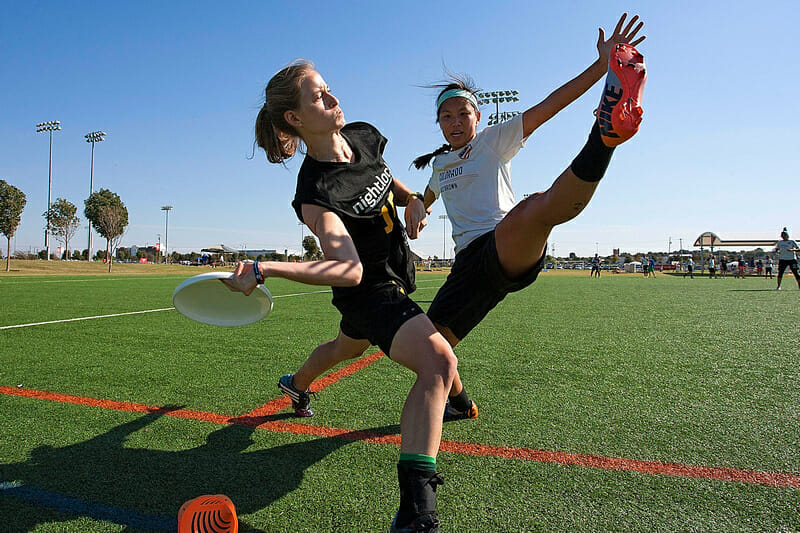 There's good. You win a few games at each tournament, you qualify for Nationals, and you hold your own.
There's great. You know how to close out games, and at Nationals, you make quarters. You're so close, but still outside the door looking in.
And then there's elite. These teams reach semifinals or finals every year. The team operates as one. Everyone is on the same page about their strategy and commitment.
"The hardest jump in sports is to go from a great team to an elite team," said Molly Brown coach Mike Whitaker. But Molly Brown wants to make the jump.
The Pickups
Let's get the obvious out of the way. Yes, Octavia "Opi" Payne moved to Colorado, and, yes, she's playing with Molly Brown.
Anyone who's followed the Women's Division over the past few years knows the two other Scandal players joining Molly Brown are just as newsworthy: Crystal Davis and Ashley Daly Morgan each bring their own set of skills that will challenge elite teams. Morgan was huge for Scandal last year as a notoriously hard-to-guard cutter, and Crystal Davis is known for her defensive grit.
Molly Brown also picked up Katie Patterson, Sara Taggert (Philadelphia AMP), Kirstin Johnson (Colorado), Becca Miller (Chad Larson Experience), and Tania Reitz. Anna Schott returns for the 2015 season after not playing Molly Brown last year.
Becca Miller is a less buzzed-about addition, but she's already made her presence felt on Molly Brown. She had a series of stellar defensive plays at the Elite Select Challenge as well as several assists and goals. Her speed and versatility on the field make her an instant asset for Denver.
Stacking The Deck
With a mix of serendipity and fate, Molly Brown has been gradually collecting some of the division's biggest stars over the past few years. Names like Opi Payne and Claire Chastain have undeniable capital.
But don't count on watching them play every point this year. Not if new coach Mike Whitaker has anything to say about it.
"I don't believe stars win you championships," he emphasized. "Stars make plays and get you out of trouble. But depth wins championships. I believe elite teams win games with players four through seven on the line, and players five through 14 on the roster."
This is Whitaker's first year with Molly Brown. He brings a hefty resume and a unique strategy for building Molly Brown into an elite team. He doesn't plan on running firm O- and D-lines, and he doesn't want specialized players.
"I want complete players," he said. "I want players to hold themselves to a standard of physical and mental execution, knowing the systems, and being able to play multiple roles [on the field]."
Every player should be able to play offense, grind on defense, handle, and cut. Molly Brown wants to get the most talent possible out of their deep roster. It's also asking for an intense level of buy-in from the entire roster, not just the top 12 or so players. For much of the team, learning the new system has meant taking two steps back in order to move ahead. They're willing to trust the new approach — very different from the one used by last year's team — but it's a process.
Moving Forward
For some women, these changes have included a jarring step backward: for the first time in their five year history, Molly Brown had to cut returners. This decision is a more familiar reality for elite teams, but for this young Colorado team, it was an emotional turning point.
"[We had] many hours of conversation about what we are moving forward," said captain Carolyn Matthews. "All our returners worked really hard, but we're bringing on people with years of championship experience, and it's hard to deny that."
Molly Brown instead has seven practice players for the season, another change from last year's "practice enhancers." These practice players can still fight for roster spots throughout the summer, adding another layer of intensity to Molly Brown's practices.
"We're taking it to each other in practice, really making each other work hard during drills and scrimmages," said captain Chastain. "The more challenging we make it for each other, the more it replicates a tough game situation…It will help us come Nationals."
Where They Stand Now
Despite attending without Whitaker, Matthews, and Megan Cousins — all three were at the 2015 Worlds U23 Tournament in London last week — Molly Brown kicked off their season by winning the Elite-Select Challenge, taking down the Capitals 13-5 in the final.
Just looking at their 6-0 record for the weekend doesn't show the team's development from Saturday to Sunday. During pool play, each opponent scored eight points before falling to Molly Brown, a concerning trend for a team with finals-colored dreams. Lines were open, but the team was clearly still calibrating its new system and range of talent.
But their Sunday performance, and particularly their string of breaks to close out the final, will set the tone for their season. This win means they qualify for the Pro Flight Finale in August, where matching up against elite teams like Fury, Riot, and Scandal could make the difference for Molly Brown (due to other teams dropping out, they already had a spot at the tournament before qualifying). Last year they didn't face truly elite challenges until October, and Chastain thinks they were unprepared when the challenges did come.
Molly Brown will also be hosting the Pro-Elite Challenge on August 1-2, where they will have to hold their own against strong programs like Brute Squad, Scandal, Nightlock, and Traffic.
Making The Jump
Molly Brown is outside the door. They have the talent and the depth. They have the opportunity. They have the promise. Now they need to build, trust their process, and then execute. The mental burden of this journey has kept many teams from reaching the next level.
Chastain hopes the intensity of their practices and their schedule will prepare them for the tough games and the long points ahead. Matthews hopes the team's hard work throughout the season, coupled with new players' elite experience, will help calm nerves when they walk on the field. Whitaker hopes players will draw confidence from their ability to play several roles for the team.
A lot of changes have been happening in Denver for this team. But that's what it takes to steal one of the four or five seats at the top. The team needs to be all-in, and ready for whatever it takes.
"We've managed to maintain a lot of the weird we had last year," said Chastain, "It feels like a similar team, just [with] more commitment to excellence."