Chicago isn't as flashy in 2015, but they remain a semis threat.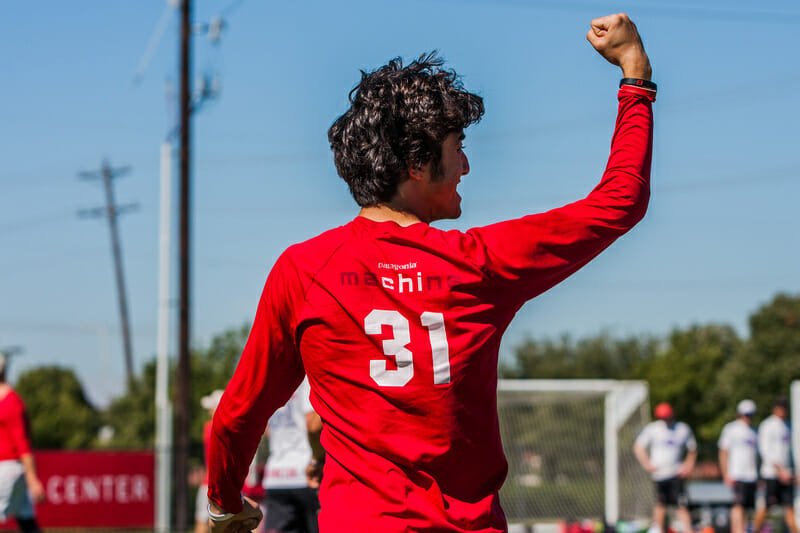 Don't sleep on Machine this year.
But don't start buying tickets to the Finals either.
From a casual view, it's easy to judge the top club team from Chicago and find them lacking. With extremely high expectations after a fantastic regular season in 2014, Machine failed to live up to their potential and went down—surprisingly to some—to Ring of Fire in prequarters. Add on the loss of Madison Club stars Dave Wiseman, Pat Shriwise, and Tom Annen, and it seems easy to give Machine only an average grade on their pre-season report card, lumping them in with the bottom tier of solid Nationals qualifiers. Perhaps some bold prognosticators may even pick this to be the year that Machine relinquishes control of the Great Lakes region to up-and-comer High Five.
But beneath the surface, Chicago is just as strong as ever and can be a serious threat for semifinals once again. The question, of course, is: can they peak at the right time?
Let's take a closer look, break it down category-by-category, and give Chicago the grades they deserve.
Leadership: B
The driving force behind Chicago Machine is much the same as it was in 2014, with several of the team leaders reprising roles they are very familiar with.
The captains of the 2015 squad—Walden Nelson, Kevin Kelly, and Cullen Geppert—are Machine veterans who join the rest of the core to continue a consistent vision and commitment to the team. Former Captain Andy Neilsen returns to coach this year as well.
Also returning—to both coach and play—is one of the most experienced players in the game: Ron Kubalanza. It will be interesting to see what Kubalanza can bring in his second year. Like many coaches in all sports, it can often take time for a new leader's presence to have a full impact on a squad, and Machine leaders recognize that 2015 can bring improvements.
"When Ron came in, he brought with him a new system that had an implementation plan of the entire season," said captain Cullen Geppert. "We're eager to start 2015 with an entire season of the new strategy under our belts and the continuity the team gains from returning its coach is exciting."
Machine's leadership group, from top to bottom, is one of the most committed in the game. The group scouts other teams extensively, is very prepared for every tournament and game plan, and runs an extremely organized season.
Now, with Kubalanza's ideas bearing fruit, they'll mentally be one step ahead of last year. There will still be some things to figure out (hence the lack of an "A" rating), especially as players and coaches continue to shift roles, but this will be a much less of a transition year for the overall direction of the team. If Kubalanza sticks around Chicago—and Machine stays their course—they'll have a bright future for 2015 and beyond.
"Because we learned a new system last year and played every one of our players during the tournaments," said Geppert, "we're looking forward to what we can accomplish this year."
Roster: B+ (after extra credit)
The lineup for Chicago Machine is solid, and while it may lack some of the superstar flash of other squads this season, especially as Machine returns post-merger, don't forget that the core of the successful squad remains firmly locked into place.
For extra credit, a late addition—Brett Matzuka hopped on board recently—only increased Machine's depth, especially in the much-needed handler position.
Indeed, perhaps the only thing keeping this from an "A" grade are the departures. The Madison stars are the most obvious, and Machine leaders are aware of this.
"Although we lost some serious firepower with the departure of Dave Wiseman, Tom Annen, and Pat Shriwise, we've gained that talent loss with the return of some previous Machine players like Michael Schwenk and George Hughes-Strange," said Geppert.
Last season, while several stars departed from the squad, the Madison pickups made it one of the deepest tryout pools in Machine's history.
This season, there were spots open, not only because of the end of the crossover with players from Madison Club, but also because Xtehn Titcomb has returned to the west coast, and Taylor Kraemer—an underrated offensive cutter—has retired. His presence will be missed, and the Chicago offensive line especially will have a fairly different look in 2015, although it will be interesting to see where they slot in the crafty Matzuka.
Matzuka's throwing abilities are among the best in the world and he can play a lot of points, but his playing style has some variance from Machine's, especially in terms of defensive philosophy. Don't be surprised if Kubalanza tries to slot him in on the O-line, possibly in replacement of Annen; if that move works—and he gels—it will be a much stronger backfield overall. Finding chemistry with him may prove difficult, however, as he lives in Kansas City and may be limited in his practice time.
The main pieces of the team, however, will remain locked—Bob Liu and Walden Nelson will be the chief handlers behind the ball, on offense and defense, respectively. A.J. Nelson continues to be a dominant cutting force and will anchor the O-line, along with new captain Cullen Geppert, who will likely only increase his presence on the field.
Goose Helton and Kevin Kelly return as tall, athletic cutters likely to be seen on the defensive side, although Helton will play both ways.
Others will step up to fill new roles. Tim Fergus had an extremely strong AUDL season for the Chicago Wildfire and will probably be a key offensive handler in his second year. He may be joined by Adrian King (formerly of Portland Rhino) as well as rock-solid handler Brett Kolinek, although if Matzuka goes O, those two may go D.
Nick Zeman, a former Mad Club skill player, recently moved to Chicago, and Travis Carpenter, Indianapolis Alleycats star, are two more solid pickups who will continue to help make the team strong and fast.
This is a very deep, veteran squad of tall athletes, who just added a little punch of throwing power with Matzuka's transfer. With many of them playing together for several years now and with a few punchy additions, Machine 2015 won't be missing their departures too badly.
Strategy: B
Machine's strategies vary depending on the situation. They'll run a mix of vertical and horizontal stack with set plays for each line, the offense almost always starting with a pull play to get flow downfield.
On O, their handlers are more passive and directive, guiding the offense in the early stages. A few swings will go off, they run a play, often initiated by a breakmark throw from Liu, and then the handlers will hang back as the offense charges downfield—until a dump or swing is needed.
The exceptions to this are zone offense, where Liu, Kubalanza, and the rest of the handler corps, are forced to be very active (occasionally to their detriment, especially in windy conditions) and the redzone, where the vert stack offense is again keyed by a breakmark throw.
Downfield, Machine has tall athletes who can threaten with their speed, height, and throws. Defenders are often forced to choose between the lesser of two evils, and it is quite common to see Machine's cutters eat up big yardage and then put up good continuation passes or deep shots. A.J. Nelson and Cullen Geppert can work as a 1-2 tandem that really makes defense difficult.
Defensively, Chicago plays a lot of tight man, with occasional clam looks to stop pull plays. The handlers on the D-line are far more throw-and-go with Sheehan and Walden Nelson firing quickly. Once again, however, Chicago often relies on athleticism to open up the game after the fast break.
Overall, their strategy is nothing special or unusual, but they run their sets well and have skilled role players to execute them.
Schedule: A-
"Since USAU developed the TCT schedule, our tournaments have been outlined for us this season," said Geppert.
Machine attended the Elite-Select Challenge earlier this month, will head to the Pro-Elite Challenge, and then had signed up to jointly host the Bro Flight Finale in Madison with Mad Club, though their performance in Columbus qualified them for entry into the Pro Flight Finale instead.
"We partnered with Madison to put together the Bro Flight Finale to make sure that a few of those who might be left in limbo dealing with finding a tournament to play in if they don't advance from Elite to the Pro [Flight] will play the required amount of games," adds Geppert.
He went on to say that the tournament gained far more attention than expected; the group originally pictured a small round-robin, but had to turn down several teams who wanted to participate. One of the notable accepted bids was from the world-class Buzz Bullets of Japan.
Last season Machine fully partnered with the Chicago Wildfire, but this year decided to have a "laissez-faire" relationship with the AUDL team from the Windy City. Several top stars decided to commit to both, but a large majority of the squad, including several members of the leadership, opted out to focus solely on Machine.
Chicago is also very well-conditioned in terms of planning the course of their season with workouts planned by Helton.
Season So Far: B
Chicago has attended only one early season tournament—the Elite-Select Flight Challenge—but the results were promising, especially considering this was before Brett Matzuka made the switch to Machine.
Machine advanced to the tournament finals, cruising through pool play and winning a tight battle against Doublewide on double-game point during the semis.
The group hit a wall in the Championship game, however, as High Five earned a crushing statement win, 13-7.
Machine cited fatigue down the stretch, as their legs seemed to fail them a little. That, combined with a struggling offense at times throughout the tournament—especially as that group attempts to gain chemistry—allowed High Five's deep and athletic D line to control the contest.
More interesting is that High Five, now rejuvenated in their own merger, is Machine's one key regional rival. It will be very fun to watch things develop late in the season in regards to the Nationals bid situation.
Likely, Helton's fitness program and the incorporation of Matzuka will help Chicago bounce back. The regular season hasn't really been a problem for Machine in the past and has been a legitimate strength the last two seasons.
Mentality: C-
How to peak at Nationals is the question that has haunted Chicago for the last few years.
Since their best finish of 5th at Club Nationals in 2012, Machine has had two stellar regular seasons, finishing in the top five of USAU's regular season club rankings. Yet in each instance, Chicago has failed to live up to those early marks and advance to the semis. In 2013, Machine lost to Sockeye by a large margin in quarters and finished 6th, while 2014 ended with a disappointing loss in prequarters and then an eventual fall to 14th place, despite high expectations. Couple that with an early exit from the AUDL playoffs last season, and Chicago has developed a stigma as a team that can't win in the big spots.
The leadership is cognizant of last year's failings, but is still looking ahead, believing that they can build off the accomplishments and move past the disappointments.
"Machine's goal for the season is to peak at Nationals and bring home the Championship," said Geppert. "Although our Nationals performance wasn't what we were hoping for, we developed as the season progressed and put ourselves in a position to decide our own fate in Texas. We're looking to build upon the lessons we learned last year and bring them to bear when it counts in October."
Chicago is a methodical group. But in situations where teams take Machine out of their game plan and force sloppier contests, Chicago struggles (such as they did last year against Madison at the Heavyweights final and in Nationals prequarters against Ring).
The reality is that they have yet to prove they can win in critical situations, when the season is on the line and when they are forced to adapt. Will last year's stinging loss force change?
Overall: B
Machine has been in complete control of the Great Lakes Region for the last several years and that shouldn't change in 2015. Expect the new-look High Five to earn a bid and gain a trip to Nationals and expect this to be the first close Regionals final in several years, but also expect them to fall short against Chicago.
You will also likely see a strong regular season once more from Machine. While they lost a few stars, the core remains consistent, other players should step into new roles nicely, and the style and strategy that Kubalanza implemented last year should only be smoother this season.
Should Machine be a favorite for a championship? Absolutely not.
But should Machine be considered a semifinalist contender? Absolutely.
What's frustrating for this team is that peaking is a difficult thing to practice. Make-or-break games are hard to simulate and even harder to win, and Machine could be rolling along just like last year to find a brick wall in their path should they face a troublesome team in the bracket come October.
Machine absolutely has the roster and playmaking ability to threaten deep in the bracket, but they have to get over the mental hump in the early stages of the Nationals bracket.
In the current Nationals format, qualifying for the championships also means an instant ticket to an elimination game at pre-quarters. Regardless of how consistent you've been in the regular season or early stages of a tournament, or how you fared in the season series against an opponent, it will come down to a single match to determine who advances.
And, unfortunately for Machine, one game is all it takes to end a season.