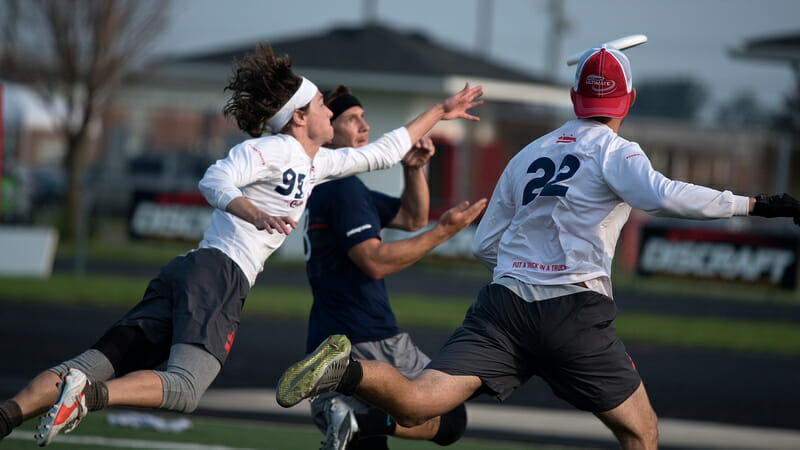 Before the Triple Crown Tour, there was just the club season. It started loosely in May and June with tryouts and early season assessment tournaments. Then, in July, most teams took a break, with many not even practicing for weeks. Things kicked into gear again the first week of August, often with the first major club event: the Emerald City Classic.
While the TCT has certainly shaken up this formula, there's still a sense that July — even with its trumpeted US Open — is still the preseason. The regular season still starts in earnest at the beginning of August. This year, it starts in Denver at the Pro-Elite Challenge.
You can see a path to Nationals for almost every team in attendance this weekend. Many teams will need quality wins here to bank rankings points (and, they hope, bids) for the postseason. Every team (save for the recently created Michigan/Ohio combo team High Five) has been to Nationals within the last three years. They know what it takes.
Expect, then, to see much more complete rosters than we saw from teams three weeks ago in Columbus for the Elite-Select Challenge. It's no longer "early season" — August is here.
Numbers below are from current Ultiworld Power Rankings.
Pool A: #1 Revolver, #9 Machine, #14 Temper, #16 Furious George
San Francisco Revolver sitting atop Pool A is a routine, almost comforting feature of the club season. The #1 overall seed flashed their potent combination of skill and depth at the US Open as they took down all comers en route to their third straight Open title. Expect to see more of the same — sharp offense; smart, shifting defense; and a lot of wins. It would be a shock to see them lose in pool play.
Chicago Machine and Pittsburgh Temper get a rematch…of sorts. Many of the players on the two teams faced off last weekend in the first round of the AUDL playoffs, playing as the Chicago Wildfire and Pittsburgh Thunderbirds. It was another epic overtime game — the second in a row between the two teams — and yet again Pittsburgh came out on top by a single point.
The cities' club counterparts should be similarly evenly-matched. Jonathan Helton and the Chicago offense will need to improve upon an up-and-down performance in Columbus as Temper looks to sharpen all aspects of their game after a rusty US Open. They'll need to get Tyler Degirolamo going in the same way he has been all AUDL season with the Thunderbirds.
Note that Brett Matzuka will play in his first tournament with Machine after walking away from Prairie Fire. He was on the field with the Wildfire in the team's games against the Thunderbirds, so chemistry should be there from the start.
Facing prequarter crossovers against a stacked Pool D, a win in pool play could mean the difference between advancing to the quarterfinals or not.
Vancouver Furious George lost 15-10 to Temper back at the US Open and could be outmatched in this pool. It's worth noting, though, that this will be Furious' final tuneup before the Canadian Ultimate Championships starting August 10th (with a Worlds bid on the line). So this should be close-to-peak Vancouver.
Pool B: #4 Johnny Bravo, #8 High Five, #15 PoNY, #21 Prairie Fire
All eyes will fall on the 1/2 game in Pool B between Denver Johnny Bravo and Michigan High Five (a showcase game being filmed by Ultiworld). Can High Five continue to rise after their Elite-Select Challenge win over Machine? Or will Bravo's superior top-end talent overwhelm the young team?
It should be fun to watch Bravo's Nick Lance and High Five's Johnny Bansfield trade massive hucks.
Edge here goes to Bravo — more experience, more talent — but don't be shocked if High Five keeps it interesting.
PoNY and Prairie Fire are both battling for a prequarters spot, sure, but also for relevance on the national stage. Prairie Fire has been in the news because Brett Matzuka left the team, not because of their lackluster results at the Elite-Select Challenge. PoNY finished right about where you would expect at the US Open.
Both teams have a chance to shake some points off of High Five's rankings branches with a close game or an upset win, and expect both teams to give that matchup their best shot. Both teams sport an athletic defense, and neither will be overwhelmed by High Five's offense.
PoNY beat Prairie Fire twice at last year's National Championships — first in pool play 12-10 and later 15-10 in the Pro Flight play-in bracket. New York should again have a slight advantage, but a refreshed PF squad (with Abe Coffin back in tow) will have a shot to send PoNY to the basement of the pool.
Pool C: #7 Ironside, #19 Chain Lightning, #11 Sockeye, #22 Sub Zero
The weakest pool at the tournament is also the most intriguing. Pool C features four teams with question marks floating above them this season.
For Boston Ironside: Can they survive the massive turnover of their offseason?
For Atlanta Chain Lightning: Is this a pure rebuilding year after losing Nicky Spiva, Jared Inselmann, Greg Swanson, and more?
For Seattle Sockeye: Does the team's prequarters exit at 2014 Nationals (and few 2015 roster moves) suggest a slow decline?
For Minneapolis Sub Zero: Was the poor start to the season at the Elite-Select Challenge a sign of things to come?
So far, only Ironside has really passed the eye test among teams in this pool. It seems clear that a dropoff for the Boston side would be to quarterfinals quality — maybe this is the first year in the team's existence that it won't make at least the semis.
But Ironside looked very solid at the US Open, taking Revolver to double game point in pool play and missing semis only thanks to a DGP loss to GOAT. Tyler Chan has fit in perfectly on the offensive line; again, it's the Boston defense that seems suspect. But Ironside should come out atop this pool.
Sockeye is seeded below Chain, but undeservedly so. Seattle may not be in the elite tier conversation at the moment, but their depth goes well beyond that of Chain and Sub Zero — they should take the 2nd spot.
Not sure what to make of the remaining teams yet. Chain was missing a ton of players in their loss to Southern Hospitality earlier this summer and Sub Zero looked like they were still knocking the rust off in Columbus. As is the case with many teams at the tournament, we'll start to find out who they are in Colorado.
Pool D: #2 Truck Stop, #12 Rhino, #5 Doublewide, Boost FC
Despite having the tournament's last seed, Pool D has a good case for being the strongest at the tournament thanks to it featuring two of the four top five teams at the tournament. And that's not even a feature of the seeding, since #5 Doublewide comes in as the nine seed after their loss to Machine at Elite-Select.
The Truck Stop/Doublewide game is probably the best game in the Division during pool play and will be one to watch closely if you're looking to suss out National semifinalists.
The teams have reached the top five in different ways. Truck has added some huge 'free agent' signings (Nicky Spiva, Seth Wiggins, Nate Castine) to an long-growing core. Doublewide has put most of the pieces of their 2012 Championship team back together (with a couple of pickups of their own in Brandon "Muffin" Malecek and Mike Ogren).
With both teams close to full strength, expect a barnburner.
Rhino hasn't played yet this season, but is coming off of a quarters finish at 2014 Club Nationals thanks to a massive upset over Sockeye in prequarters. Portland will look to build off of that (and, for many of the team's players, off of a successful MLU regular season playing as the Portland Stags) in 2015. It's still hard to see Rhino as a potential semifinalist at Nationals, but they'll get a shot against two teams that many believe are in that conversation.
Dylan Freechild and Cody Bjorklund will anchor a Portland team that is clearly on the rise.
Boost FC has a number of wins this season over Regionals-level teams, but got walloped 15-4 by Madison Club and 14-8 by San Diego Streetgang at the end of June. They come in as the only unranked team at the tournament. They are taking their underdog status in stride:
They probably won't win any games in pool play, but they'll win a game before the end of the weekend.
What To Watch For
– Can anyone challenge Revolver? They won fairly handily at the US Open, despite strong performances from Truck Stop in the semis and GOAT (not at the Pro-Elite Challenge) in the final.
– Will Bravo, Truck, or Doublewide (or someone else??) cement a spot as the clear #2 behind Revolver? Bravo has a win over Truck from the US Open, but it took a late comeback and a bit of a melt from Truck. Doublewide hasn't proven anything on the field yet. Truck sits at #2 right now, but they have a lot to prove this weekend.
– At least one team outside the top 10 is going to make a splash in Denver. I like Temper or Rhino to be that team.
Notes
…Weather Report: Hot and sunny. Highs in the 90s both days. Light afternoon winds, especially Sunday…The Aurora Sports Complex reportedly has wonderful fields. Can they beat the gorgeous fields in Boulder with the backdrop of the flatirons, though?…The bar for TCT tournaments has been set high by the Ohio TDs. Will there be a magician? Pork BBQ?…