The All Stars scored their biggest win of the season in Atlanta.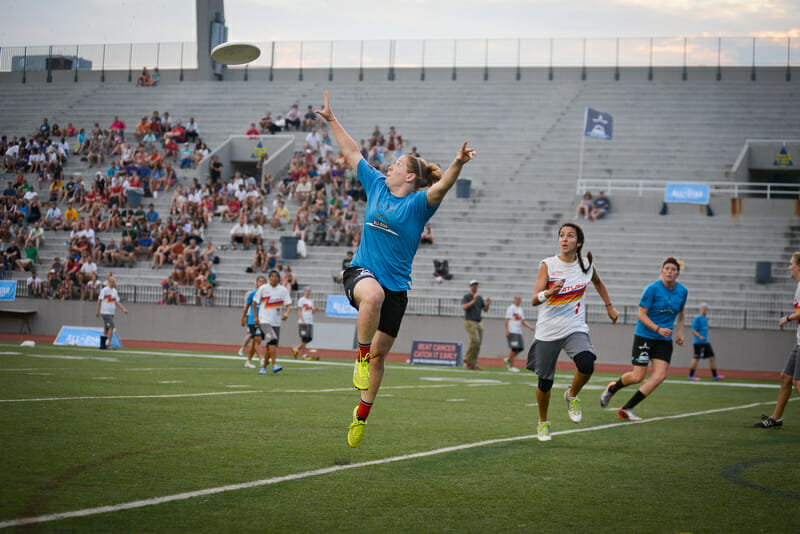 ATLANTA – The All Star Tour rolled into Georgia's capitol hoping for some southern hospitality. They were less than ideal guests, throttling the home town club 15-6.
The game got off to a sloppy start with a multi-turnover point, echoing some of the play in the Tour's last game in Denver. But the All Stars were able to punch in some red zone possessions with smart cuts from the likes of Lisa Pitcaithley to gain some momentum. Ozone, who was still watching reinforcements to their meager roster trickle in, couldn't get out of a funk of unforced reset turnovers and underthrown hucks and found themselves in a 5-0 hole.
The All Stars stepped on the gas and kept it coming, shaping up into clearer offensive possessions and continuing to pressure resets with active marks. They claimed an impressive 8-2 halftime lead. Ozone, shorthanded throughout the event and running essentially zero set plays, was too far out of it to ever recover.
While the score kept the game from being exciting, there were definitely some highlight reel plays. Ozone's Meg Harris contributed a nasty layout D on an upline to Megan Cousins. But the play of the night came from Hayley Wahlroos, who ran down a leading pass for a layout grab, bounced to her feet, and launched a spacious crossfield hammer for the goal.
"She should be on Sportscenter!" cried a college aged male fan — a non-ultimate player — seated nearby.
"She was," I replied, remembering her turn as perhaps the most recognized women's highlight to reach the top 10, a ferocious layout grab from the semifinals of the College Championships her freshman year.
The Tour is working. The crowd was flush, people were excited, and despite a blowout on the scoreboard, it was altogether a good community experience. Eyes are on this group of talented young women, who are learning and growing to play better and better ultimate. Club teams be warned.