The All-Stars were on a roll heading into D.C. and left with another dominant victory after showing impressive skills on both sides of the disc.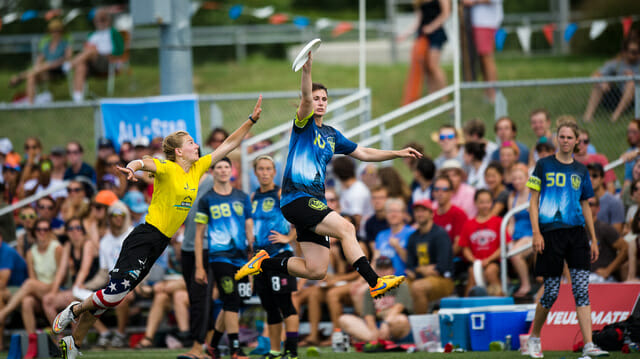 ARLINGTON — The All-Star Tour women added an impressive 15-9 win over 2-time defending National Champions Washington, D.C. Scandal to their resume, showing both great athleticism and skill on a hot Saturday afternoon in Virginia. The All-Stars, following a Sunday afternoon win over Philadelphia Green Means Go, are now 5-2 on their tour, with only two east coast games remaining on their schedule.
Scandal held for the first two points of the game before the All-Stars broke twice in a row to go up 4-2. Scandal kept it somewhat tight until a decisive, turnover-filled half-time point. Despite two impressive Scandal blocks in the point, D.C. was unable to convert either upwind break opportunity, and a huck to Lisa Pitcaithley sent the All-Stars into half up 8-5.  Scandal was never able to close that gap, which the All-Stars built on in the second half en route to their six point victory.
Short-handed Scandal Missed Key Cogs
Notably, Scandal had only 15 players in uniform for the Saturday exhibition match. The absentees included some key contributors: former Ultiworld 1st team All Club Sandy Jorgensen, key offensive handler Kath Ratcliff, and acclaimed coach Alex "Dutchy" Ghesquiere. The loses clearly hurt Scandal; at times, it looked as though they were battling themselves as much as fighting the All-Stars. On one second half point, Scandal center handler Jenny Fey — who was (as she often is) the most offensively involved and impressive Scandal player — showed visible frustration when a disc slipped out of her hands following a miscommunicated deep cut downfield. It was emblematic of Scandal's overall play: they showed high points and made a number of exciting highlight plays, but couldn't seem to stay on the same page for long enough to generate extended offensive possessions.
"We were missing a number of players," said Scandal captain Shino Yoshen, who specifically pointed to the absences of Jorgensen and Ratcliff, as well as Kate Stambaugh. "We had to encourage people to go deep who don't often go deep, and just be flexible…[for example], Molly Roy was coming back to handle a lot." With so many players in new positions, the exhibition match likely provided useful reps and great touches for the Scandal players who could attend. "It's helpful for us to adapt and build skills for other players," Yoshen added. But the shortened roster also made it hard to infer much about Scandal's postseason prospects based on the single loss.
All-Star Deep Game Dominant in Windy Conditions
On the field, the wind (about 10 mph) had an impact, with both teams struggling to pull upwind and the defenses consequently forced to defend against short field position. It wasn't until late in the second half that Scandal scored their first goal in the upwind endzone — it was also Scandal's first and only break of the game.
The All-Stars conquered the gusty elements with a dominant deep game. Pitcaithley, in particular, was impressive in this area, racking up both deep assists and scores. Tellingly, the All-Stars were able to go deep even when Scandal played junky or last-back help looks. "We really like our deep game," the All-Star's Kate Scarth told Ultiworld after the game. "It stems from having such great throwers…our throwers are incredible so we don't see any reason not to use that." Check out the full audio interview, including talk about cross-country van travel, with the All-Star's Kate Scarth by clicking "play" above.
The overall level of All-Star talent was on full display, and now their chemistry appears to be increasing as well. Against Scandal, the All-Stars moved around interchangeably and, when needed, became positionless: Jesse Shofner had key goals, Megan Cousins showed high release breaks, Qxhna Titcomb drifted into cutter positions, and Jacyln Verzuh dropped back to handle at times.
"It's definitely easier [to trust my teammates on this team]," said Scarth. "Everyone has the capability to run deep or throw deep." Scarth added that building chemistry and learning each teammate's tendencies had so far proven to be the main challenge on the tour1, but that even that area is improving for the All-Stars, despite having limited time together to gel.
When the All-Stars weren't throwing deep, they were often throwing around the mark. Especially in the endzone, their around backhand breaks were deadly and took on myriad forms; high, low and around, and lofty out into space. All-Stars crushing around breaks Even though the All-Stars didn't have their cleanest day offensively — both teams struggled with possession in the middle of the game when the wind was at its strongest — their deep shots, breaks, and tough defense proved to be more than enough.
A Game Plan to Frustrate Scandal, Plus the Freedom to Wing It
The Scandal offensive system looks fairly similar to past years': A center to Fey, a well-defined sidestack, early deep cuts from speedy cutters like Kirstin Gruver and Sarah Itoh (sometimes both at once), followed by slashing fills if the deep isn't open. That flow certainly caused problems for the All-Stars, but when Scandal didn't score quickly or deep against the All-Star's defense, their offense sometimes struggled to keep up its momentum.
"Our defensive focus for this game was to respect [Scandal's] deep game — we knew that they had a lot of good deep looks, so we decided to play hard under on the three defenders and on the offside we'd have our poach hanging back deep to discourage that," said Scarth.  "That was our main focus, and I think it worked pretty well — they [Scandal] didn't have many deep strikes."
On game point, the All-Stars gestured complicated routes to each other on the line; after receiving the pull, Alika Johnson and Shofner went give-go for three quarters of the field — upwind, no less. Johnston is the lone Scandal All-Star and plays a key role for the DC club team, and Shofner also has some local fame through her brother Markham, who lives and plays in the area. After putting on the handler weave show, the All-Stars transitioned into an endzone set; Erynn Schroeder received a pass on the flick side, pointed break, and threw a hammer for the winning goal. It was an All-Star point to wrap up an All-Star day in the nation's capital.
Notes:
All-Star Dori Franklin left the game with a knee injury, which appeared as though it could be serious…the D.C. crowd was somewhat limited, in part because it was YCC weekend and in part because of last minute logistics and field changes. But that didn't stop Yoshen from pumping up the pro-Scandal crowd with cheers throughout the second half.  "I've lived here for eight years…We all know the D.C. community, and they ask where they can come see Scandal…It's great for our friends to be able to see us play high-level," said Yoshen…Scandal plays next at the Pro Flight Finale, while the All-Stars are scheduled to take on Bent and Brute Squad as they finish out their tour this week…
---
Along with getting enough sleep on the van, according to Scarth ↩