After years as one of the most successful teams in North America, can GOAT finally break through to compete for a title?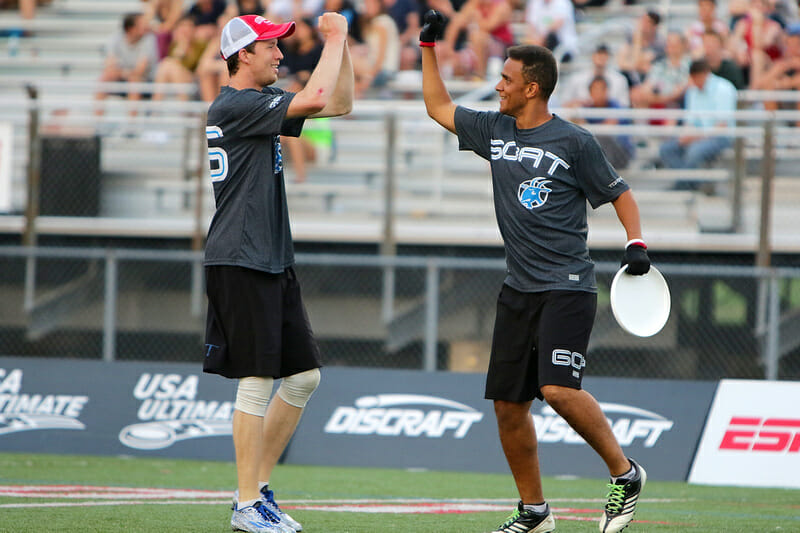 When most people think of the top men's club teams in North America, the usual names tend to pop up: Revolver, Ironside, Johnny Bravo, Sockeye, and maybe a few others depending on outlook and opinion.
But one team in particular seems often to be overlooked for that upper echelon, despite their exceptional success in recent years: Toronto GOAT.
Only four teams have finished in the top eight or better at each of the last four USA Ultimate Nationals: Revolver, Ironside, Chain Lightning, and, perhaps not so surprisingly, GOAT. That may not appear to be that big of an accomplishment, but if one considers some of the elite teams that don't make the cut, the prestige of such a status seems clearer.
Sure, there are some fair arguments as to why GOAT can sometimes feel just on the brink of breaking through to that highest of stations. Namely, the fact that they have yet to win a USAU National Championship—or even make it to the title game—since their inception in 2002.
Those kinds of "shortcomings" tend to plague the reputations of even the most storied of programs, as a squad like Ironside knows all too well.
But given feats like GOAT's storybook Pro Flight Finale victory in 2013 and their near-toppling of eventual-champion Johnny Bravo in the semis of Nationals last year, Toronto seems poised to finally burst through that glass ceiling and claim the success—and accompanying respect—they've been pursuing for more than a decade.
The 2015 Campaign
If there's one advantage that this year's Toronto squad might have over most other clubs, it's chemistry. With the vast majority of their roster not only playing together as GOAT for the past few years, but an additional three as the Toronto Rush of the AUDL (along with the handful of players gaining additional experience on the 2015 expansion team Ottawa Outlaws), few other squads will be able to rival the sheer number of points most of GOAT's roster have played together in a relatively short amount of time.
Of course, there's not a complete overlap on all of those rosters, the pro game can sometimes be very different than the club game, and even if both of those factors were somehow eliminated, more experience together doesn't always have a perfect correlation to improved postseason play. But it seems safe to say that it likely puts them in a different position than most other squads, even those with similar pro/club commonalities, allowing them to work on finer points of strategy earlier in the season, since such a solid foundation is already in place.
Just looking at GOAT's mid-season schedule, one gets a sense that nobody gets more touches than Toronto.
Last weekend, the Rush competed in the AUDL Championship Weekend against an exceptional San Jose Spiders team that features a number of Revolver players, as well as other Bay Area stars.
This coming weekend, starting on Thursday, GOAT will compete in the four-day Canadian Ultimate Championships in Winnipeg, MB, for their country's national title and a bid to next year's World Ultimate and Guts Championships.
The weekend after, GOAT will fly to Blaine, MN, to compete with nine of North America's best teams in the Pro Flight Finale.
Then the postseason officially begins. Needless to say, GOAT will be ready.
The Herd
Much like a number of the other top club teams, GOAT returns almost the entirety of its core this season.
Though they'll be losing their late additions from last year in Vancouver's Morgan Hibbert and Great Britain's Justin Foord, they'll be adding promising youth in U-23 ballers Nathan Hirst and Iain Mackenzie, as well as other young talent in Jay Boychuk and Jacky Hau.
Two legitimate causes for concern, however, will be the temporary loss of budding star Jonathan Martin and the permanent loss of centerpiece Mark Lloyd. While Martin only hurt his ankle last month and is expected to be back before season's end, Lloyd tore his ACL in June and will be out for the entirety of 2015.
It's a huge blow to the team that coach Scott Hastie knows carries great implications, not all of which are wholly negative, however.
"Losing a player like Mark Lloyd and what he meant to the team is definitely difficult. Nobody wants to lose their top player," Hastie said. "But spreading that around to other guys is working out well for us. (They) just have more room to show up without Mark there."
Looking around at the rest of GOAT's roster, it's hard to see too many of them as "role players."
Derek Alexander is one of the best pure handlers on the planet, especially when aided by the likes of Karl Loiseau, Thomson McKnight, and Anatoly Vasilyev. Isaiah Masek-Kelly is quickly becoming one of the most difficult cutters to guard in open space, burning defenders in every direction no matter what they try to deny him. In many ways, he has filled the shoes of Lloyd effectively as a demanding, space-filling cutter.
Mainstays like Jeff Lindquist, Adrian Yearwood, and Andrew Ouchterlony have been tearing it up for Toronto for so long, opponents must be tired of seeing them in the endzone time after time. And with explosive defenders like Geoff Powell, Remi Ojo, and Andrew Carroll, it's tough to see many weak spots in GOAT's armor.
Moreover, Hastie has been quite pleased with the rising up of young phenoms like Hau and David Hochhalter at the U.S. Open, where GOAT squeaked into semis on a crazy double game point win over Ironside, before besting Johnny Bravo and putting up a great fight against Revolver in the final.
Hastie looks forward to the team's youth further stepping up as the season progresses, particularly players like Hirst and Mackenzie who were preoccupied with U-23 responsibilities early in the season.
The Final Piece
When a team comes loaded with such a diverse array of weapons and has repeatedly knocked on the door of a championship title, the main piece left to fall into place is simply the mental game.
Part of that puzzle is a team's ability to avoid predictability and adapt to different circumstances.
In 2013, after winning the Pro Flight Finale, GOAT entered USAU Nationals as the #2 seed, seemingly primed to make a run to finals. Instead, they ran into a wealth of defensive obstacles due to opponents scouting footage of GOAT's regular season play and coming prepared with poachy looks to stop Toronto's pull plays and vert stack.
GOAT got smacked in the mouth and ended up having to climb their way back into the Pro Flight.
It was a tough lesson that they learned and sought to employ in 2014, often to great effect.
Case in point: it takes a certain kind of mentality and trust in the malleability of your system to beat a team like Revolver on double game point in a Nationals elimination game with a leading scoober to space. But that's just what GOAT did, in one of the wildest matches in Nationals history.
Hastie said his team has been making a point to work at that kind of unpredictability while also seeking to cultivate a kind of rubric for how they want to play and the kind of choices they want to make.
During the Rush season this year, Hastie noticed periodic frustration from teammates about certain kinds of decisions, even when they happened to work out.
"There was real frustration at (the fact that) that's not gonna be good enough to work against Revolver," Hastie said. "It's interesting to see that intensity out of guys even when things are going well that people are really talking about it after points. It's great for me, because I don't have to be saying that each time. It's guys holding each other accountable."
That kind of focus on process and instilling good habits, rather than simply being happy with favorable outcomes, is exactly what Hastie knows the team needs in order to succeed in a landscape with such parity and depth that just being a little bit off—especially with your decision-making—can mean the difference between a great tournament and a really disappointing one.
If they can keep instilling the right habits into their game, Hastie said, then all that's left for GOAT is execution.
"That's our job for the next two months," he said, "is that we're good when it counts."