The biggest upset on a wild Regionals weekend.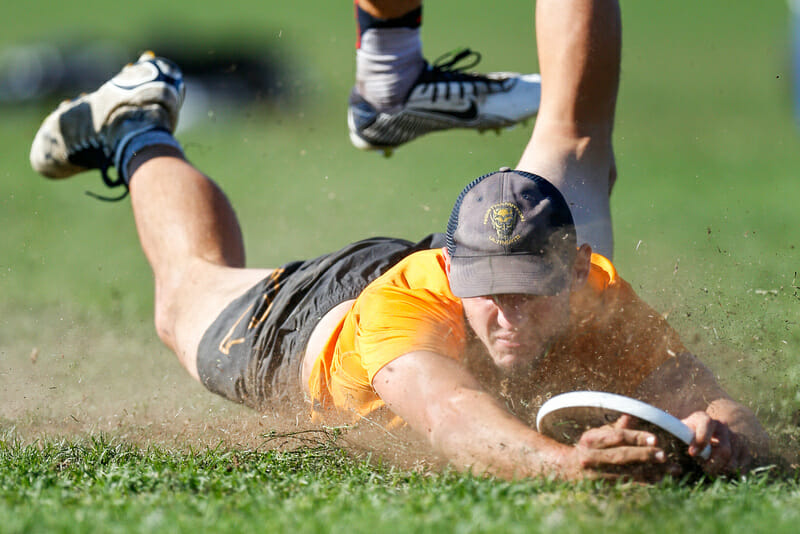 DEVENS, Mass. — They certainly had to dig deep.
After thumping losses to Boston Ironside on Saturday and Toronto GOAT on Sunday morning, Boston Dig stunned GOAT 15-13 in the Northeast Regionals' third place game to claim the region's final bid to Nationals.
Dig used a strong second half to come back from a two break halftime deficit and end the season of a GOAT team that made the National semifinals just two years ago. "All tournament long, we were talking about our team strategy, which was building, staying healthy, and staying fresh for this game," said Dig captain Mat Little. "No matter what we had to do, this was the game we wanted to stay fresh in."
Dig came into the game off of a comfortable 14-9 win over Phoenix in the third place bracket, while GOAT dropped a 13-12 heartbreaker to PoNY on double game point in the second place game after having two chances to score a break for the win.
"It was a classic, old-school day of Regionals," said long-time GOAT veteran Andy Ouchterlony. "I've been coming here a long time for this tournament. It's always like this."
GOAT took an early lead after Andrew Carroll ran through and tipped away an underneath pass near midfield. GOAT scored the game's first upwind point, then converted another break downwind to make it 4-2 after Dig threw away away a scoring chance in the upwind endzone on their next possession.
At that moment, the game had the feel of so many games-to-go before it: any doubt about the favorite winning it was quickly evaporating.
But Dig came out and got a hold as Spencer Diamond zipped through the cutting lanes. A big Ben Sadok huck to Nick Thompson got them a quick hold on the next point. Jeff Babbitt got a sky score to keep it going.
All the while, GOAT was getting very comfortable holds. Late season addition Derek Alexander was masterful in the backfield and was carving up the Dig defense with handler cuts and his collection of unorthodox throws. The two teams traded all the way into halftime as Mark Lloyd laid out to take an 8-6 lead into the break.
Someone asked me what the score was. 8-6, GOAT to receive. "Oh, game over," they said.
But it was not.
During halftime, GOAT veteran defensive line handler Anatoly Vasilyev walked to the parking lot with his bags to head to the airport.1 GOAT was already down a significant number of players who didn't make the trip, including Adrian Yearwood (injury), Remi Ojo (work), Nathan Hirst (passport issues), and Mike Mackenzie (school), and were missing others, including Sachin Raina and Thomson McKnight, due to injuries or sickness.
Most of GOAT's players sat quietly on the sideline at halftime. Perhaps all those missing pieces started to catch up with them.
On the first point in the second half, GOAT threw a swing too wide and gave Dig great field position. Tim Schoch threw an around backhand into the endzone for Boston's first break of the game.
Babbitt got an easy run-through block on the next point as Dig's zone started to put more pressure on GOAT's thin handler corps. Dig put it in downwind to tie the game at eight.
After the game, both Little and Schoch said that's when they knew they were going to win. "At first it seemed like [GOAT was] up for it, but in the second half, they seemed flat for sure," said Little.
Alexander was GOAT's biggest weapon on offense but the only true offensive handler available. At 10-10, he was forced to call a stall seven timeout after no cutters got open and he slammed the disc down in frustration. Out of the timeout, he had to throw a high-arcing scoober with the stall expiring; Dig's Jordan Taylor came flying in for a big block. Dig's D-line, though, couldn't capitalize, and GOAT went on to hold to go up 11-10.
After a huge rundown layout catch from Babbitt to set up a Dig hold, the game finally tipped Boston's direction. A high throw glanced off a GOAT cutter's hands near midfield and Dig put it in to go up 12-11. They added another one after another GOAT drop as the sidelines buzzed with energy.
GOAT held to get back within one and had multiple chances to tie after Sadok started to get a bit too trigger-happy looking for his long-time college teammate Babbitt deep. GOAT's Jacky Hau, though, bounced a disc off of his hands, perhaps unnerved by Babbitt's footsteps behind him. Dig turned it over again, but Toronto gave it right back on a soaring backhand that hung in the air long enough for nearly all 14 players to gather underneath. Dig threw it away once more, but Ouchterlony turned over a swing pass on the Dig goal line: Alex Cooper dished to Babbitt for the hold.
GOAT held to make it 14-13, but needed two breaks to win after not getting any in the second half. Again, they had an opportunity after a Dig turnover, but they could not get into an offensive rhythm and gave it back. An easy dish into the endzone got called back on a travel, but it was a mere formality: the cutter was wide open. Dig closed out one of the biggest upsets at Northeast Regionals in years.
"They got some easy scores that kept some guys fresh to double shift late," said GOAT coach Scott Hastie. "They ran hard when they got turns and punished our mistakes."
What makes the win particularly impressive was that Dig strategized for Regionals expecting to play PoNY in the game-to-go. They watched film, devised strategies, and prepped for seeing New York. Instead, they got a GOAT team they had hardly prepared for and lost to soundly on Sunday morning.
Mat Little was one of a number of Dig players on the Garuda team that nearly upset PoNY three years ago in the same game. He threw the would-be game winning pass that Babbitt couldn't reel in before PoNY scored to win it. The win here was a long time coming for him.
"I think this is my third or fourth game to go to Nationals," he said. "So I've been right on the cusp for a while. It still feels surreal that I — we — finally made it."
"It doesn't feel quite real yet, but I know once I buy my flight it will definitely feel real," he added later.
GOAT just didn't have the horses in crunch time after a weekend of hard games with a thin roster. The morning rain, lightning delay, and windy afternoon did not make things easier. "It was a long day," said Ouchterlony. "We gave a lot. We gave a lot of what we could. I'm not feeling like we didn't give everything. But I do think we made a few too many mistakes."
It's hard not to look at the grueling 2016 schedule as part of the story for Toronto. Much of the team has been on the go since late last year preparing for Worlds with Team Canada alongside their AUDL commitments.
"It was a huge season," said Ouchterlony. "It's been on the go…people have been heavy, heavy since almost last fall. The Worlds work this winter was just huge. It takes a huge amount of commitment and energy and time and money…We'll take this loss, put it in the tank, and move on."
For Dig, a new chapter begins. The first-year team heads to Nationals as the likely 15th seed (they defeated Furious George at the Bro Flight Finale). Are they going to be simply happy to be there?
"Do you want the right answer or…?" laughed captain Tim Schoch.
We'll see them in Rockford.
---
Note that games were pushed back a half hour due to a lightning delay in the first round. ↩