Revolver fought adversity -- and the wind -- on the way to another big tournament win.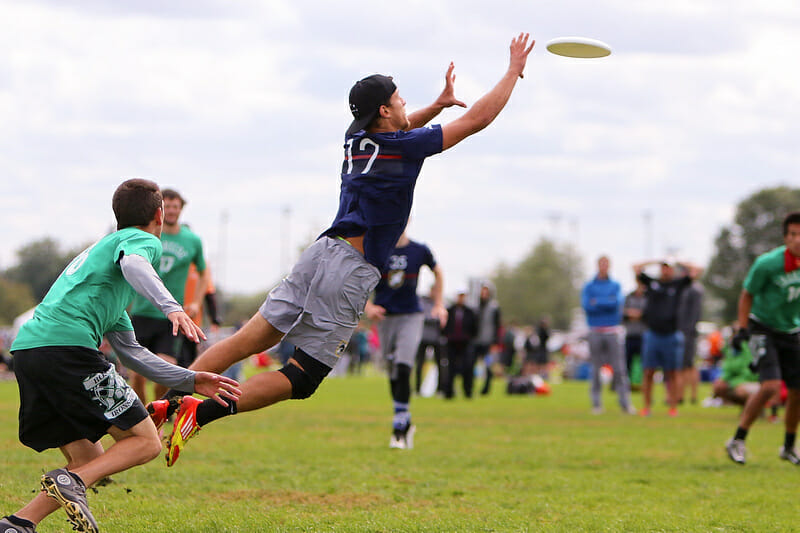 MINNEAPOLIS — With heavy wind buffeting the tournament all weekend long and testing teams' endurance and mental fortitude, San Francisco Revolver won their second major tournament of the year with a 12-9 victory over Boston Ironside in the Pro Flight Finale final.
Revolver almost didn't make it into the final. In the semifinals, they faced off against Washington DC Truck Stop and struggled mightily to execute clean offense. Drops, turfed throws, and missed opportunities defined the first half as Truck stormed past them into halftime with a 7-3 lead.
Revolver came right back with a 3-0 run to start the second half, however, to make it a contest. They had multiple opportunities to tie the game up, but continued to cede points after brutal miscues from their D-line offense, including a howling drop from Lucas Dallmann on a pinpoint huck to the endzone.
Eventually, though, Revolver did tie it up as Truck Stop's offense continued its second half skid. Truck Stop held late with a chance to win on defense, but Revolver's much improved O-line forced double game point.
Truck received the game's final point and gave the game away after Nicky Spiva clanked a short swing pass from Nate Castine on the first throw off the pull. The disc rolled into the endzone, giving Revolver the disc right on the goal line. Cassidy Rasmussen threw a short backhand to Joel Schlachet up the sideline for the game-winning goal and Revolver's first lead since holding to start the game, 1-0.
You can't deny the mental grit Revolver showed in the game to avoid melting down after some absolutely devastating turnovers at key moments. They played the game without Beau Kittredge, Russell Wynne, and Chris Kosednar and still managed to get the W. It was one of the most exciting games of the season.
WATCH: Revolver v. Truck Stop is available for Club Video Subscribers.
Of course, the crosswind played a big role in many of the turnovers, though Sunday's wind was less treacherous than Saturday's gale force upwind-downwind. Regardless, the wind was an eighth defender for every team this weekend.
Revolver carried the energy of that gritty, windy win into the final where they controlled the game against Ironside from start to finish, taking a 7-5 half, going up 10-6 early in the second half, and cruising to a three point win.
It's worth noting that both Truck and Ironside were missing players as well; Truck was without Peter Prial and Seth Wiggins, two key offensive cogs. Considering how sharp their offense looked at times in the wind (especially in the first half against Revolver), that should scare other top teams. Prial has been their #1 cutter and Wiggins offers a vital throwing skillset that would have been a big plus in the wind.
Ironside was down Josh Markette, Danny Clark, Jack Hatchett, and Will Neff and still looked very impressive. Down in the Rhino game during pre-semis, they called a timeout and rattled off multiple breaks in a row to win, showing a mental toughness that hasn't always been present on Ironside. Alex Simmons had a great weekend.
Ironside also obliterated High Five in the semifinal after taking an early lead and watching the High Five team implode. The final score was 13-3. It was High Five's only loss of the weekend; they rebounded to beat Truck Stop on double game point for the second time at the tournament. They also had a wins over Johnny Bravo, Ironside (in pool play), and Chain Lightning.
GOAT Bombs
Perhaps you could see it coming. Toronto GOAT, fresh off of the team's first-ever title at the Canadian Ultimate Championships, was a shell of itself in Minneapolis. They came to the tournament missing close to half the team's starters, including Isaiah Masek-Kelly, Anatoly Vasilyev, Cam Harris, Adrian Yearwood, and others.
They had low energy and played poorly all weekend, finishing 0-4 in pool play and salvaging just one win (over Bravo).
In the grand scheme of the season, it's probably not a big deal for GOAT, except that they likely cost the Northeast one of its bids and will now head into Regionals with just two spots at Nationals available. With Ironside, PoNY, and a slew of quality darkhorse contenders in the hunt, the intensity meter just got kicked up a few notches.
Rhino Rises
Portland Rhino continues to look like one of the better offensive teams in the country, featuring Eli Janin as a rock-solid center handler with Trevor Smith, Tyler Cable, Eli Friedman, Dylan Freechild, Jacob Janin, and Cody Bjorklund around him.
Janin had a great weekend, Freechild was devastating both downfield and back as a give-and-go handler, and the offense hummed along despite the heavy winds. Chase Sparling-Beckley also wasn't playing this weekend — could he be another big addition to an already potent O-line?
Rhino finished the weekend with just two losses — both to the eventual finalists — though surely they wish they could play the Ironside game back.
Rhino's major concern is surely their defense, especially from an efficiency perspective. Riley Meinershagen and Matt Melius are the biggest contributors after the turnover, but they look like they could use some help. Freechild crossed over a fair amount and we could see a bit more in the way of hybrid lines later this season.
Bravo Misses Lance In Wind
Johnny Bravo was playing without Nick Lance, Stanley Peterson, and Will Lokke. With Lance there, they were probably a semis team. His throws in the wind were badly needed. Without him there, Jimmy Mickle was forced to go in for upwind defensive points, and play less on offense. Mickle still dominated, but Lance would have relieved a lot of the pressure.
Bravo still came away with an OK 3-3 performance, but clearly weren't the team they will be in the postseason (especially when you consider that they are adding both Bart Watson and Eric Johnson for the playoffs).
Is High Five A Semis Contender At Nationals?
It's hard not to look at their performance this season and not at least consider that. They smoked Machine to win the Elite-Select Challenge, they played tight with almost everyone at the Pro-Elite Challenge, and went 5-1 this weekend, including wins over Bravo, Ironside, and Truck.
This may be a case where the wind caused some weirdness. Do they win those games in still conditions? Not sure you can really answer that hypothetical.
Regardless, they have shown the capacity to win big games and will be among the top eight seeds at Nationals. Not making quarters would be a disappointment for this team at this point. Semis sure sounds like a stretch based on their past performance, but you can't ignore the results of this season. They are good.
Quick Hits
– Ring of Fire veered between looking really good and looking really bad. Decision-making remains a sticking point and it feels more than ever like they could either go back to the semis at Nationals or lose in prequarters. Undeniably a talented team, but they seem to pick their spots and sometimes come out flat.
– Chain Lightning is just not very good this year. They went winless at the Pro Flight Finale, showcasing a real weakness at the handler position. Will they make Nationals out of the Southeast?
– Chicago Machine is not built to excel in the kinds of conditions we saw in Minnesota. They lack throwers that can power the disc through the wind; Bob Liu and Brett Matzuka are very skilled, but much prefer more calm conditions. When the huck game isn't there, they can't isolate their big athletes. They did get a nice win over Revolver in pool play, but San Francisco had already wrapped up the pool. They had losses to Rhino and Ring. It's worth noting that they played much better in the crosswind on Sunday.
Tweet Of The Weekend