Which powerhouse team will be the odd one out?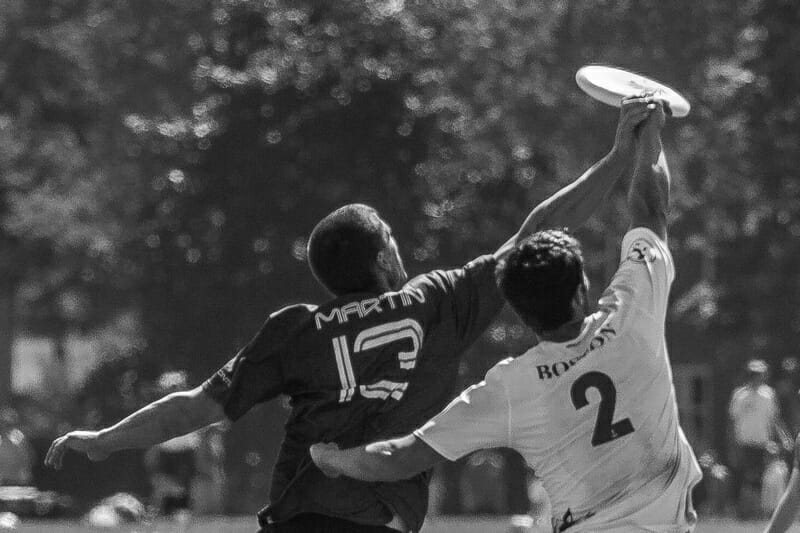 Since they first set sail in 2007, Boston Ironside has never missed out on Nationals. In fact, they have won Regionals every year save for 2013, when they lost 15-12 to GOAT in the finals. However, with the largest amount of roster turnover in their history, are the tides starting to shift in the Northeast?
Tournament Profile
Date: Sept. 12-13
Location: Devens, MA
Number of teams: 16
Number of bids to Nationals: 2
The Favorites
Boston Ironside
Despite losing 12 players this year, Ironside still has a strong core and veteran presence. Danny Clark appears to be ageless, and is an absolute workhorse downfield. Josh Markette is one of the most versatile and gutsy throwers in the game, and Alex Kapinos is a dominant deep threat who has somehow managed to fly slightly under the radar. Christian Foster and Jack Hatchett have developed into elite defenders, and Alex Simmons has stepped up big as a captain. The list of Boston stalwarts goes on, including the likes of Jim Foster, Will Neff, and Jake Taylor.
There are also lots of new young faces eager to make a splash in the elite club scene, many coming from successful New England college programs. However, the two biggest pickups seem to be Tom Annen, another Wisconsin transplant joining former Hodag teammates, and Tyler Chan, a recent Tufts graduate who was a big part of Big Wrench's success last year. Annen is a rock of an O-line handler, and Chan is a lightning fast cutter whose athleticism has been on display all season. They both had an immediate impact at the US Open, and have already developed important roles on the team.
After one of the worst tournaments in their history at the Pro-Elite Challenge with a very short roster, Ironside was able bounce back and play well at the Pro Flight Finale, where they cruised on Sunday (including a stunning 13-3 win in semis over the talented High Five) to make the finals, before falling to Revolver 12-9.
Overall, it looks as though they have adapted well to their younger roster after losing an all-star cast in the offseason, and much of that has to do with coach Josh McCarthy. Ironside has spent the season learning to play together, and McCarthy hasn't been afraid to test out different strategies with the new look Ironside roster. For example, they have been using a backfield dump for the first time, instead of their usual 6-man vert stack:
McCarthy has never gotten enough credit for the Boston dynasty, but his system has been a big reason for their dominance and consistency over the years. It seems as though he is willing to change the system since the roster has been shaken up so much, and it appears we are starting to see the next generation of Ironside. McCarthy has a way of making sure Boston is peaking for the series, and it is easy to see them taking the region once again. Even if they end up falling to GOAT in the finals, it's unlikely to see the sailors doing any worse than second place, especially considering the fact that they have never lost to PoNY at Regionals and haven't lost to them at all since 2008.
Toronto GOAT
It was a rough start to the year for GOAT as the team saw its best player and one of the superstars of the game, Mark Lloyd, go down with a torn ACL. He was their go to player last year and he led them to their quarterfinals upset of Revolver at Nationals. However, GOAT still has plenty of familiar faces and will be just as dangerous as always. They have previously struggled with consistency, and so far it's hard to tell if this year will be any different.
They started off the season very well at the US open. By regrouping after a loss to Temper, they got a big win over Ironside to make the semis, where they defeated Johnny Bravo in a great match. They played another strong game in the final, but lost to Revolver after holding an early edge.
After that, they went on to beat Furious George 15-13 at the Canadian Ultimate Championships and claim their first ever CUC title in a Worlds year. However, because of that, they sent an impossibly small roster that was missing more than a half dozen starters to the Pro Flight Finale. There, they had a miserable weekend, finishing 1-5. This ended up costing the Northeast a third bid, as their poor results dropped them to #19 in the USAU rankings.
Since we have really only seen them at full strength for one tournament, it's tough to gauge how they compare to the competition this season.
But we still have a good idea of what to expect from GOAT this postseason, as their roster is essentially unchanged with mainstays like Jeff Lindquist, Derek Alexander, Adrian Yearwood, and Andrew Ouchterlony still running the show. Isaiah Masek-Kelly has continued to show off his growth as a player and has been GOAT's most important player since Lloyd went down, dominating downfield not only with his cutting but also with his throws.
GOAT is filled with plenty of strong defenders as well, including Geoff "Bomber" Powell, Remi Ojo, and Andrew Carroll, who has emerged in the last two years as an elite defender.
GOAT has the depth to upset Ironside, and if they make it to the final, it will be another awesome match. To do so, they will have to overcome PoNY in the semifinals. PoNY has looked good this season — on the whole even better than GOAT — and will not be an easy out. However, GOAT just has too much talent at the top of their roster to fall to PoNY twice, and should be able to knock them off to secure the second bid even if they falter in the semifinal. They have finished ahead of PoNY at Regionals 8 of the past 10 years, and we'll likely see that trend continue.
New York PoNY
Coach Bryan Jones has a tough task ahead of him this weekend, as he tries to guide PoNY to secure one of just two bids to Nationals. PoNY began the season with a slightly disappointing US Open, where they weren't able to manage any signature wins. They had a better Pro-Elite Challenge, where all their games were close, including a great win over High Five, a big upset over Doublewide in quarters, and a double game point loss to Revolver in the semis (a game they really should have won).
These results are unsurprising, as PoNY has always been in the middle of the pack with relatively consistent results. They are a gritty, hard-working team that will pounce on any team that lulls, but generally lacks the depth to seriously compete with the truly elite teams. This year they were focused on creating a team full of two-way players who can succeed on both sides of the disc. This type of mindset creates a balanced, adaptable roster, which could be their greatest advantage coming into the weekend.
The 2015 roster returns plenty of PoNY regulars, including established stars like Jack Marsh and Chris Mazur. Captain Markian "Muk" Kuzmowycz has one of the best skill-to-height ratios in the country, and David Ferraro has slowly established himself as one of PoNY's best players. PoNY is also chock full of young talent, including Billy Katz, Albert Alarcon, and Josh Alorro, who are joined by new pickups D-III standout Dave Abbott and U23 player Chris Kocher. Another guy new to the roster is Mike Drost (formerly 7 Express), who is a monster on defense and is making the jump from Mixed to Men's this year.
Those young players are likely to be the key for PoNY if they are to succeed. Alorro excelled at the Pro-Elite Challenge on the offensive line, offering always-available resets and good speed. Kocher has been perhaps their most important cutter. Katz is a captain in his second year on the team, which speaks to how well he has played and the leadership he's flashed. If these less experienced but highly skilled players show up big, PoNY could well knock off one of the top seeds. But that's a lot to ask for many who haven't played in such a high pressure Regionals spot in their club careers.
The key for PoNY will be playing as a team, as they simply don't have the depth to compete in terms of individual matchups with GOAT or Ironside. They have consistently been the third best team in the Northeast, so GOAT losing that third bid makes things a lot more difficult for the squad from New York to advance out of the Northeast.
The Spoilers
Amherst Dark or Light
Dark or Light began as an Amherst Regional High School alumni team, and has morphed into more of a general western Massachusetts all-star squad. They still have many ARHS alums, as well as a lot of former and current UMass stars, including all three of this year's captains (although Ben Sadok is out for the season with an injury). Yes, that includes Jeff Babbitt, who jumped ship from Ironside, along with Russell Wallack, who also left the Boat. Those two are huge pickups to an already solid team, and make Dark or Light legitimately dangerous this year.
Their regular season results do leave something to be desired, though. Granted, they had a shell of a roster at their early season tournaments and didn't lose a game at Nucci's Cup or Sectionals when they finally had their full squad. But their lack of experience playing together will be their biggest weakness at Regionals. (It's worth noting that they've had some practice time this year, unlike in years past. They are really gunning for Nationals.)
On paper, this is the best Dark or Light squad ever. With low expectations but lots of talent (and coaching from Tiina Booth), they will be a scary matchup for any team. Their likely quarterfinals matchup against Garuda should be one of the tightest games of the weekend, and will be a good preview of where Dark or Light will be at the end of the weekend. They are the least predictable of the top five teams at Regionals this year and could end up anywhere from the second place game to getting bounced early in the second place bracket. If they're at their best, they could upset PoNY to make the second place game but likely won't have much of a chance once there.
Boston Garuda
Generally considered to be the second best team in Boston behind Ironside, Garuda has placed fourth the past two years at Regionals. They are a great team but haven't yet been able to make the jump to the elite level. After winning the Boston Invite, they flew out to the Elite-Select Challenge to face some higher-level competition where they proved that they aren't far off from being able to compete with the elite teams. However, they seemingly took a step backward as they couldn't hang at the Bro Flight Finale, losing badly to Sub Zero, Patrol and Streetgang and going 1-6 on the weekend.
They've got a bunch of skilled veterans in Henry Brecher, Mat Little, Brian Clarkson (formerly Ironside), and new addition Frecka Brasz, in addition to a handful of Boston Whitecaps and younger talents like YCC standout Mac Hecht and Emmett Blau. Unfortunately for Garuda, with only two bids this year, it's looking like they'll need to wait another year until they get their next shot at making their Nationals debut. Expect to see either Garuda or Dark or Light battling against PoNY in the 4th place game.
The Rest
Last year, Big Wrench made a run to the semis where they would face Ironside. Tyler Chan vs. George Stubbs was one of the most fun matchups to watch all weekend, and Big Wrench kept it close until Ironside pulled away in the second half. They then fell to PoNY in the second place bracket before losing to Garuda to come in 5th. Chan will be a huge loss for them this year, but they will try to make up for him by adding another speedster, Piers MacNaughton (formerly on Ironside). Sam Kittross-Schnell (formerly of Sockeye, Ironside) does a lot of the work for BW, and will be a key to their success.
This team is fairly young, with lots of Tufts and University of Vermont grads and current players, and will be eager to build upon last year's success. They will give Dark or Light and Garuda excellent games, but probably won't be able to do much damage against the top three teams. Look for them to be competing to earn a spot in the fourth place game.
Ottawa's Phoenix is another team that could give teams trouble this weekend. Another consistently high finisher at Northeast Regionals, they are always solid and even managed a win over the Buzz Bullets at Worlds last summer. Usually a team that can challenge for a spot in the game-to-go, even making the 4th place game would be a stretch for them this year. They've already lost to Garuda twice, and only beat an understaffed Dark or Light by two at the Boston Invite. If they get hot and go on a run they could get to the 4th place game, but it's a longshot.
Connecticut's premier team, Colt, is heavily made up of UConn alumni and current players. Seeded 6th coming in, they are an athletic team that had a successful regular season, including winning the Bruise Cruise Classic. Luke DiOrio (formerly Wild Card) is a smooth handler with quick feet and even quicker pivots, and is definitely a player to watch. They'll give some of the aforementioned teams trouble, but likely won't be able to break seed.