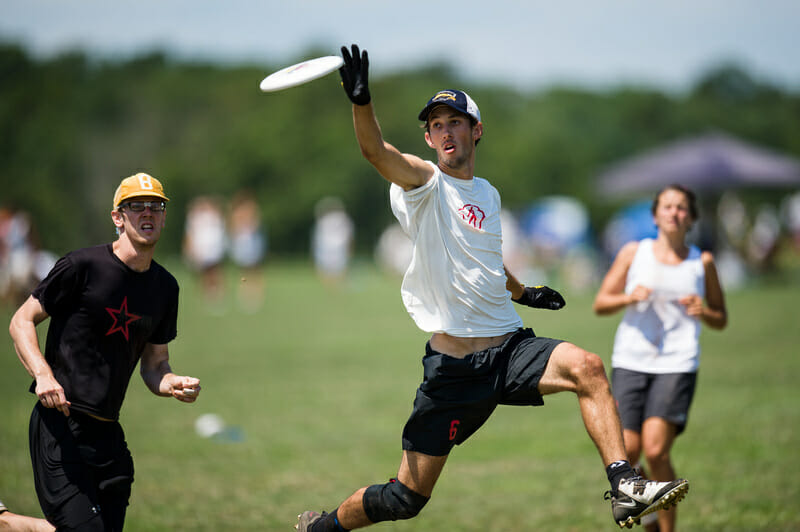 Last year at Regionals, AMP dominated the field on their way to taking the single bid to Nationals—their ninth consecutive. This year the region looks considerably stronger, with a second bid in play as well. Could this be the year that AMP is taken down?
There are many words that could be used to describe Philadelphia AMP's performance at the 2014 edition of Mid-Atlantic Mixed Regionals. Dominant is the word that comes to mind most quickly when looking at scores from that tournament. Not a single opponent was able to score even 10 points against the squad from Philly, and AMP rode their talent to the single bid to Nationals.
Since then a lot has changed. The Founders Section has grown considerably in talent with both Muffin Men and Bang! surging up the rankings and helping secure a second bid for the Mid-Atlantic. With both teams not having to go through AMP to get to Frisco this year, they can spend more time trying to secure the second bid from a field that has gotten much stronger than it has been in the recent seasons. On paper, Muffin Men seems to be the smart pick to claim the other bid, but anything can happen on Sunday.
Tournament Profile
Date: Sept. 12-13
Location: Poolesville, MD
Number of teams: 16
Number of bids to Nationals: 2
Charged up and ready to go
With a second bid now available, it seems unlikely that AMP will be missing out on Nationals this year. Although they've had a shaky start in the regular season, AMP still has the talent, experience, and the depth to survive the challenges of Regionals. As a result of the Triple Crown Tour scheduling, there hasn't been a lot of cross over between AMP and their in-region opponents, but their 10-6 win over Ambiguous Grey at the Elite-Select Challenge suggests that they will have more than enough in the tank to handle the competition
The Contender
Pittsburgh area Muffin Men did themselves a big favor earning a second bid for the region. They're currently undefeated against their in-region opponents with three losses to New York/Connecticut's Metro North as their only blemishes. Although the team hasn't played AMP yet this season, they swept through Founders sectionals on the way to a 2 seed in Poolesville this weekend. That easier Saturday schedule could be the difference on Sunday.
Exploding onto the scene
West Chester Bang! has similar results to their cross state rival in Muffin Men, but have been unable to beat them this season. With victories over every other Regional contender for the spot to Nationals, the team is setting itself up for one last showdown in the game to go to decide who moves on. The scores have been close enough that it wouldn't be a major surprise for Bang! to pull off an upset, but they will need to keep their guard up on Saturday with Ant Madness hanging around in Pool C and just dying to get a shot at Nationals.
Down but not out
It's been a rough season for DC Ambiguous Grey. After losing in the game-to-go last year at Regionals, they've seen two teams surge past them in the Mid-Atlantic pecking order. Ambiguous Grey is still the same team that has finished in the top two each of the past three seasons, but it seems many teams in the region are beginning to catch up to them. It would be foolish to count them out of this discussion entirely, but this team has an uphill battle to make it back to Nationals. Out of all the top seeded teams, Ambiguous Grey seems to have the most likely chance of dropping a game in pool play. Sparkle Ponies lost 9-11 to Grey at the Capital Mixed Sectionals so it's possible they're able to turn that matchup around.
Darkhorses
– Rockville Sparkle Ponies has seen a serious jump in success this past club season. After placing 8th at Regionals last summer, they're now expected to finish in the top 5—with an outside chance of taking the second bid to Nationals. They are playing in the definite game to watch for pool play in their 1pm Saturday matchup against Ambiguous Grey. How they do in that game will likely determine how far they can go in this tournament.
– Arlington Ant Madness has been an up-and-down team this year. On one hand, they've been able to take down Ambiguous Grey, which they did at Chesapeake Open; on the other hand, the rest of their results reveal they might not be able to consistently compete at that level. Still, the team isn't far enough off that they can't make some noise at the tournament.