The women's Regionals field shook out largely as expected.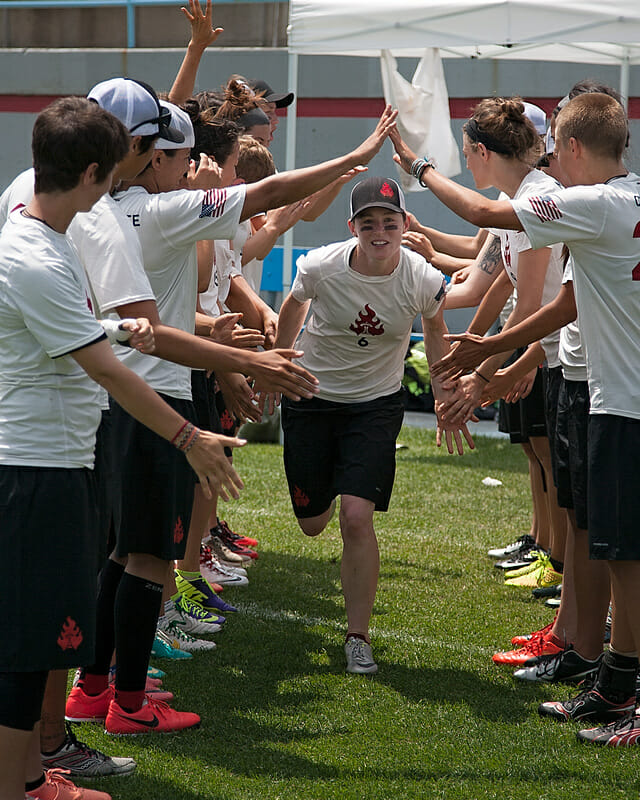 The field for the 2015 Club Championships is set! Regionals weekend yielded few upsets from the top to bottom — every #1 seed won their respective Regional tournament — but did set the stage for a strong crop of teams heading to Frisco.
Great Lakes
Chicago Nemesis
The emerge of Rival was supposed to open up the Great Lakes, who had been under the reign of Nemesis for years. Nobody gave Chicago the memo.
The lone notable matchup of the weekend, Nemesis left Rival in the dust, in a 12-8 game that wasn't as close as those numbers indicate. Chicago's 7-1 run to half all but cemented their victory. Their unblemished run through pool play was enough proof that a second day of play was not necessary.
Mid-Atlantic
Washington D.C. Scandal
With three top 25 teams – all 3 within USAU's top 20 – battling for one bid, there was some chance for some fireworks in the MA. Could the reigning National Champion fail to qualify for Nationals?
While that would have been a shocker, there wasn't much drama at the top of the ranks. Scandal topped Philadelphia Green Means Go on both Saturday and Sunday by healthy margins. GMG, for their part, crushed rival Pittsburgh Hot Metal in the semifinals, 15-8. It is likely they'll be the best women's team at home during Nationals.
North Central
Madison Heist
Only one team (Minneapolis Snap) broke seed in the one pool into a bracket format for North Central Regionals. With five points as the smallest margin throughout the weekend, the event was fairly linear. and Heist cruised to a 15-10 victory in the final.
Minneapolis Pop claimed the Select Flight bid, notably because of the hot start Kansas City Wicked got off to in 2015 before slowing down in the mid and late season. Pop's position was established with their pair of wins over Wicked.
Northeast
Boston Brute Squad
Quebec Iris
New York Bent
Toronto Capitals
Northwest
Seattle Riot
Vancouver Traffic
Portland Schwa
South Central
Denver Molly Brown
Texas Showdown
Things got off to a sluggish start in the SC. Throughout pool play, there was just a single game decided by fewer than six goals — Dallas Maeve's 14-11 upset win over Colorado Small Batch — in a tournament with a seemingly clearly defined pecking order. Top seeded Molly Brown made quick work of seconded seeded Showdown 14-7.
But Sunday's bracket action brought the tight games the first day missed. Texas put together a much better showing against their regional rival in the final, with Denver claiming a 14-11 W. In the second place semis — an elimination event — Small Batch got revenge on Maeve in a tight 10-9 battle. Showdown took advantage of a tired Small Batch team in the game to go.
Southeast
Atlanta Ozone
Raleigh Phoenix
The journey to chalk in the Southeast was fraught with more danger than most. Ozone faced a pool play challenge from rival Raleigh, coming out ahead on a 13-10 count. Meanwhile, Phoenix was tested by both Atlanta Outbreak and Florida Tabby Rosa; Outbreak took Phoenix to the brink in maybe the weekend's best game before submitting, 13-11. The Atlanta squad played tight matches all throughout pool play, including a double game point layout win versus Tabby.
Phoenix's hard earned win against Outbreak got them into the final against Ozone, who dispatched them once more, 13-8. That sent the second seed to a backdoor game, where they ran all over a tired Tabby team and won comfortably.
Southwest
San Francisco Fury
Bay Area Nightlock
After getting a test from Nightlock at last year's Regionals, Fury left no doubts this time, waltzing through the competition to claim the top spot. The routed previously unchallenged Nightlock 15-6 in the final.
With both San Diego Wildfire and Los Angeles Viva playing well this season, the scene was set for a potential upset. We got it, but not where we expected; Viva fell on double game point to Tucson Venom. That exhausting affair benefited Wildfire, who ran over Venom to make it into the game to go. It was a valiant effort, but Nightlock ended the bid for a Southwest upset, 15-9.