Pool A:
Boston Brute Squad 15-7 San Francisco Nightlock
Nightlock (overall#8, seeded A2) has came out hot to start out each of their first two games, but in round three, had to face a brutally efficient Brute Squad (overall #1, seeded A1) team. But that didn't deter San Francisco, who opened the game with a break and put Boston on their heels off the bat. They continued their run to an early 4-2 advantage. But a big first half from Kami Groom – 3 goals, 1 assist, and 1 block – helped reignite the top seed and they roared back to a 8-6 half.
From there, Boston asserted themselves, continuing to look like a team on a mission. Nightlock registered just one goal in the second half, with Groom's strong play on the D-line continuing throughout. Brute Squad defended their perch atop pool with an impressive second half, winning 15-7. They'll face fellow Northeast squad Iris in the prequarters. Nightlock moves to 2-1, finishing second in the pool, and setting them up for a date with Chicago Nemesis.
Madison Heist 13-11 Toronto Capitals
With both teams facing a potential winless Thursday, Heist (overall #12, seeded A3) showed tremendous grit in a comeback victory against Capitals (overall #13, seeded A4). The Central Region champ climbed out of a 9-5 hole, scoring eight the game's last ten points to notch their first win, 13-11. Toronto opened up their significant lead by capitalizing on Heist mistakes, particularly the D-line offense's errors. Darcy Drummond came up with three blocks in the first half, along with a goal, to lead the Capitals' charge.
But in the second half, Heist began clamping down defensively and their opponent began giving them the disc more often. 18 of Capitals' 32 turnovers came in game's second half, often in chunks. After Caps won a hard fought point to take an 11-10 lead, Heist's offense sharpened their focus. They turned it over twice in the final three points, all of which Heist scored. Robyn Wiseman and Liz Gronnert each contributed a goal and an assist in the second half and Emily Langlad added two assists of her own in the win.
Pool B:
San Francisco Fury 15-11 Austin Showdown
A surprising start for Showdown (overall #14, seeded B4) saw the Austin team get out to an early 3-1 lead over the perennial contender San Francisco Fury (overall #2, seeded B1). Fury started sloppy, turning it five times in the first two points, but apart from a single turnover on each the fifth and sixth points of the game, San Fran did not turn the discuss again until the 14th point of the game, which they scored. Fury then broke again to take half, held on the first point of the second half, and then broke again to take a commanding 10-7 lead that Showdown would never threaten.
Key for Fury was Sabrina Fong, even though she did not stand out on the stat sheet, as she routinely attacked for continues from the handler spot. Equally influential were Darragh Clancy, who led the team with three goals and Maggie Ruden, who tied for a team high two assists and added a goal of her own as well. Fury has had little trouble in improving to 2-0 on the day and look the favorites – as was expected prior to the start of the day – to win the pool. Showdown, meanwhile, will have to defeat Bent to avoid finishing bottom of the pool.
Atlanta Ozone 12-8 New York BENT
From the first handful of points, this seemed destined to be one of the better games of the day in the division. Both Ozone (overall #7, seeded B2) and Bent (overall #11, seeded B3) had offenses that looked crisp and aggressive and the two squads exchanged blows up until 5-4 Ozone. At that point, though, the game inexplicably lost the pace and quality, as the game slowed to a crawl towards half. Ozone did look the slightly better team into the half and the game maintained that feel in the first few points of the second half as well, with Ozone being a bit cleaner on offense and converting more break chances, thanks in large part to a distinct field position advantage in many of the longer points of the game.
With the end of the round looming, the pivotal point was a lengthy, turnover-filled affair at 9-8. It was eventually concluded by an Ozone red zone possession, with Kate Wilson finding Meg Harris running along the goal line to take a 10-8 lead. Atlanta never looked back, emphasizing their victory with a layout block by Hannah Leathers that setup a Leah Tsinajinnie huck for a goal.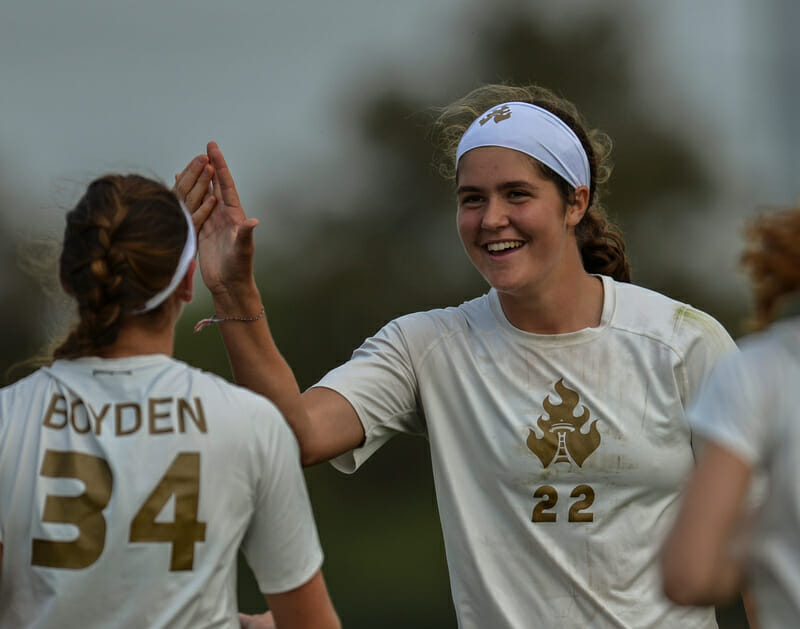 Pool C:
Seattle Riot 15-6 Raleigh Phoenix
Riot (overall #3, seeded C1) made short work of Phoenix (overall #15, seeded C4) in their second game of the day, routing the second team out of the Southeast. Seattle will face Scandal with Pool C's top spot on the line, while Phoenix will look to avoid the likely prequarter matchup of Fury that awaits the loser of their game against Schwa.
Washington D.C. Scandal 15-10 Portland Schwa
DC Scandal (overall #6, seeded C2) won with relative ease for the second time today. Jumping out to an early 5-1 lead thanks to a Callahan a few other early breaks. A late rally back from 11-6 to make it 11-9 made the game close again for a moment, but Scandal score three straight to put the game back on ice. Sarah Itoh was the leading scorer as she contributed four goals, while Jenny Fey again played the role of play maker and led the way with four assists. For Schwa (overall #10, seeded C3), the offensive effort was led by Julia Sherwood, the only Portland player to score more than one goal and Bethany Kaylor who had tied for game high four assists. With the win, Scandal improves to 2-0 on the day and will play Seattle Riot for Pool C supremacy, while 0-2 Schwa will square off with North Carolina Phoenix in the 3/4 game.
Pool D:
Denver Molly Brown 15-10 Vancouver Traffic
In a highly anticipated clash, Molly Brown (overall #4, seeded D1) dictated the tempo and pace to remain the top team in Pool D, defeating Traffic (overall #5, seeded D2) 15-10. The first half was characterized by Denver's defensive pressure, swarming the disc when matching up person and clogging lines when throwing zones. Resets were tough to come by, and many Traffic possessions saw them pinned to the sideline by aggressive Molly Brown marks. Denver roared to an 8-4 halftime lead.
The second half saw both teams' offenses pick up their game, cutting their turnovers in half. After a Traffic break to open the half on a nice Catherine Hui huck, Denver's offensive line took complete control of the game. Using aggressive cutting, quick disc movement, and superb spacing, Molly Brown got contributions from myriad O-line personnel, including Tina Snodgrass and Alicia White. Despite improved offensive play from Hui, Kira Frew, and the Traffic offense, they never gained any defensive traction against a confident and unshakable Denver offense. Dena Slattery (3 assists) and White (3 goals) both had excellent games, leading Molly Brown to the pivotal victory and capping off an excellent start to their 2015 Nationals campaign.
Chicago Nemesis 14-13 Quebec Iris
The battle for third place in Pool D could wind up being the best game of the day in any division. Early on it appeared as though Iris would be swept away by Nemesis (overall #16, seeded D4) after a tough, immediate turnaround for a team that played very hard, long points to close out its round 2 game against Vancouver Traffic. Iris (overall #9, seeded D3) wasn't overly sloppy in the first half, but again struggled to create break chances of their own and get the disc back after the few turns they did have, resulting in an 8-5 deficit for the Quebec club.
Iris did respond well in the second half, however. After each team held on its first offensive point of the second half, Iris scored the next four in a row to take a 10-9 lead.  Sophie Dagenais and Sandra Williams were the biggest cogs in the comeback, with Dagenais recording two blocks and two scores in the stretch, with Williams providing the assist on each of her goals. The teams swapped offensive holds to make it 11-11 with Iris receiving the disc. Each team turned the disc over repeatedly on what would prove to be the game deciding point. Iris wound up with the disc very near their own end zone and Nemesis maintaining high pressure on every look. Finally, Iris forced a throw into a Chicago defender for a nice layout block. One throw later and Nemesis was back in front. Iris held on each of its next two offensive points but could not get any break opportunities to retake the lead prior to double game point. Iris was able to bring the defensive intensity back up on the game's final point and forced multiple break chances, including one just a few yards out. Each chance, though, was squandered when Iris, which had played so assuredly in the game to that point, forced throws that weren't there. To end the point, and the game, Nemesis' Sara Miller made a huge layout block and Nemesis was able to work it up the force sideline with relative ease.
It was a heartbreaking loss for Iris, which had been a fun team to watch all day, and a important win emotionally for Nemesis, which had failed to put up much of a fight in either of its previous two games.