Boston Brute Squad 15-11 Quebec Iris
Boston Brute Squad (overall #1, finished A1) played in their first close game of the tournament and managed to hold off a Quebec Iris team (overall #9, finished D4) that has played well all tournament, but been just unable to pull off any wins. The bottom seed after the redraw for prequarters, few teams would have given Iris a chance to hang around with the tournament one seed and easy winners of Pool A. The game appeared headed for an expected outcome, with Brute taking each of the game's first three points, but Iris did not turn the disc again the rest of the half and got one break back to be within 8-6 of the heavy favorites at half.
Iris could not get back that other break, though, in the second half. While three straight Brute breaks ended the contest, Iris' ability to hang around for nearly the entire game came as a surprise. Iris mixed up defensive looks throughout the game, including double teaming Becky Malinowski "to stop their flow," according to Iris head coach Mathieu Bordeleau. In the end, though, Brute proved to have too much talent and experience over the first year club and did pull out the win.
Statistical leaders for Boston were Lien Hoffman, who's been one of the stars of the tournament thus far, and Paula Seville. The two combined for four goals and four assists. For Iris, it was and Sophie Dagenais, who has been one of the standouts thus far in her own right, and Marie Genest. Dagenais scored four times, bringing her four game tally to 11. She added an assist for good measure, while Genest added three goals and two assists in the upset bid. Brute advances to quarters as expected and will take on Ozone. Brute should not have much trouble advancing to semis against the Atlanta club, but few would have expected them allow Iris to hang around the way the did in this one.
San Francisco Fury 14-9 Raleigh Phoenix
Like Brute Squad, San Francisco Fury (overall #2, finished B1) was not as dominant as was expected and was the only winner to not get to 15 points in the round. Fury surprisingly allowed Phoenix (overall #15, finished C4) to hang around for much of the game, though the higher seeded team's chances of winning were never in any real danger. To Phoenix's credit, they played their best game of the tournament against the best team they had played to that point, but it was not quite enough for the young squad to push for a real upset bid. The Raleigh ladies played much cleaner on offense than they did yesterday, turning it just eight times and having six clean points in the first half. Fury did get a few breaks to close out the half with an 8-6 lead, but Phoenix managed to hang around for the first few points of the second half as well.
Eventually though, the superior talent saw Fury to a relatively easy win, even if the team did not click at the level that one might expect. Surely, they will look to ramp it up a notch in quarters and beyond. A matchup with Nightlock, who looked impressive in their prequarters game awaits them, so they will have to take that step up in performance quickly.
As was the case in most of the team's games yesterday, Fury largely spread the scoring around, with Claire Desmond's three goals leading the team. Alex Snyder and Cree Howard tied for the team lead in assists with two. These numbers are a testament to Fury's depth on emphasis on winning with the whole team, but it will be interesting to see if they rely a bit more heavily on their biggest stars as games get a bit tougher for them.
Seattle Riot 15-7 Texas Showdown
Riot (overall #3, finished C1) very much played up to their seeding in the round of 16. Possibly feeding off the energy from the best game in the division yesterday against Scandal, Riot played well from the beginning and was the second team to seal their spot in quarterfinals. Again very clean on offense and often times lockdown on defense, Riot easily dispatched a Texas Showdown team (overall #14, finished B4) that has struggled throughout there team in Frisco thus far. With its performance this morning coupled with Brute Squad and Fury's performances, Riot has to feel good about its chances of winning the championship.
Hana Kawai has had a good tournament overall and that continued this morning as she had a game high five points (three goals, two assists). Sarah Griffith, another 2015 championships standout, contributed with four points of her own as well as a couple of blocks. Riot now has to play Traffic in quarterfinals, but if they play as well as they did this morning, they should have little trouble in advancing to semis.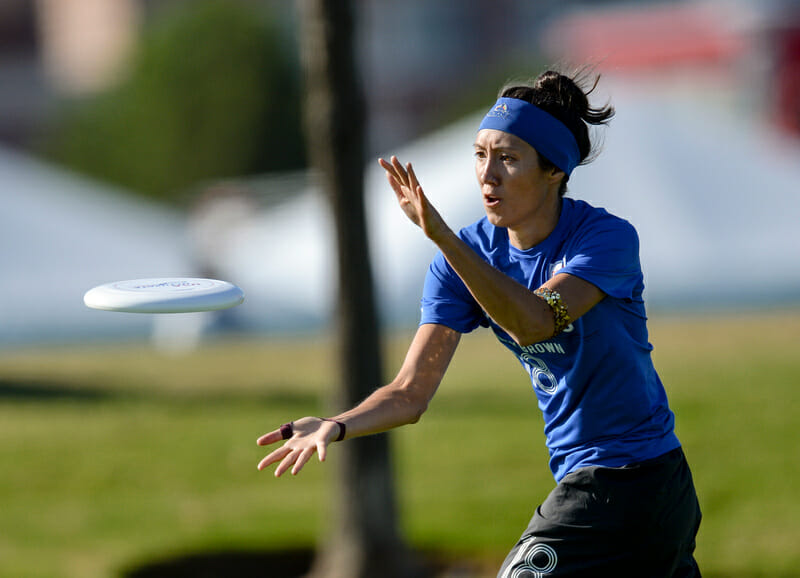 Denver Molly Brown 15-5 Toronto Capitals
Denver Molly Brown (overall #4, finished D1) was probably the most impressive team overall in the division yesterday and they did nothing to change that perception in their prequarter matchup with Toronto Capitals (overall #13, finished A4). Molly has had the most explosive offense of the tournament so far and have allowed just 23 goals through four games thus far. Molly has to feel good about its chances of winning the championship with they way they have played thus far, but the competition takes a drastic step up in the next round with 6 seed Scandal awaiting to challenge them for a semis birth.
Tina Snodgrass' three goals and Claire Chastain's four first half assists set the pace for Denver on their way to the blowout win. Molly has been far too much to handle for any of their opponents on offense so far and they will definitely be favorites going into their quarters matchup, but it will be interesting to see how the offense performs as the defensive opposition becomes tougher against Scandal and whoever they may play in semis.
Atlanta Ozone 15-13 Portland Schwa
In an excellent prequarter matchup between two well matched teams, Atlanta Ozone (overall #7, finished B2) maintained their early advantage over a resilient Schwa (overall #10, finished C3) to advance to quarterfinals. After some initial breaks, Ozone fended off the continuous comeback attempts of Portland, who spent the whole game nipping at their heels.
Ozone's offense was in top form for most of the game. Led by the steady resets and swings of their handlers, the Southeast champion continually attacked from sideline to sideline. Portland was rarely able to apply pressure and only had two blocks in the first half. Katherine Wooten, Anna Hammond, Sam Stovall, and Leah Tsinajinnie helped the disc stay moving and forced the defense to adjust constantly. On defense, Mira Walker was monstrous, racking up multiple blocks and a couple of scores in the game.
The lead however, never ballooned out of control, with Ozone playing a little conservative defensively. They let Schwa to stay close, and a Jennifer Tibbals block allowed them to get their first break. Suddenly it was 7-7 and Portland had a chance to take half and get back on serve. But Ozone held and took half.
That scenario played out once again near the end of the game. Ozone broke to take a 13-10 advantage, but Schwa responded with a three point run to tie the game, with Jesse Shofner playing a pivotal role. A rattled Ozone team began making miscues and Schwa capitalized. A timely TO let Ozone settle down for a hold. The final point was lengthy, and both teams fought hard, but ultimately Atlanta's handlers got back into their rhythm and got to the break side for a Mira Walker goal to send Ozone to quarterfinals.
Washington D.C. Scandal 15-8 New York Bent
Reigning champion Scandal (overall #6, finished C2) outpaced Bent (overall #11, finished B3) after some early back and forth, pulling away in the second half to advance to quarterfinals.
Bent took the early edge, with Lexi Zalk snagging the game opening break for the underdog. The teams traded to 3-3, including two goals for Bent's Sophie Hulbert, before an 11-turnover marathon point turned the tide. While NY scored a hold to go to 4-3, the momentum shifted shortly thereafter. Scandal rattled off five straight goals to bulrush into half, 8-4.
Scandal never let Bent recover. With just four second half turnovers – three of which came on one point – Scandal's offense battened down the hatches and mechanically bore down on the New York defense, who failed to tally a single block in the second half. Sandy Jorgensen (2G, 3A, 2D) and Kath Ratcliff (3A, 1T) anchored the DC attack as they cruised in the second half.
Vancouver Traffic 15-12 Madison Heist
It was a game of runs between Traffic (overall #5, finished D2) and Heist (overall #12, finished A3) in the prequarterfinals, but Traffic had the last push to win 15-12.
The first half featured runs from both teams. Traffic jumped out to a 3-1 lead, with a Jenn Kwok break as the opening salvo. But Heist bounced back with a break of their own to get it back on serve, 4-3. At 5-5, Rachel Moens made some big plays and Traffic used that to make a three point run into the halftime break.
After the two teams traded, Heist seized the momentum, riding the play of star Robyn Wiseman (1G, 4A, 1D) to come back with one, 11-10. Traffic wouldn't be overcome, fighting starpower with starpower as Catherine Hui (4G, 1A, 1D) helped power the game's final run. Three out of the next four went to Traffic to make it 14-11 and they closed out soon thereafter.
San Francisco Nightlock 15-9 Chicago Nemesis
Nightlock (overall #8, finished A2) dominated the first half against Nemesis (overall #16, finished D3) in their prequarter matchup, putting Nemesis on their heels from the start. After a game opening break for Nightlock and Nemesis hold, Nightlock scored and break three straight times to climb a 5-1 lead. San Francisco added three points in the next four to take a massive 8-2 lead.
Nemesis displayed their characteristic scrappiness in the second half. Nightlock may have begun resting legs of their future quarterfinal, but they had trouble dealing the Chicago defense. Blocks by Christina Sur and Risa Umeno helped Nemesis shrink the deficit down to six, but it was too little too late for them. Iris Leung caught the game's final catch to seal a Nightlock victory.