Minneapolis advanced to their third straight National title game.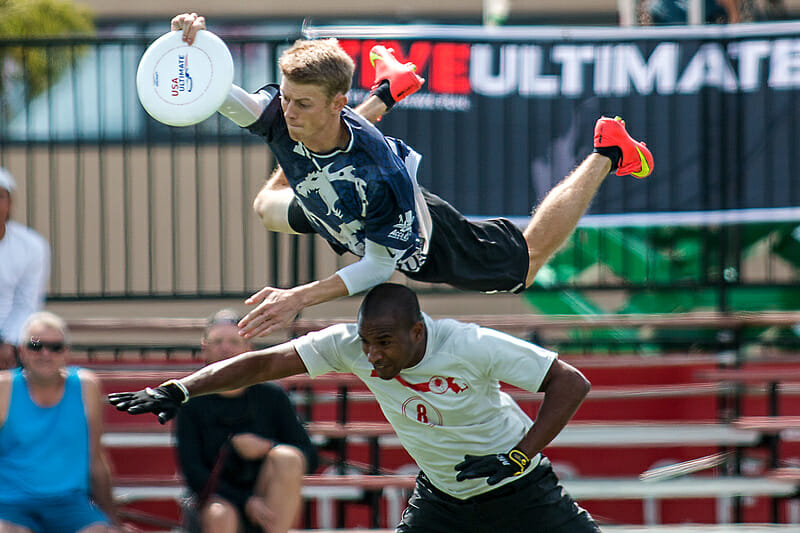 Minneapolis Drag'n Thrust turned on the jets after a mediocre first half and used a 4-0 run to seize victory over a shell-shocked Boston Slow White team that owned the first half.
Early on, it wasn't pretty for Drag'n. They had nine turnovers in the first five points of the game in a sloppy huckfest that felt like a far cry from Minneapolis' traditional modus operandi.
"We just weren't hitting our spots, and taking too many shots," said Minneapolis coach Jake Henderson.
Meanwhile, Slow White embraced their deep shots, and seemed not only looser in their play, but also looser on the sideline. They were playing like a team that had nothing to lose. Jeff Smith (3A, 2G) was particularly effective as a thrower, while Todd Herman was often the big target downfield.
Marshall Goff, Boston's coach, admits they weren't planning to shoot it deep as often as they did. "I wasn't expecting it to be as effective as that, but when they clamp down on the unders that hard…we will take advantage of that," he said.
When it wasn't Smith hucking, it was India Stubbs quarterbacking the offense for Boston. She might not have showed up on the stat sheet, but her effect on the game was palpable. Her calm demeanor was the perfect foil to some of the more aggressive shots that Boston was taking.
The first half ended with Boston having fun, dancing, and up by a break, 8-7. Meanwhile, Drag'n Thrust was quiet, but calm. Almost too calm. It's like they knew they had another gear.
A Switch Is Flipped
After an easy Boston hold out of half, Minneapolis received, and Boston came with a transitioning zone. A patient Drag'n Thrust suddenly looked like the team that won the National Championship a year ago. Beautiful flow across the width of the field resulted in a Sarah Anciaux hammer to Carlos Wolle to make it 9-8.
The offense did its job, and now Minneapolis trotted out a stacked D-line, featuring Austin Lien, Jay Drescher, Josh Hemmesch, and Emily Regan. Following an unforced Slow White turn, Lien and Drescher were unstoppable. They utilized quick handler movement, roasted their match-ups on throw-and-gos, and put in the tying break to make it 9-9.
On the next point, Drescher stuffed an under with a layout and a few Minneapolis throws later, Mike Petersen (3A) ripped a perfect backhand to Sarah Meckstroth, who tracked it into the back of the endzone.
Just like that, it was 10-9, and the soft cap horn was minutes away. Slow White needed the point to stop the Minneapolis run. After a couple nervous turns by both sides, Slow White had the disc outside their own endzone and transitioned to a ho stack. They hit a single under-cut on an isolation and, on the next throw, Minneapolis' Emily Regan, who had smothered match-ups all game, blew up a Boston in-cut with a huge layout block. The Drag'n Thrust sideline erupted as she picked up the disc and savaged her mark with an around flick to Hemmesch to make it 11-9.
"I had been guarding in-cutters for the past couple of points, and I know they like to push their ladies under, so I tried to bait a little bit," said Regan.
Goff acknowledged the Minneapolis defense as well, admitting that "if [our cutters] did something that wasn't really committed, or a less than definitive move, they are feasting on it."
Boston stopped the bleeding with two straight holds on offense but the soft cap sounded following the Regan D, making it a game to 13. On Minneapolis' offensive points, Austin Lien, Regan, and Jeff Trosvig simply gave Boston no shot. They employed a combination of silky flick arounds, scoobers, and IO backhands to close out the game on offense. They needed two offensive holds, and that's exactly what they got, closing out their win with calm offense befitting last year's National champions.
Game Management
Drag'N Thrust looked like this result was inevitable. They simple were in another place. They didn't take nervous shots, they didn't look scared. They simply had a calm, focused energy.
One noticeable difference in the first and second half had to do with Minneapolis' lines. In the first half, lines were incredibly fluid, in contrast to the second, where they tightened up noticeably. Players like the Lien brothers, Drescher, Meckstroth, and Regan got huge minutes.
Lien admitted they generally do this on purpose. "Our so-called universe lines are things that we can't actually decide until the second half," he said. "It's mostly about who is playing hot, and who we want to keep on the field."
However, when it comes down to crunch time, it often tends to be the same players.
"Obviously we've got a couple people: Meckstroth, Drescher, Austin Lien, Emily Regan," said Lien. "They are big game players."
I don't think there is any disputing that at this point. When the game was on the line, those four were involved in every single score or block.
Final thoughts from Boston coach Marshall Goff summed it up well. "They've been here and they don't hand it to you," he said. "When they are stingy with the disc, they are real tough."
Minneapolis is the definition of tough.  They have veteran players, a veteran coach, and they got a veteran result.
Check out more Nationals photo coverage over on our partner, UltiPhotos.