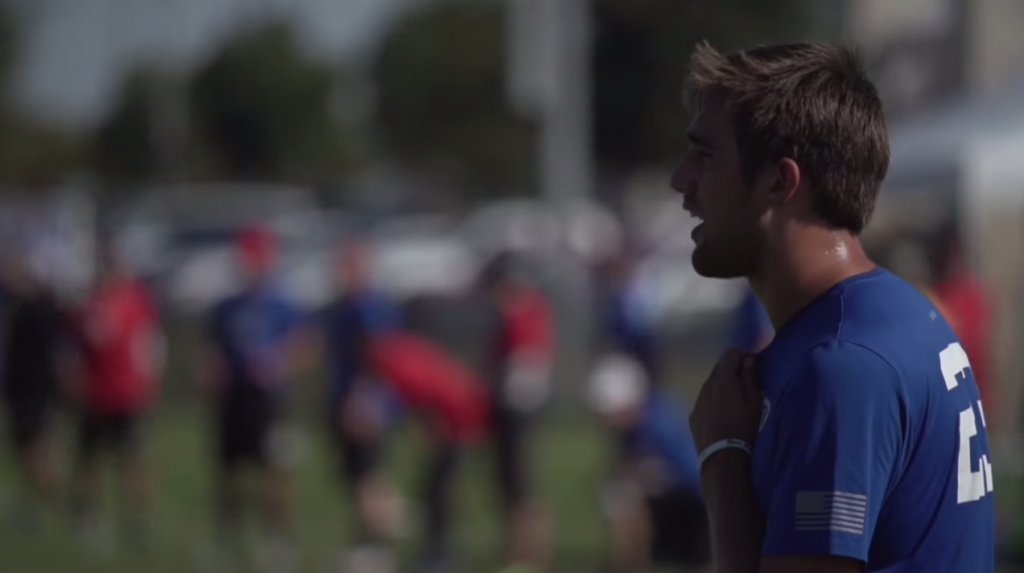 Friday at the 2015 National Championships will be remembered for two things: an incredible quarterfinal round where six games were decided on double game point, and a series of puzzling technical fouls and Team Misconduct Fouls (TMFs) for language that cost numerous teams crucial yardage and points late in elimination games.
A Word About Language Fouls
There are two ways you can be penalized for using explicit language.
From the 2014 edition of the observer manual:
A Team Misconduct Foul (TMF) can be assessed against a team for unsportsmanlike conduct by one or more of its players. The TMF can be assessed regardless of whether the infracted team makes any call. The first two TMFs issued to a team are noted as warnings on the score sheet, but with no associated penalty. A third or subsequent TMF for a team in a single game results in a Misconduct Penalty against that team. There is no limit to the number of TMFs or Misconduct Penalties a team can accrue during a game. TMFs do not carry over beyond the game in which they are issued.

A Technical Foul can be assessed against a team for minor conduct violations that do not affect the competitiveness of the game. The first two Technical Fouls issued to a team are noted as warnings on the score sheet, but with no associated penalty. A third or subsequent Technical Fouls for a team in a single game results in a Misconduct Penalty against that team. There is no limit to the number of Technical Fouls or Misconduct Penalties a team can accrue during a game. Technical Fouls do not carry over beyond the game in which they are issued.

If special language rules are in effect for a tournament, loud swearing warrants a technical foul. At your discretion, TMF or PMF may be assessed for swearing if directed at an opposing player or coach, or any spectator, Observer or linesperson.
What is important to note here is the fact that technicals do not stack up with TMFs. A team would need three TMFs or three technicals in order to receive a yardage penalty.
Prequarters, Machine vs. Johnny Bravo. 14-13 Machine. Machine receiving.

Let's set the stage.
Bravo had just clawed back into the game with a break and were set to pull the disc to Machine. They needed another break to stay alive.
The Denver sideline was showing life and energy for one of the first times all game. Johnny Bravo captain Jimmy Mickle had switched over to defense, and he turned to his teammates on the line and quietly said, "Hey, this is our fucking life here. Let's go!"
Suddenly, the sidelines fell quiet. Mickle looked dumbfounded, bringing a nervous hand to his chest. A technical foul had been issued against Bravo. A fourth was later issued when Ryan Farrell said to the observer, "No, come on, Keith!"
The coaches and observers immediately huddled, but the decision was upheld. It was Bravo's third technical foul, so Machine received the disc at their opponent's brick mark, effectively gaining 50 yards without having to throw the disc. Machine easily scored, taking the game, and eliminating Bravo from Championship contention.
Watch what happened, courtesy of Fulcrum Pro:
Sean Keegan's curt post game reply summed it up best: "The observers inserted themselves into the game unnecessarily."
It's impossible not to sympathize with Bravo players. Bravo was alone on the line, attempting to pump up their team. Their language could not be heard from the sideline, nor by the other team. The language was directed not in anger at observers, players on the other team, or anyone at all. It was used for emphasis, rather for any negativity.
This was far from the only instance of apparent observer overreaching, but it was definitely the most damning.
Other Teams Affected
UPA received a language penalty for celebrating while up 13-11 that allowed Polar Bears to climb back into it by punching in an upwinder from the attacking brick. Polar Bears went on to win the game after tying it with the ensuing downwind possession that they may never have had unless given the opportunity for a short upwind point.
An injured Patrol player received a language penalty while laying on the ground in pain. Patrol was in the midst of attempting to claw back into their prequarters game vs. Ironside, but the misconduct penalty allowed Ironside to quickly advance the disc, and essentially put the game away as the Boat went up 13-10.
Finally, High Five received a PMF for profanity directed at an observer during the last point of their game, with a chance to stay alive. That was their third TMF/PMF, forcing them to move back into their own endzone to attempt an upwinder; they quickly turned it. Madison Club scored later that point to win the game, 15-12.
None of these appear to be the absolute disaster that the Mickle technical was, but this issue is not isolated. It's a systemic problem.
Emphasis On Undirected Language?
This necessarily begs the question: why the seemingly sudden emphasis on calling profanity, even when undirected?
In conversations with observers, Ultiworld has heard a few things. First, the rise of greater video coverage has led to the introduction of "technical fouls" in the 2014 observer manual, which are largely misunderstood by fans and players, but are distinctly different than TMFs and PMFs and are much more wide ranging in their application.
However, it seems these fouls, which can stack up just like PMFs and TMFs (but do not combine with them) are to be issued to protect pretty much anything that might affect the presentation of the game over video. Language is just one facet of this, but has received a great deal of attention lately, partly due to a directive reportedly issued in 2013.
This directive ordered observers to begin specifically to target unclean language, even when undirected at observers or opponents. Again, this presumably has to do with the "presentation of the game" idea that USAU is working hard to emphasize.
Time For A Change
You can identify with USAU as an organization attempting to reach youth and new members within the realm of Spirt of the Game. Hearing profanity on a live stream, even if it is undirected, could turn off families or new members, and can reek of unprofessionalism.
But at the same time, there are few other sports with similar policies regarding undirected profanity on the court or field. Tennis is perhaps the only other sport that comes to mind. If the language Jimmy Mickle used with his teammates was indeed an issue (particularly in a game not being filmed), then the rule needs to be changed. Even with the directive, a quiet exhortation to his team is not grounds for a game changing penalty that essentially handed Machine the game. One grown man hearing a profane utterance is something USAU should be comfortable with. It's sports. Emotions run high.  So long as there is no disrespect occurring, language should not be an issue.
In addition, even if the current rule stands, this brings up problems with what constitutes inappropriate language. Observers are willing to penalize any profanity that they hear, regardless of volume or intent, but what constitutes profanity? is "Crap"? "Hell"? "Damn"? Without a clear delineation, it is left up to individual observers, and, frankly, it just isn't working.
Clearly this rule is something that will have to be addressed after this weekend. There are very few (if any) players or spectators who are pleased with the amount of crucial language-based penalties this weekend.
Update 10/4: We clarified the nature of the language penalty assessed to High Five, which was previously unspecified.